WASHINGTON, D.C. -- The Smithsonian had provided official translators for the deaf, but just for a bit, Hector Flores, a member of the Los Angeles-based group Las Cafeteras, took over the duties.
"My mom was the oldest of 14 kids and six of her brothers and sisters are deaf, so all my tíos and tías," Flores said, after performing in the museum's airy atrium Sunday.
He had the audience at the Day of the Dead celebration at the National Museum of the American Indian shaking their open hands in the air to applaud in sign language.
Flores and his fellow bandmates of the L.A.-based Las Cafeteras go beyond words in many ways with their music and songs that preserve indigenous traditions of Mexico, add the insurgency of Chicanismo and blend in rock, hip-hop and other sounds. Threaded throughout their performances is a heavy social justice message, that in the museum performance hit on the 2016 election, immigrants and the North Dakota pipeline.
"Even deaf folks can hear music. They hear the beat. They feel the beat. There's a frequency that exists, you know. And a lot of people don't understand Spanish. But they feel the music. So I tell people don't listen to us, feel us," he said.
"It's interesting because my grandma only spoke Spanish, her kids learned English sign language, so it was difficult for them to communicate. So I think there's a whole narrative, a story that is beyond words that my family developed," Flores said.
All of the band's members are children of immigrants.
"The history of the Americas and this country is built on the narrative and fabric of migrant peoples and indigenous folks, but we're not in the history books," he said. "So when we share our story it becomes radical, but it's really not. They are just stories about our people … We've been here since day one as native people, as raza as people of color."
Flores, a vocalist, jarana player and zapateado dancer in the band, was quick to correct the description of the group's work as political.
"We're organizers. We're movement kids," Flores said. "But we don't say we're political. We say we're storytellers. It's just not the mainstream story."
The performance was part of the band's "People's Party Tour" it is doing in collaboration with PICO National Network project, LA RED, a community activist and immigration reform advocacy group, to inspire eligible Latino youth to go to the polls and vote. Latino millennials are 44 percent of the Latino electorate.
Before its encore, the audience heard a teaful plea from a woman who said she is an immigrant and had been in the country 20 years. She implored them to vote on behalf of her and her children, who were with her on stage.
Fellow band member Denise Carlos said Las Cafeteras began as a group of 20 students in L.A. and were referred to as los cafeteros by locals. According to the group's official bio, they were students of Eastside Cafe, a community space in East Los Angeles where they were influenced by son jarocho, the music of Veracruz, Mexico that has influences from slaves brought to the port.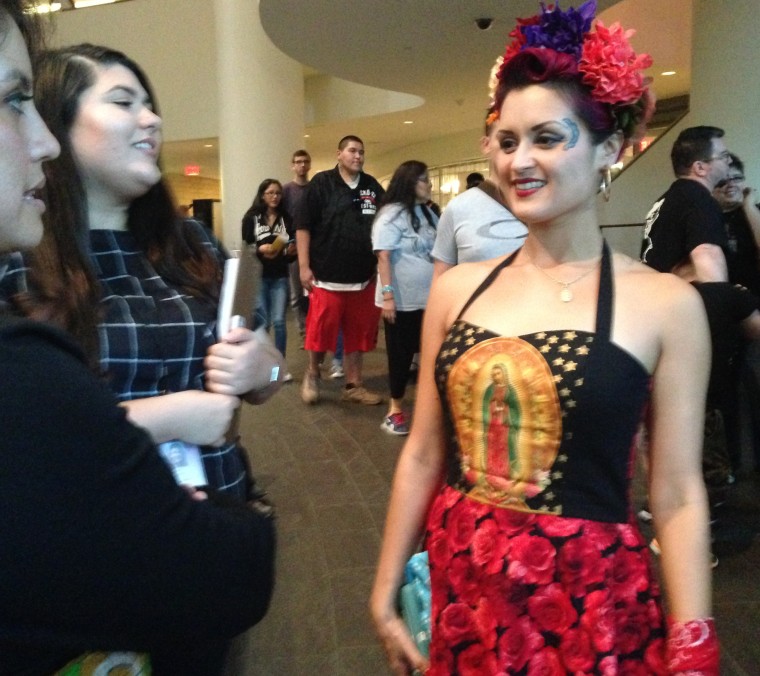 The group dwindled and its remaining members renamed as Las Cafeteras.
Carlos, who performs vocals, jarana, zapateado and glockenspiel has a master's degree in clinical social work that she earned at 24. She said it was difficult for her father, who emigrated from Mexico, to digest her decision to leave her job and devote her life to the band and its music. They had struggled for a better life for the family.
But once the band's hit song "La Bamba Rebelde" became a theme song for the telenovela 'Bajo El Mismo Cielo' on Telemundo, her family began to understand, she said.
"The audacity of dreaming as people of color. I told my dad yes, you struggled every day not just so I could survive, but you gave me a chance to dream," she said.
The band was headed to Delaware to perform Thursday and to New York on Friday.
Band members also sent a photo on Instagram saying they were at the White House filming a music video.