Get ready to feel muy excited because the Hollywood Chamber of Commerce has announced the recipients of the 2017 Hollywood Walk of Fame honorees.
The Queen of Tex-Mex, Selena Quintanilla, will be posthumously awarded a star on the Hollywood Walk of Fame. Quintanilla was the top Latino artist in both Mexico and the U.S. before her death in 1995 at age 23.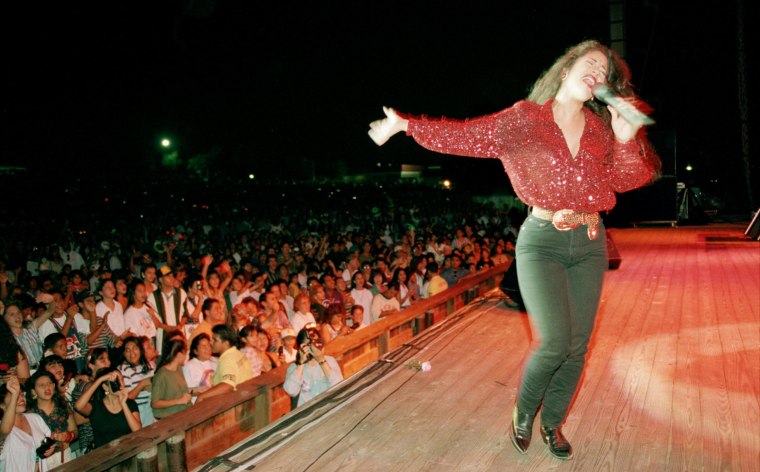 The Latina icon released five Spanish-language albums and her English-language album, "Dreaming of You" was released after her death. Time Magazine once said the "Bidi Bidi Bom Bom" singer "was the embodiment of young, smart, hip Mexican-American youth…" and referred to her as "a Madonna without the controversy," according to Quintanilla's official website.
RELATED: Voices: There's Something About Selena
Another Latina being honored for her career in TV is actress and activist Eva Longoria.
Longoria began her career on "The Young and the Restless"before landing her role as Gabrielle Solis on ABC's, "Desperate Housewives," which she played for eight years. The Mexican-American artist has expanded her roles from on-screen to behind the scenes as a producer, director, in addition to being an activist and businesswoman.
RELATED: 'Como la Flor': MAC Reveals First Lipstick of Selena Collection
Venezuela's very own Gustavo Dudamel will also be receiving a star. Dudamel, known for his curly hair and radiating smile, serves as the Music Director of the Los Angeles Philharmonic and the Simón Bolívar Symphony Orchestra of Venezuela. He made his conducting debut in the U.S. at the Los Angeles Philharmonic over 20 years ago only to become the Music Director in 2008. He also dedicates 25 weeks of his annual schedule to orchestras and children in Caracas, Venezuela and throughout the country.
Director George A. Romero also joins the list of honorees. Romero, whose father was Cuban, was born in New York City and is at times referred to as, "the reigning champion of zombie films." The Carnegie Mellon grad is best known for being the creator behind "Night of the Living Dead" and "Dawn of the Dead."
The three Latinos are in good company as other big names like John Legend, Dwayne "The Rock" Johnson, *NSYNC, Goldie Hawn, and Wolfgang Puck are also among the recipients. The dates for the ceremonies will be announced about one week before each artist's ceremony.