BOSTON — Much of Latin America will probably be grateful when 2014 is over. The year marks the region's slowest economic growth since 2009, when the global financial crisis started shaking the developing economies south of the border.
Latin America's average gross domestic product (GDP) will increase this year by just 1.1 percent, according to a preliminary overview published this week by the United Nations Economic Commission for Latin America and the Caribbean, or ECLAC.
That's even slightly lower than recent projections by the World Bank and the International Monetary Fund.
It also looks like sloth-speed compared with the rate the UN estimates for the world's developing countries overall: 4.4 percent GDP growth.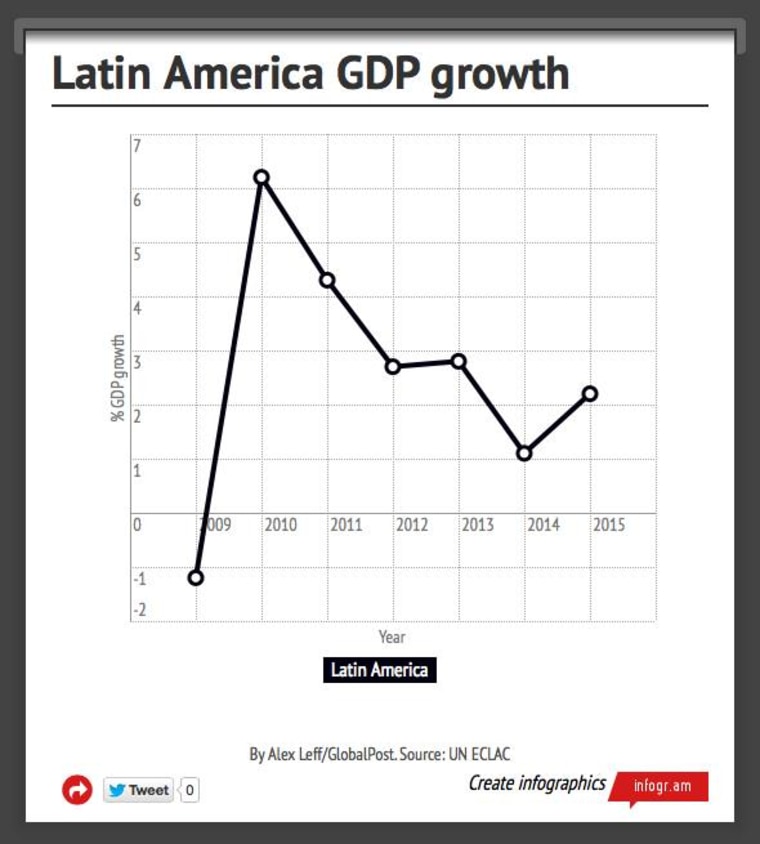 Next year, the UN commission estimates the region's overall performance could recover to 2.2 percent, following a little recovery in the second half of 2014.
So what's going on here?
A number of factors are tripping up the region, and one of them is a certain Asian giant.
China has established itself as the top trading partner for several Latin American countries, particularly those that export raw materials, ECLAC notes. This was a big driver for some of the region's economies in what the World Bank calls Latin America's "golden" pre-global crisis years, when GDP growth rates averaged 4 to 5 percent.
But as China's economic growth slows, so does its appetite for imports.
Weak demand in the developed world isn't helping, either, as the United States and European economies slowly recover. Domestic consumption in some Latin American countries has weakened this year, too.
Also, commodities prices have fallen considerably. The regional UN organization estimates prices for raw materials have dropped in 2014 by 10.5 percent. That takes a toll on big exporters like Argentina, Brazil and Venezuela.
If you click on the buttons above each year the chart will show the different annual growth estimates. As you can see, ECLAC forecasts some improvements in 2015.
But within days of the UN economists' new report, Brazil's government cut its own projections for 2015 growth from 3 percent down to 0.8 percent. We'll have to see how that affects the overall numbers.
Surely, GDP — the sum of all goods and services produced in a country — is not the only be-all and end-all. A whole slew of other indicators also matter, from employment to social inclusion to income inequality. Environmental concerns are also gaining importance as economists assess the potential costs of climate change.
But for many analysts, economic growth is a measure of what makes the world go round.
Latin Americans don't all dance to the same tune. Compare the growth rates in the chart above with the one below. At opposite ends of the spectrum you have Panama and the Dominican Republic posting 6 percent growth, and oil-export-dependent Venezuela contracting 3 percent.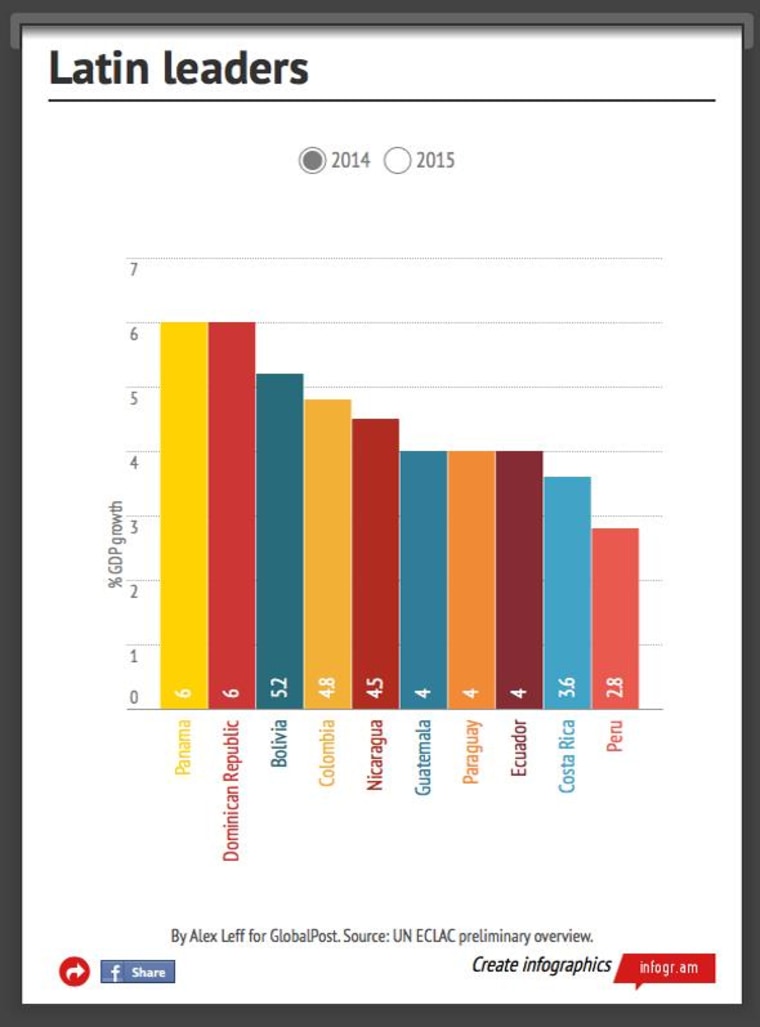 The numbers in the chart above may seem formidable, but you should have seen them a few years ago. In 2010 and 2011, for instance, Panama's economy grew more than 10 percent, with a lot of help from the Panama Canal expansion project.
Which brings up another major factor: Investment has slowed this year in a number of countries.
ECLAC says nations have to invest more, particularly in infrastructure, if they want to bring their growth numbers up again.
"It is necessary to revive domestic demand prioritizing the dynamic of investment. This should impact positively on the economies' productivity and competitiveness," ECLAC Executive Secretary Alicia said Tuesday.
This was originally published on GlobalPost.
Other stories from GlobalPost:
Fears For Other Missing Mexican Students As One Body Identified
Six Guantanamo Detainees Sent To Uruguay
This Video Explains European Stereotypes About...Other Europeans