As Venezuela's economic and political situation became dire two years ago, David began looking at options to immigrate to the U.S. along with his wife and three children.
"In Venezuela, anything can happen at any given moment," said David, who still owns businesses in Venezuela and who did not want his real name used for his and his family's security.
After consulting with various attorneys, he determined the most viable option to secure green cards for the entire family was to invest $500,000 into a U.S. business.
A year and one month after initiating the process, David's wife and three teenage children all have their green cards.
Like David, a record number of investors from Latin America looking to escape from political instability and drug violence are pouring money into projects in South Florida through a federal visa program known as EB-5 in exchange for green cards.
In the U.S., over 80 percent of those who apply for EB-5 visas are from China, but the number of investors from Latin America has grown in the past several years.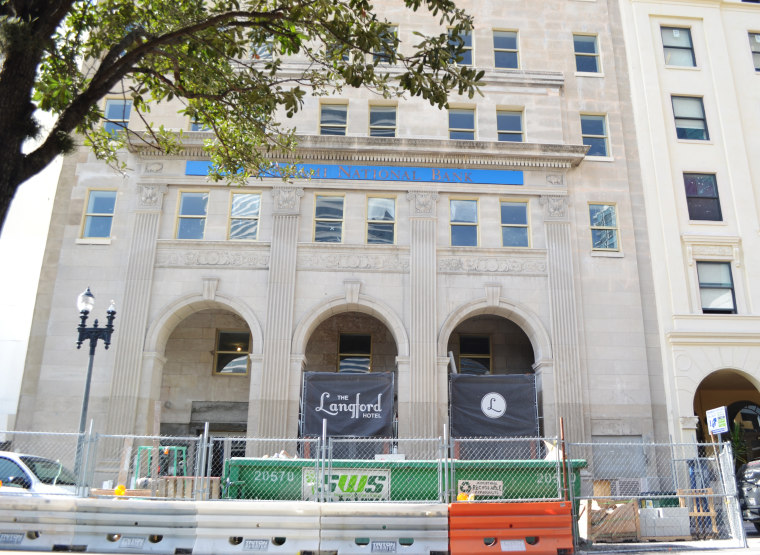 In 2008, only 28 investors from Latin America were issued EB-5 visas. By 2014, that number had increased 900 percent to 283, with Mexico and Venezuela in the lead, according to State Department data.
Competition to find investors in China is leading many developers to turn to Latin America and other regions, according to attorney Julian Montero, a partner in the Miami office of Arnstein & Lehr LLP. who has dealt extensively with the visa program. Additionally, there is a cap on how many EB-5 visas are issued to Chinese, which is making Latin America and other regions more appealing.
For Montero, many of his clients are coming from Mexico, Brazil, Chile, Argentina, and Venezuela, among other countries. This year alone, he traveled to Bogota, Sao Paolo, and Santiago de Chile to participate in seminars that inform about investment and immigration strategies for those looking to emigrate.
The visa program is attractive for those with the cash because it offers a relatively quick path to residency – anywhere between one and three years as opposed to a decade for other visa programs.
In order to apply for the EB-5 visa, a foreigner must invest $500,000 in a project that produces at least 10 jobs in a rural or high unemployment area – or $1 million elsewhere.
Visas are issued to the investor, the spouse, and children under 21 years of age. There is a cap on how many visas are issued each year – it's 7.1 percent of the overall annual limit on employment-based visas.
So, during fiscal year 2014, 10,667 visas were handed out. The annual employment based visas limit may change, but not the 7.1 percent. Each investor and family member counts towards that quota so the limit is reached quickly. This year, it is anticipated the EB-5 annual limit will be met by the end of September, according to a State Department official. In contrast, only 793 foreigners were issued EB-5 visas in 2007.
RELATED: Slowing Down the 'Investor Visa' Green Card Fast Track
The program was originally created in 1990 by Congress to help stimulate the economy through job creation, but it wasn't until the 2008 recession that it began to pick up steam. As bank loans dried up, developers began to look at alternative financing for their projects and began to attract overseas investors for that purpose.
In 2008, a total of 15 Mexicans were issued EB-5 visas and by last year, that number had shot up to 129. Juan Soto, a developer from Mexico, decided two years ago it was time to leave behind the violence that has ravaged his native country so he and his family could have a better quality of life. After researching on the Internet different visa options to emigrate, he opted for the EB-5 visa program.
"It was the visa that came closest to my needs," Soto said.
One year after he invested $500,000 in the construction of a new office building in the colorful Wynwood arts district of Miami, he, his wife, and two teenage children were granted conditional green cards.
As the program states, once the project has maintained 10 full time jobs for two years, Soto and the rest of his family will become permanent residents.
Soto is in the midst of putting together his own company in Miami building new construction and remodeling and selling commercial real estate. He has already recommended this little known visa program to his friends back home.
The promise of U.S. residency is a powerful incentive since investment through the program does not get as high a return as investing without plans to become a U.S. resident.
Those who apply for the EB-5 visa get a return on the investment of as little as 0.5 percent to 2 percent. By comparison, investors who are not interested in immigrating to the U.S. see returns on commercial real estate investment as high as 6 percent to 8 percent, according to Alex Zylberglait, first vice president of investments in the Miami real estate office of Marcus & Millichap.
For developers, the EB-5 program has proven to be a reliable source of lending. Miami developer Jeff Berkowitz, who has been developing real estate for four decades, is raising money through the EB-5 program for Skyrise – a hairpin-shaped, 1,000-foot, tourist tower in the city's downtown waterfront. According to Berkowitz, a significant portion of the funding will come from the EB-5 investor program.
But for some developers the complexity of EB-5 funding doesn't allow the money to flow in a timely fashion.
Developers at Stambul USA acquired the soon to open, swanky Langford Hotel in downtown Miami three years ago and raised money through the EB-5 program. According to developer Daniel Peña-Giraldi, the renovations of the historic 1925 building that once housed The Miami National Bank has been under renovations mostly with the company's equity.
Although 35 percent of the renovation costs were raised through EB-5, the company didn't see the money until a month ago when the boutique hotel was 90 percent complete. "EB-5 is a great way of financing, but it's not a good way to finance from '0'," according to Peña-Giraldi.
Critics of the program say it amounts to little more than buying a visa and it benefits the wealthy more than the high-unemployment communities it's supposed to help.
Critics of the visa program say it amounts to little more than buying a visa and it benefits the wealthy more than the high-unemployment communities it's supposed to help.
There is no official count of how many jobs have been created through the program. National security concerns have been raised about visas issued to foreigners as well as the designation of several EB-5 regional centers, which are approved by U.S. Citizenship and Immigration Services and used by foreigners to find out about investment opportunities.
There have also been allegations of favoritism towards politically connected investors. In June, Sen. Patrick Leahy, D-Vt., and Sen. Charles Grassley, R-Iowa, introduced a bipartisan bill to overhaul and extend the program for another five years. The bill would increase the amount of investment from $500,000 to $800,000 in designated high-unemployment areas and $1.2 million for other areas.
Despite the hurdles, appetite for the visa program continues to grow in Latin America.
According to Montero, one of the reasons Chinese have been dominating the EB-5 visa category is because Canada had a similar visa program which attracted many Chinese nationals, whereas Latin American investors are just becoming familiar with the visa program.
"I think it will increase year after year as the markets in those countries become more familiar with EB-5," Montero said.