Ozuna, one of the most popular Latin music artists worldwide, dropped his highly anticipated third studio album "Nibiru."
The artist has cemented his global success over the past year with hits like "Taki Taki" from DJ Snake, featuring megastars Cardi B and Selena Gomez as well as other high-profile collaborations with artists such as Post Malone, Jeniffer López, Snoop Dogg and Rosalía.
At 27, the multi-platinium Puerto Rican-Dominican singer has already accomplished four record-breaking achievements, according to Guinness World Records. He's the artist with the most videos to reach one billion views on YouTube and the solo artist with the most weeks at No.1 on the Top Latin Album chart, after his debut album "Odisea" spent 46 weeks topping the chart.
Ozuna also broke the record of most Billboard Latin Music Award nominations, with 23 across 15 different categories, as well as the record for the most wins for a single artist, with 11.
The new album is full of collaborations with artists such as hip-hop mogul Diddy and American rapper Swae Lee as well as artists already known to his fan-base such as DJ Snake, Latin urban singers Sech and Dalex and reggaeton veteran Nicky Jam, said Ozuna.
Despite his growing stardom, Ozuna said he's aware that "Nibiru" is an important turning point in his career.
"You will see the evolution of Ozuna in this album, without losing my essence," he told NBC News in Spanish.
Ozuna, born Juan Carlos Ozuna Rosado, is mainly known as a Latin trap and reggaeton artist with a memorable sweet-toned dynamic voice that allows him to toggle between sounding like a serenader or a rapper — depending on what he's working on.
One of his most recent singles, "Hasta Que Salga El Sol" ("Until the Sun Comes Up") is a catchy reggaeton song with an alienesque concept that pairs well with the album's title. "Nibiru" is the name of a supposedly mysterious planet that some believe will someday crash into Earth and cause the end of the world.
His explosive, energetic delivery is at times reminiscent of reggaeton mogul Daddy Yankee's style.
"Daddy Yankee, who is one of the greatest exponents or the greatest exponent of urban music, remains a big force," Ozuna said of the artist known for hits like "Gasolina" and "Despacito."
"I think he's an exemplary great leader," he added.
Singles "Cama Vacía" and "Amor Genuino" show a tender, softer side of Ozuna, highlighting his versatility as an artist.
Ozuna worked on "Nibiru" for about a year and a half, a surprising timeline for fans who have been delighted with his two other albums — "Odisea" and "Aura" — in just one year.
He said he needed the extra time to challenge himself and find new ways to push the boundaries of reggaeton.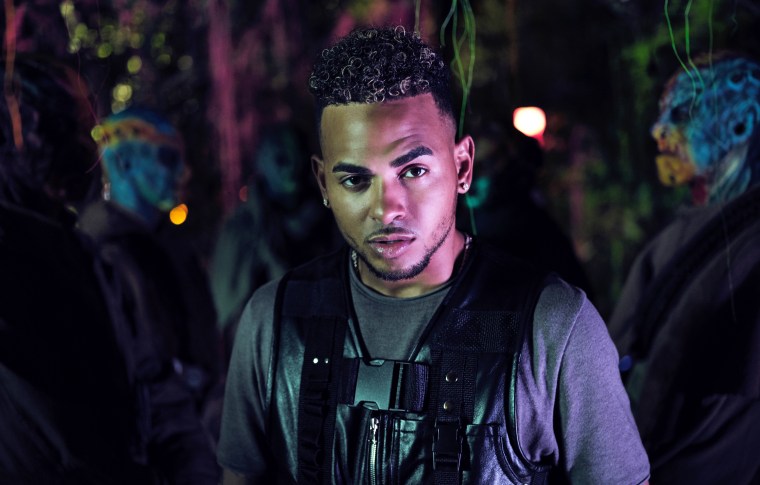 During that time, Ozuna learned how to appropriately record guitar and piano sounds in a studio in order to successfully create a roots reggae song with Cultura Profética's frontman Willy Rodríguez.
"It's one of my favorite tracks because I got to try different music, other instrumental arrangements that are not like reggaeton," said Ozuna. "That song made me realize that making music entails many things — music goes beyond what I had ever imagined."
Other "Nibiru" singles include "Muito Calor," Ozuna's collaboration with Brazilian popstar Anitta, "Cambio," a duo with Latin trap singer Anuel AA, the hit "Baila Baila Baila (Remix)" with J Balvin, Daddy Yankee, Farruko and Anuel AA as well as "Luz Apaga," with reggaeton newcomers Lunay, Rauw Alejandro and Lyanno.
"So many things take this [album] to the next level and I know that people will notice after listening to it for the first time," said Ozuna. "They will notice that we dedicated everything to it and made something amazing."
Follow NBC Latino on Facebook, Twitter and Instagram.