WASHINGTON, D.C. — Author, travel writer and professor Stephanie Elizondo Griest spent years living abroad, in locales as varied as Russia, China and Mexico. But when she finally returned home, it was to a place she almost didn't recognize. Her native South Texas had been transformed by the border wall, migration and drug cartels.
Then Elizondo Griest spent a year on the U.S./Canada border and was struck by the similarities between the two regions. She plunged into writing a "testimonio," or document of witness, and the result is her new book, "All the Agents and Saints: Dispatches from the U.S. Borderlands."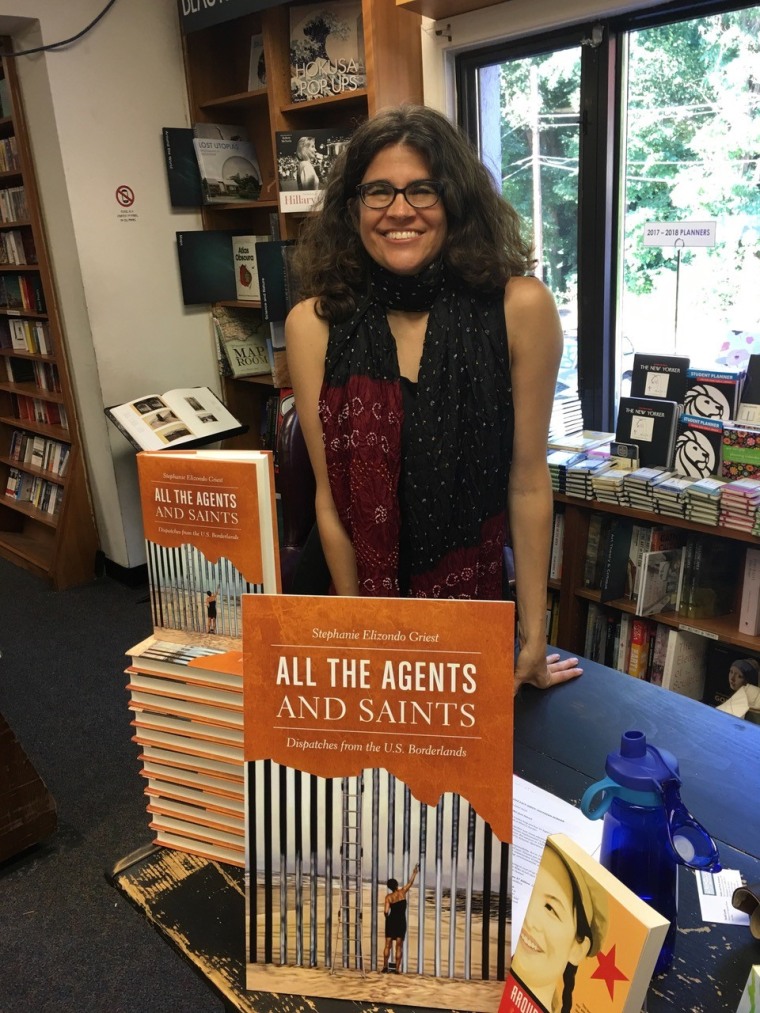 The U.S./Mexico border carries physical, cultural, and personal resonance for Elizondo Griest. As she recently explained to an audience at D.C.'s Politics & Prose Bookstore, "I've spent my entire literary career trying to figure out what it means to have an international border running through you."
Elizondo Griest was drawn to the borderlands because of her fascination with nepantla, an Aztec term for living in the state of in-between-ness. "Nepantla is something I deeply identify with," Elizondo Griest told NBC News. "I think all borderland residents do, whether they call it that or not. The term captures what it means to live between two worlds, to occupy the space between cultures."
She is the great-great-great granddaughter of a vaquero (cowboy) who worked on the King Ranch, the largest ranch in Texas. A graduate of the University of Texas at Austin, she is the author of several books, including "Around the Bloc" (2004) and "Mexican Enough" (2008).
RELATED: Summer Reads: 7 Latino Books About Mothers
Despite her successful career as an author and travel writer, Elizondo Griest returned home because of a sense that her nomadic life could not last forever. "With so few attachments," she writes, "I am starting to feel like I could blow away, and no one would notice."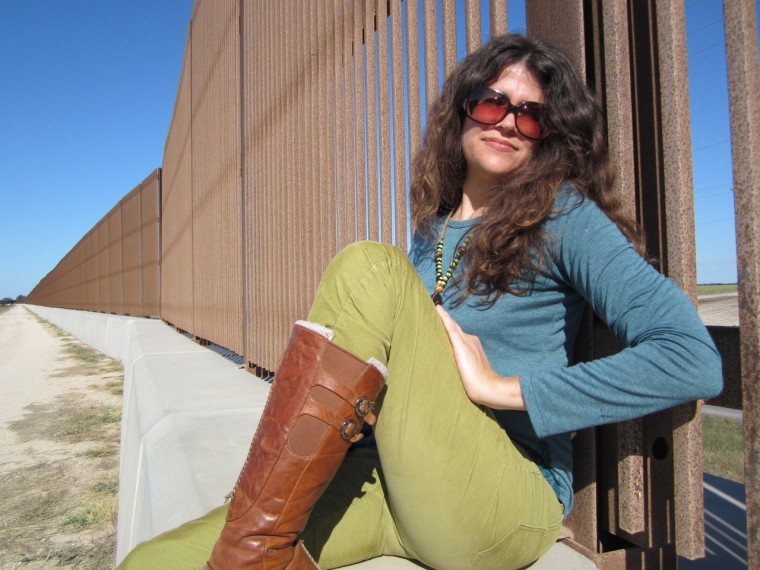 So Elizondo Griest heads back to South Texas, where she finds healers, artists, and tales of a "Miracle Tree" — as well as pollution, cartels and activists fighting oil companies. Her interactions with Border Patrol agents provide her with searing memories; one agent casually mentions detaining a three-year-old and a one-a-half-year-old, both of whom were attempting to cross the border alone.
At the urging of another agent, Elizondo Griest pages through 'the Dead Book,' a collection of photos of undocumented immigrants who died making the crossing north. Tagging along with agents, she comes across the body of a dead woman in the woods — an image that haunts Elizondo Griest for weeks thereafter, as she tries to imagine the chain of events that led to such a tragic end.
When Elizondo Griest receives a yearlong professorship to teach at St. Lawrence University, near the U.S./Canada border that splits the Mohawk Nation of Akwesasne, she has an epiphany. Twenty-two hundred miles from South Texas, Elizondo Griest experiences the unlikely sensation of being home.
"Every time I went to Akwesasne, I experienced déjà vu," she said. "The same issues I saw firsthand on the southern border among Tejanos — drugs, smuggling, Diabetes, poverty, an arbitrary border that divided communities, language and culture wars —– all existed among the Mohawks."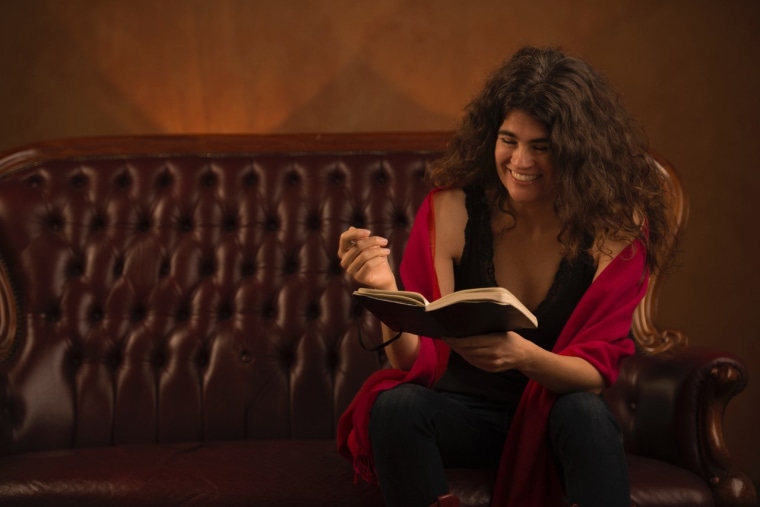 "The first time I went to the Mohawk Nation, I felt like my brain was on fire," Elizondo Griest recalled. "It was so familiar, in heartbreaking, sad, and beautiful ways."
In the legend of Kateri Tekakwitha, Native America's first Catholic saint, for example, Elizondo Griest sees echoes of the imagery surrounding the Virgin of Guadalupe and Hernan Cortez's translator Malinche.
It is this comparison of life along the northern and southern borders that makes "All the Agents and Saints" unique, said Daisy Hernandez, author and assistant professor of English at Miami University (Ohio).
"I can't think of another book that puts the U.S./Mexico and U.S./Canada border together, and looks at patterns of how people are treated, how people are policed, and how people resist. A lot of times, when we read about the border, it is all about the Mexican border — and the Canadian border is ignored."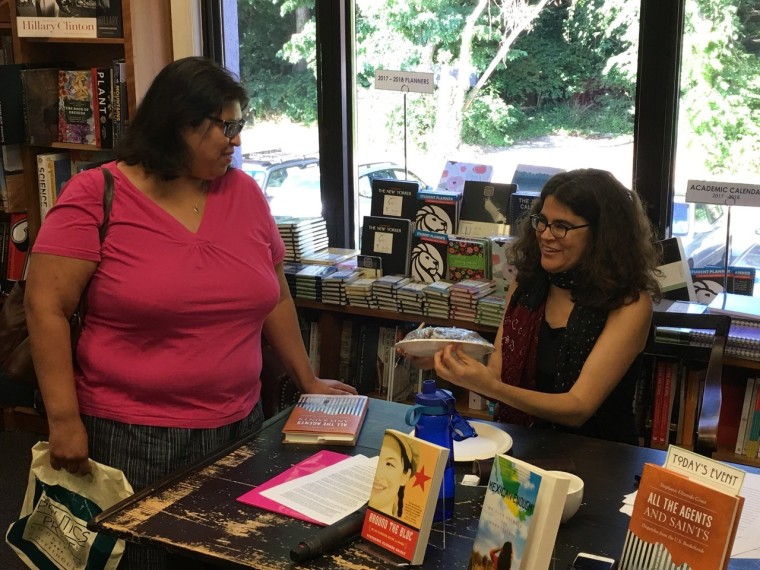 "All the Agents and Saints" has received strong early reviews. Kirkus Reviews termed it "an exploration of the borderlands that deftly mixes memoir, groundbreaking sociology, deep reporting, and compelling writing," while The Texas Observer judged it "an extraordinary book, and one that anyone with even a glancing interest in the United States' borderlands should be eager to read."
Elizondo Griest's heritage is Tejano and Pennsylvania Dutch. A self-described "Gringa/Chicana, cosmopolitan/cowgirl, journalist/activist, agnostic/Catholic, Type A/free spirit," she sees herself — like many Mexican-Americans — as wrestling with her own inner borders of identity and culture.
"That's why I still consider myself culturally Catholic," she explained. "I speak Spanish somewhat, but not fluently. I don't really know how to cook Mexican food; I didn't grow up listening to Latin music. So Catholicism is like my last remaining connection to my ancestors."
Elizondo Griest is an assistant professor of creative nonfiction at the University of North Carolina at Chapel Hill. Her book "Around the Bloc: My Life in Moscow, Beijing and Havana" was named "Best Travel Book of 2004" by the National Association of Travel Journalists of America, and "Mexican Enough: My Life Between the Borderlines" won the 2009 PEN Southwest Book Award for Nonfiction. Her essays have appeared in the Oxford American, Wilson Quarterly, Texas Monthly, and The Dallas Morning News.
Her success as an author is notable given the lack of diversity in the publishing industry, which makes it difficult for Latino writers to get published. Last year, a study of the publishing world found that Latinos accounted for just three percent of industry employees.
Elizondo Griest is part of a long tradition of artists and writers being inspired by the borderlands, according to Oscar Casares, author and associate professor at the University of Texas at Austin.
"Artists and writers from the border region are continually trying to understand and make sense of not only of the region, but also their experience there and how it has shaped them," he said. "We are constantly searching for words and images that bring that experience to life."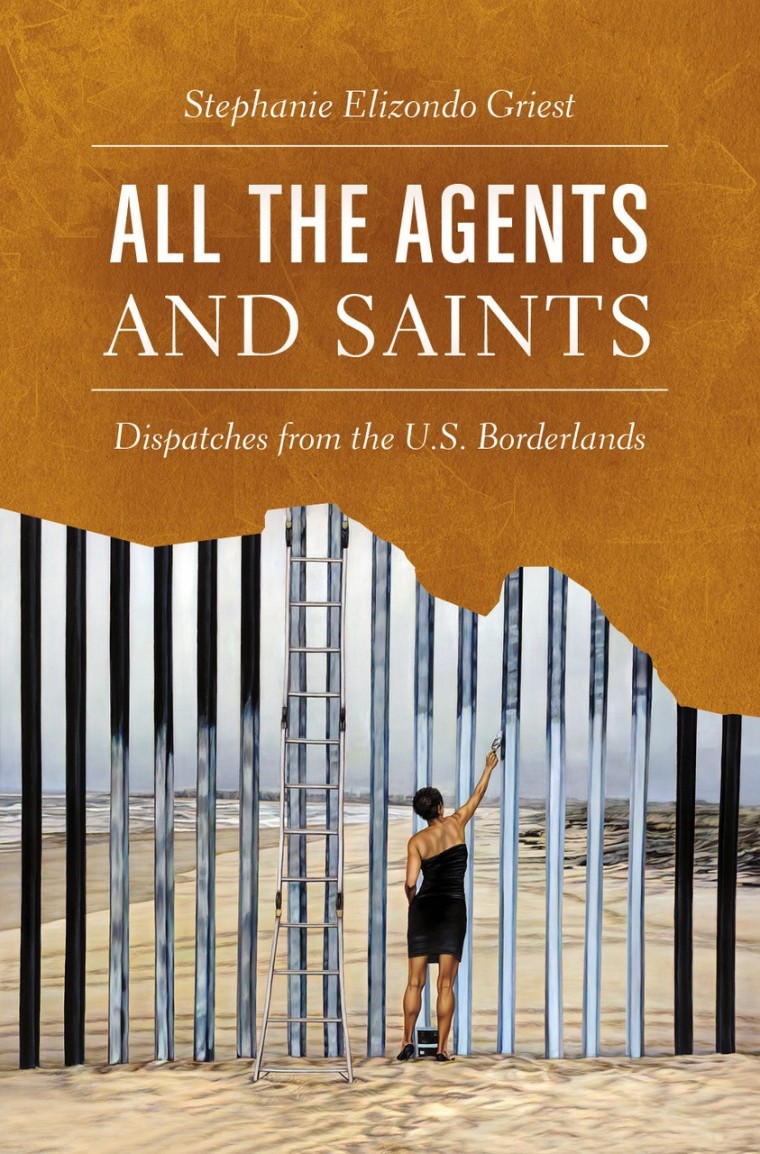 Elizondo Griest found the title for her latest book as a result of a typo, when she incorrectly transcribed a line about "all the angels and saints" from a Catholic prayer. "For better or worse," she noted, "Border Patrol agents and Catholic saints are the protectors of our border communities, so I wanted to honor them this way."
RELATED: 9 Outstanding Latino Books Recently Published by Independent and University Presses
As she embarks on a book tour, Elizondo Griest hopes that her writing can help readers see the borderlands differently. Too many Americans, she believes, see our southern border as crime-ridden and dangerous, and our northern border as desolate and bleak. Neither of these notions, she says, is entirely true.
Elizondo Griest also hopes that people consider the very idea of borders themselves. As she writes in the conclusion of "All the Agents and Saints," "For the greatest lesson in 'nepantla' is that many borderlines needn't exist at all… Spend enough time straddling one, and you can't help but wonder what bliss might follow if we all just embraced the spaces in between."