LONG BEACH, Calif. -- Latinas are rapidly occupying a growing space in the digital world. They are entrepreneurs, content creators, bloggers, photographers, YouTubers, influencers. For the third year in a row, #WeAllGrow Summit, held in Long Beach, California, early this month gathered over 400 women who sought to either learn, teach, empower or simply connect with one another.
#WeAllGrow Summit was born in 2015, from entrepreneur Ana Flores's vision of connecting Latinas with passion and enthusiasm for digital entrepreneurship. #WeAllGrow Summit 2017 harnessed the Energy of Sisterhood, which was the theme of the conference. The goal was to provide an intimate gathering with three days of networking and learning experiences that fostered personal, creative and entrepreneurial growth.
Neutrogena®, HOLA! USA and NBCUniversal Telemundo Enterprises were among the sponsors and digital partners behind this event that seeks to empower creative Latinas.
Keynote sessions by celebrities such as Jenicka and Chiquis Rivera, the daughters of musical icon, the late Jenni Rivera, who star in the reality TV series, The Riveras, inspired and informed the audience in their conversation onstage with YouTube personality Miriam Isa.
"We want to provide that platform and the resources to enable Latina digital creators and creative entrepreneurs to reach their dreams and be the role models for future generations," said Ana Flores, the powerhouse Latina behind the summit, which she and her team pour an entire year into planning and building.
Among the highlights was the Jefas Keynote Lunch with digital powerhouses Cristy Marrero, editorial vice-president of HOLA! USA, Camila Alves, co-founder Yummy Spoonfuls; Elizabeth Gutierrez, actress and entrepreneur and Fernanda Romero, actress and cofounder Vida Parfum fragrance line.
"If your partner doesn't support your vision, you're with the wrong person," Alves, also wife to Matthew McConaughey, said.
In another session, author and TV host Martín Llorens, introduced his forthcoming book with HarperCollins Español, "Con tu permiso, quiérete," which will be released in July, 2017.
He said, "Compassion, forgiveness and love will open the divine and the princess warrior in you."
Consumer Reports, a non-profit and non-partisan organization that works with and for consumers moderated a keynote panel on the benefits of using social media for social good.
There were also renowned beauty and style influencers such as Dulce Candy and Adriana Castro onstage.
The breakout sessions were divided into different tracks: Create, Lead, Snap, Monetize and Wellness, where attendees learned everything from how to create a media kit to how to find their life purpose.
Some of the breakout sessions included: Making It On YouTube By Doing What You Love, Embracing Your Opinions: How to Activate Storytelling for Social Good, Generating Income by Publishing E-books, and From Passion to Business: The Essential Business Plan.
Emmy-award winning Gaby Natale, president of AGANAR media, led a workshop on the topic of her book "El círculo virtuoso," to be released in June, 2017. In the book she lays out different archetypes embodied by Latino celebrities she's interviewed over the years in her TV show SuperLatina.tv.
Natale shared how this book deal with HarperCollins español was secured after a literary agent heard the story of one of her life-changing struggles which she told onstage the year before, during the Storyteller segment at #WeAllGrow 2016.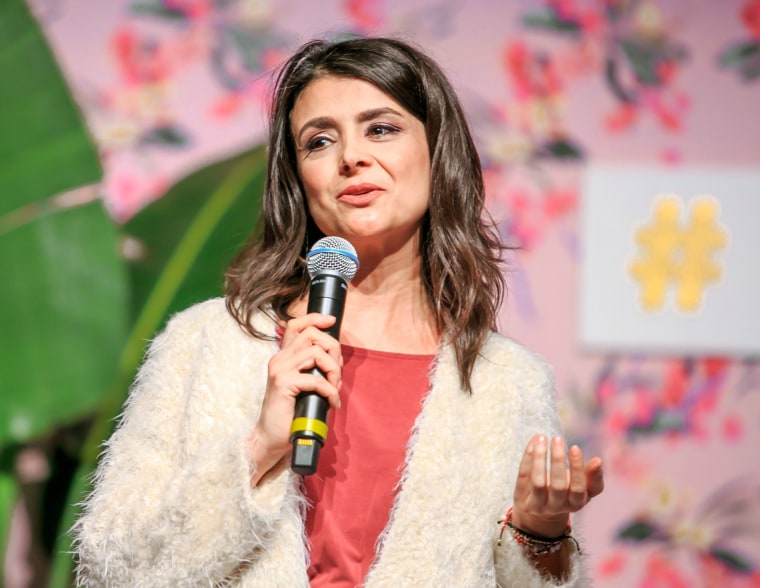 Flores said she was thrilled at the success of the event. "It's always hard to describe what I feel after the summit has ended because it's such a mix of emotions of my own, but also all those I absorb from the attendees," she shared. " I take in all their beautiful words, their passion and their excitement as they leave full of drive and motivation to make great things happen for themselves and their communities."
Flores shared that going forward they will primarily focus on one-day events in different cities in the United States.
"This is so we can continue reaching an even more diverse community of Latinas with the quality and attention to detail we're known for," she said.
Three that you should be on the lookout for:
#WeAllGrowNYC on June 3rd, 2017.
#WeAllGrow FAMILIA on October 28, 2017, at the Munchkin headquarters in Van Nuys, California.
#WeAllGrowMIA in February of 2018.
There will also be smaller half-day conferences in major metropolitan cities with a high population of Latinas. Although the core of #WeAllGrow is the influencer marketing portion, the events are where they bring the community to life and they are able to showcase to the world the real faces, stories and voices of empowered Latinas.