Following the release of the disturbing video of the shooting of Laquan McDonald by a Chicago police officer, Temple University professor of criminal justice and sociologist Nicole Gonzalez Van Cleve discussed the controversial events with MSNBC host Rachel Maddow and talked to NBC Latino about her work.
Gonzalez Van Cleve is the author of the soon-to-be-released and already much discussed book, "Crook County: Racism and Injustice in America's Criminal Courts." Born and raised in one of Chicago's predominantly Mexican and Latino neighborhoods, she spent many years researching the city's criminal justice system. She detailed an environment where "prosecutors looked the other way" in cases where the police altered arrest reports, used racially derogatory terms and where police and legal authorities had what she called "such a lack of regard for life," as she told Maddow.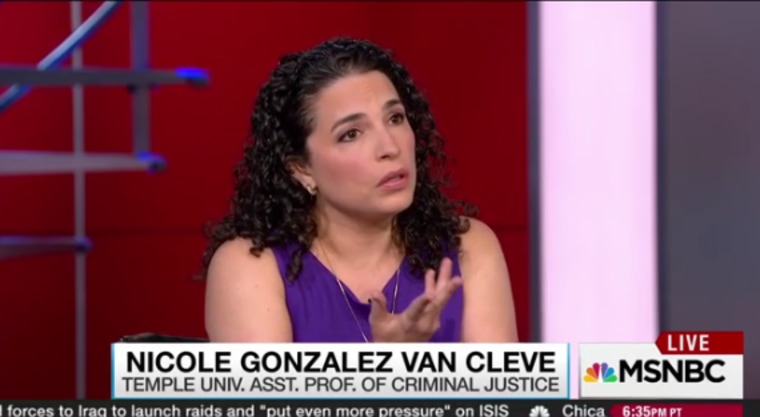 "As a sociologist we know that cultural change doesn't come in some ways from getting rid of the leadership," said Gonzalez Van Cleve on MSNBC, in response to the news that Chicago Police Superintendent Garry McCarthy had been fired. "There is rank and file racism in the police department, racism that I saw in a decade(long) study of the Cook County court system, and it goes all the way into the prosecution's office where I started in 1997 and began researching it," she added.
Gonzalez Van Cleve said she saw how some prosecutors who did try to call attention to police misconduct in criminal cases where stopped and blocked.
"There has to be a way that good police officers and good prosecutors can whistle blow," Gonzalez Van Cleve said. "There's no protections for those prosecutors - they leave the office completely discouraged," she said.
In a phone interview with NBC Latino, the scholar explained how she was able to amass so much detail - many of it controversial- about the inner workings of the Chicago criminal justice system. She said that because she is lighter-skinned, "white attorneys and judges were willing to talk to me in ways that they wouldn't talk to people of color."
But as someone whose family lived near the Cook County Jail, she noticed that the jail was "perversely convenient to only people of color," says Gonzalez Van Cleve, she wanted her scholarship to result in "making sure there is a semblance of justice in a place that is near and dear to my heart."