CORAL GABLES, Fla. — In one of the nation's most closely watched congressional races, a Republican Cuban-American former broadcast journalist is using her name recognition and familiarity with the Latino and exile communities to mount a heated contest against her Democratic opponent, a former Cabinet Secretary and university president.
Republican Maria Elvira Salazar, 56, and Donna Shalala, 77, are in a virtual dead heat as they seek to replace outgoing Republican Rep. Ileana Ros-Lehtinen in Florida's 27th congressional district.
Ros-Lehtinen, who is Cuban-American, was the first Latina member of Congress and held the seat for nearly 30 years before announcing her retirement earlier this year, enjoying strong support from voters.
Yet the same voters who repeatedly re-elected Ros-Lehtinen voted for Hillary Clinton over Donald Trump by nearly 20 percentage points, the highest margin for any Republican-held district.
The district includes wealthy areas like Coral Gables, Key Biscayne and Miami Beach, as well as the "Little Havana" neighborhood. Close to 60 percent of registered voters in the district are Latino, and the majority are Cuban-American.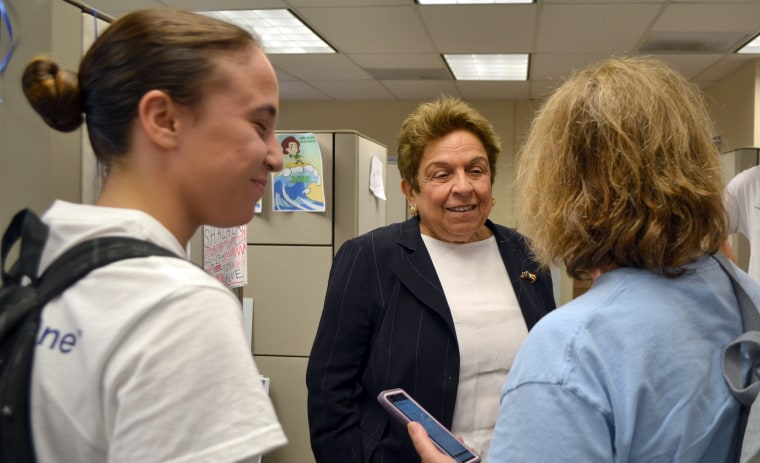 Many Democrats hoped Shalala's victory in the primary would result in an easy victory in November as part of of a "blue wave" that could tip the balance of power in Congress. Shalala has vast experience and national name recognition; under President Bill Clinton, she was the longest-serving secretary of Health and Human Services, and she later served as president of the University of Miami for fifteen years.
But with her face beaming into television screens for decades — she had her own show after having anchored and reported for Telemundo, CNN en Español and Univision — "Maria Elvira," as she is known locally, is familiar to many Spanish-speakers and older Latino voters in a district that is 73 percent Latino.
And in South Florida, politics takes on an international dimension as the issues of U.S.-Cuba relations and Venezuela are right up there with health care and the economy.
In recent weeks, the race has become so hotly contested that the National Republican Campaign Committee recently pulled out of Colorado Rep. Mike Coffman's district, who is lagging in polls, in order to add about $1.5 million in TV ads to boost Salazar, Politico reported. The latest polls vary slightly. Cook Political Report recently moved the district from "toss up" to "lean democratic, meaning it is still a competitive race, but Democrats have an advantage.
When it comes to Miami's Hispanic vote, analysts say it's harder to predict voter attitudes, which include factors such as class differences — there are wealthy, educated Latin Americans as well as working class voters — and different experiences based on Latinos' countries of origin.
"The Democrats have had a very difficult time figuring out the Latinos in this district for a very long time," said Eduardo Gamarra, a political science professor at Florida International University.
Salazar seizes on Cuba, Pelosi visit
While the Cuban-American community, especially younger voters, are not as traditionally Republican as in the past — Hillary Clinton's solid win in 2016 is evidence of that — there is a contingent of Cuban-American voters, especially older ones, who support the Republican party's hard line stance toward Cuba. Many of the more recent Venezuelan and Nicaraguan exiles support a tougher stance on foreign policy.
Last week, Republicans went on the offensive after Shalala's campaign posted an announcement that the Democrat would hold a campaign event with Rep. Nancy Pelosi, D-Calif., and Rep. Barbara Lee, D-Calif.
Lee has been criticized for telling the San Jose Mercury News after Fidel Castro's death that "we need to stop and mourn his loss," and for being part of a group of Democrats who have called for mediation, perhaps through Pope Francis, instead of sanctions against Venezuela.
Salazar quickly capitalized on the announcement, blasting Shalala during one of their televised debates, saying Lee's upcoming visit was offensive and insensitive to Cuban and other Latino exiles.
Shalala said she hadn't known Lee was making a campaign stop at her office, and in an interview with NBC News, she said that "Lee's remarks on Venezuela and on Cuba and their leadership are not my views."
She's also shot back at Salazar's support for Trump, bringing up the president's relationship with 'dictators' like Putin and criticizing Salazar for calling the late Fidel Castro 'Comandante' (Commander) during an interview in the 90s.
Rep. Lee didn't show up at Shalala's event, but a group of about 40 protesters, including members of the far-right group Proud Boys, angrily confronting Pelosi, cursing at her and calling her a communist in Spanish and English as she walked into Shalala's headquarters for the event.
This was seen in a widely circulated video that also showed Miami-Dade Republican Party chair Nelson Díaz banging on a locked door where Pelosi had entered. This elicited criticism from Sen. Marco Rubio and Ros-Lehtinen; Diaz later apologized and disavowed any connection with the far-right group.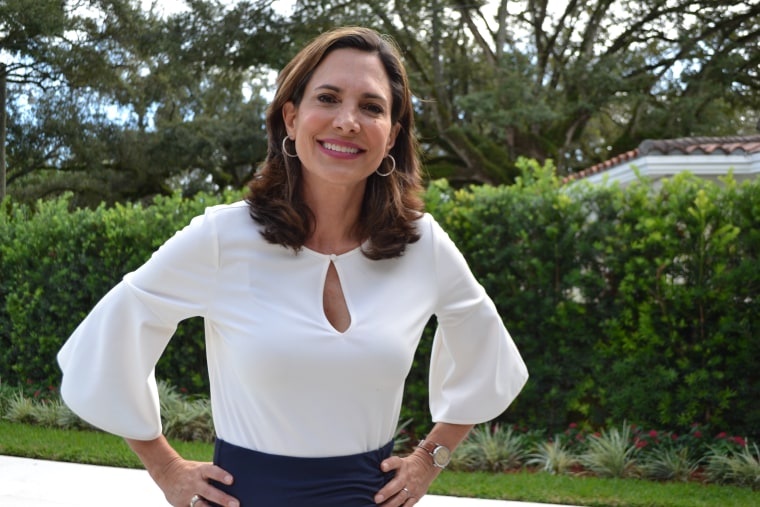 Despite that, Republicans have taken advantage of the debacle and released Spanish-language ads on television and radio this week warning Cuban-American and Venezuelan voters that Shalala "obviously doesn't understand us."
The Democrats and Shalala have been hitting back by linking Salazar with Trump, saying "she cozies up to Trump and his disastrous agenda, like Trump's plan that would raise health care costs and kick millions off health care."
On the issues
In an interview with NBC News, Shalala said she had been against Cuba's government long before coming to Miami. She said she would "keep pressure on the Cuban government" until she sees "genuine progress" in freedom of press and the release of political prisoners.
She does not have a problem with current travel restrictions, which still allow Americans to visit legally, though she said she wouldn't go to Cuba until it's a free country.
Salazar, in an interview with NBC News at her Coral Gables home, criticized President Barack Obama's policy of engagement with Cuba, saying, "Obama gave the Cuban government everything in exchange for nothing."
She would only support lifting the trade embargo once there is democracy.
Salazar, who was born in Miami to Cuban immigrants, has insisted that Shalala, who was born in Ohio, is "not from here," but rather a transplant.
But Shalala, who has lived in the area for over a decade, claims deep roots in the district and said her grandparents lived all their lives here.
She said Salazar has taken the "Trump strategy to divide us, rather than bring us together."
Shalala, of Lebanese ancestry, touts her extensive network of cousins throughout Latin America. Lebanon has a long history of migration to the Americas, so while her grandparents settled in Miami at the turn of the century, their brothers and sisters settled in Cuba, Brazil, and Mexico.
One Cuban cousin, who now lives in Miami, stars in a Spanish-language campaign ad, called "Mi prima, Donna Shalala. Prima means cousin.
Salazar has cast herself as a more moderate Republican, saying she is open to a ban on assault weapons and would support a carbon tax. She believes undocumented immigrants without a serious criminal record should be granted some sort of legal status, but not necessarily citizenship.
She says Trump should call an emergency meeting with the leaders of Honduras, El Salvador, and Guatemala to gauge what their needs are so the U.S. could offer assistance with the aim to curb violence and keep their citizens from migrating.
One of the issues they disagree on most is health care. Shalala supports strengthening and improving the Affordable Care Act, while Salazar believes people should be allowed to purchase out-of-state insurance.
Shalala, who calls Ros-Lehtinen "a friend," is considered a moderate, though she does not say she is. She has worked with Republicans in the past, including former President George W. Bush.
Shalala would ban assault weapons and bump stocks, saying it's the first issue she tackles if she gets to Congress "because it's what the community wants." She also supports investing in clean energy and encouraging solar panels.
On immigration, Shalala supports a pathway to citizenship for those who have "worked hard and played by the rules."
On the topic of Venezuela, both candidates support extending Temporary Protected Status to those fleeing the country for the U.S. and both would support some sort of military intervention led by a coalition of Latin American countries. Both stressed that Latin America would have to take the lead.
For the next three weeks, both parties are expected to ratchet up ads and campaign efforts.
"Miami Dade is a complex place for outsiders to understand," said FIU's Gamarra.