About a year ago, five teen girls teamed up to work on what they thought would be an easy assignment at their health informatics class at Tri-Tech Skills Center High School in Kennewick, Washington.
But over the course of the year, the assignment turned into a concept for a lifesaving app for teens who might be suffering from depression, anxiety, and other mental health issues. Now the unassuming young women have achieved national recognition in the field of STEM (Science, Math, Engineering, and Technology).
"To be honest, I didn't even know what STEM was before I started this project," said one of the young women, Stephanie Lopez.
Lopez and her four teammates created the concept for an app called "Safe&Sound," designed to provide helpful mental health tips and resources for teenagers. They did this for the Verizon Foundation's "Innovative App Challenge, a competition that encourages student interest in STEM.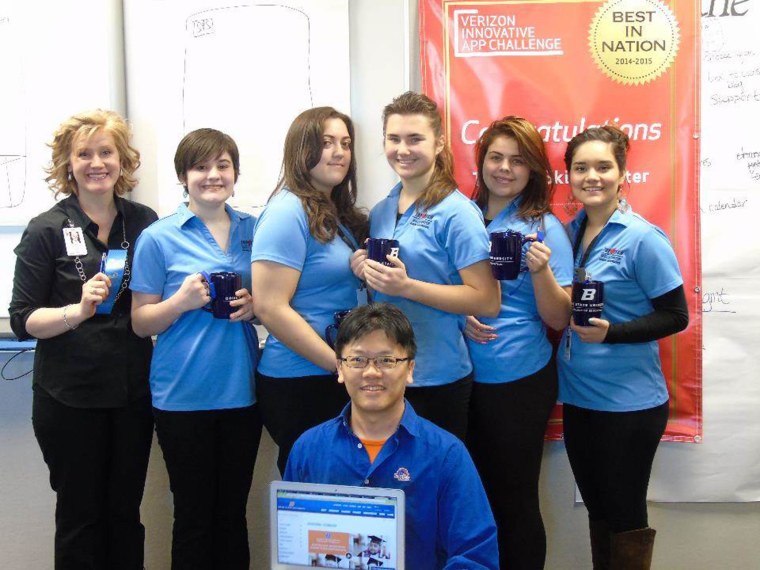 As part of winning the competition against 1,000 other schools in the nation, a representative of the Massachusetts Institute of Technology Media Lab flew to the girls' school last week to teach them coding and how to bring their idea to life.
The national acclaim and headlines was not something the teens would ever have expected. Lopez and Amanda Arellano, both Mexican American, tell NBC News they signed up for the Health Informatics class to pursue their interests in the nursing field. The elective class focuses on the technical aspects of health care, such as scheduling, electronic medical records, billing and coding, and the infrastructure of certain software.
Their teacher, Kristel Kinder thought the Verizon competition was a perfect fit for her class. "So I incorporated the competition steps into class assignments," said Kinder.
Arellano and Lopez recall seeing the competition as any other class assignment at first. But, as they won, "Best in the State," followed by "Best in the Region," their desire to win "Best in the Nation," grew.
"We didn't think we were going to win. This kind of stuff doesn't happen in real life," said Arellano.
Ms. Kinder's students came up with 20 different concepts for the application. This specific group was motivated to bring mental health awareness to light after a 15-year-old student shot five students and himself at the Washington's Maryville Pilchuck High School.
"I've suffered with depression and anxiety. I have a cousin who committed suicide, so this matter is close to my family's heart," said Arellano.
Lopez said mental health was not often discussed in her household but her dad deals with anxiety.
"He feels a little more comfortable reaching out and talking about it now after the competition but he's still working on it," she said.
The teens say the competition has helped them step out of their comfort zone and learn things they never thought they would, such as coding.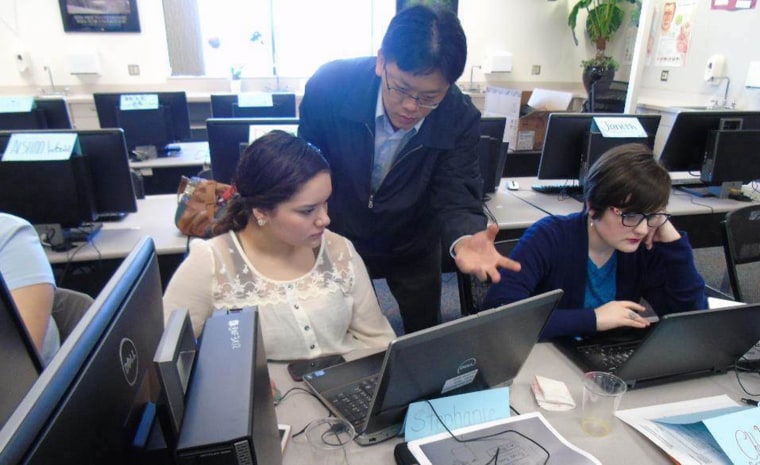 MIT Lab Master Trainer Yu-Chang Hsu will be assisting the team and their teacher in creating the application from scratch. He sent the girls coding tutorials prior to flying out to meet them at their school last week. He gave them two days of in-person tutorials and now it's up to the team and Ms. Kinder to work on the rest of the application by themselves, which will be launched on Google Play when it's completed.
The Tri-Tech Skills Center team will have weekly Google Hangout meetings with Hsu and other Verizon representatives until they are finished with the app. Kinder expects they will be done in May just in time for their presentation at the 2015 National Technology Student Association Conference in Dallas.
"These girls are learning coding and computer science. This is something they can use in their future jobs," said Justina Nixon-Saintil, Director of Education programs for the Verizon Foundation.
The girls have expressed their desire to translate the application into Spanish, and Hsu and the Verizon team will assist with this coding process. Though there is a need for more mental health resources in the Latino community, there is still a large stigma about the issue, said Nixon-Saintil, and the team felt it was important for the application to be bilingual.
Follow NBC News Latino on Facebook and Twitter
Despite the young women's unassuming demeanor, they recognize the experience has been a game changer.
"If someone told me I would have won this competition and get to be on TV and do all this stuff, I would have dropped out of this class. But, this challenge helped me grow as a person," said 18-year-old Arellano, who also enjoys writing and playing volleyball in her down time.
"I love to play soccer and I run track but I haven't had much time to do that now, but I'm learning other things like how to code and how to actually make applications," said Lopez.