Alexandra Meda, executive director and ensemble member of Teatro Luna, Chicago's first and only all-Latina theater group, says she was always encouraged to be involved in theater. Though her family was not wealthy, her mother, an arts lover, always found a way to have her in acting classes.
"I'm one of the luckier people of my generation who was actually encouraged and supported," the 29 year-old says.
In 2006, as a Junior at the Theater School at DePaul University in Chicago, she began an internship at Teatro Luna. She has been there ever since. "The internship never ended," she says, laughing.
Meda is part of a group of young women continuing the vision and work of Teatro Luna's founders, Coya Paz and Tanya Saracho. The theater was founded in June 2000 with an original ensemble of ten women from diverse backgrounds. The intent was to tell the underrepresented stories and experiences of Latina/Hispana women.
According to longtime company member Liza Ann Acosta, the two founders met each other at an audition. They complained about the limited roles for Latinas, decided to do something about it and pooled their personal savings to start the company. Paz, now an assistant professor in The Theatre School at DePaul University, was a grad student and activist. Saracho, now a writer for HBO, had just graduated from Boston University.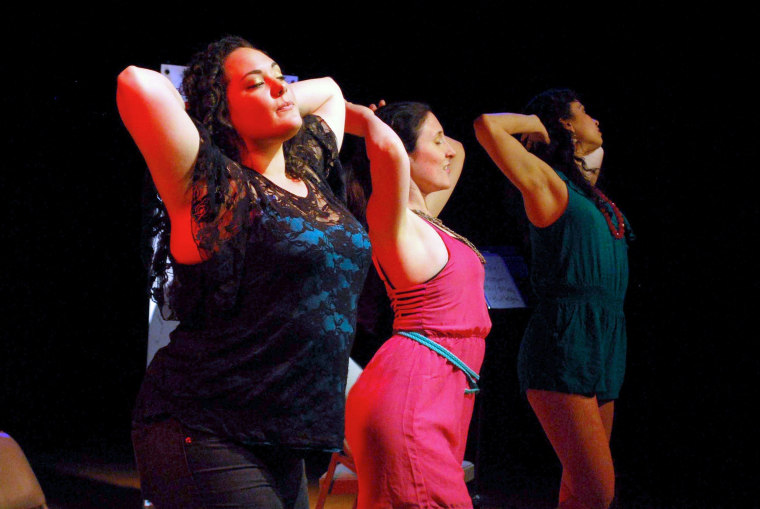 "They saw the Latino theater movement going forward, but it was very male dominated," says Meda.
Their first play, "Not Your Generic Latina," was a huge success, and it made them realize the kind of impact their theater company had. The play was a response to the notion that all Latinas are homogenous. "We're asked to identify ourselves very specifically and very generically -- our identity isn't easily defined," says Acosta.
"People were coming out saying 'I've never seen my story told on stage. I've never seen my body on stage. I've never seen these things,' " Meda says.
"People were coming out saying 'I've never seen my story told on stage. I've never seen my body on stage. I've never seen these things,' " Meda says.
Teatro Luna's members get that, because they say they have been there themselves. Abigail Vega, 25, grew up in San Antonio, Texas, and went on to attend Emerson College in Boston, a competitive arts college. "I was surrounded by people of incredible privilege," she says.
"I never thought of myself as Latina specifically, because I grew up in San Antonio and everybody there is. Nobody thinks about it. Then I went to Boston and all of a sudden I felt like I was very different. I was very confused," explains Vega, saying she felt like the environment around her was very homogeneous.
After college, she moved to Chicago and began acting, writing and touring with Teatro Luna, and recently became its Managing Director and is also an ensemble member.
Vega and Meda say Teatro Luna serves an important role in promoting not just its plays, but more Latino actors.
In 2009, Teatro Luna launched a lab program, composed of master classes for aspiring directors and actors, in response to the closing of some theater departments and theater companies. "That was our way of providing resources in the Midwest and Chicago women of color who wanted to go into the arts, but didn't have the resources or the family support to know where and how to start." Meda says. "We always saw ourselves as both a professional company and also a place for community members who have no formal training and eventually come out as professionals."
The group's funding almost entirely comes from earned revenue at the moment, says Meda. When she arrived at Teatro Luna, it was a $50,000 organization, but their budget began increasing as a result of grants and foundations, including a MacArthur. It's been a few years since they've received any major funds, however, and are looking to seek more in the future.
"We're able to tour and make money and serve communities." They are particularly passionate about serving young people when they're beginning to explore issues of identity, says Meda. Last year, they toured 19 cities in the United States and the United Kingdom, including the Edinburgh Fringe Festival.
At colleges and universities, "we always get someone coming up to us and crying," says Vega. "They can't believe that their story matters. That someone cares."
Teatro Luna is currently in residence at the Instituto Cervantes in downtown Chicago. Recently Vega and Meda directed a rehearsal of the piece "Ode to the Diva Cup" in their new space. The origin of the humorous piece began as a joke about the menstrual device, Vega says, and it has now gone through many different versions. According to Meda, there is no way to talk about love and sex without discussing shame and bodily fluids.
"Ode to the Diva Cup" is a part of the play "Generation Sex," which will be premiering in Chicago on May 30th. "This play is more about thinking of our place in the history of the world. It's a feminist piece of what it means to be a woman today," Meda says. "It's about the way we feel about ourselves in a way that's funny."
During the rehearsal, the six actresses said they were fortunate to have a sense of ownership in their theater group.
"Yes, they're Latina stories, they're women of color stories, they're female stories, but at the end of the day, they're human stories."
"I know that I'm in this bubble," Meda says. "I'm surrounded by powerful Latina women, we have all the opportunities in the world, but I know that's not the reality for people outside of us. It shocks me how much of a need there is for what we do still today."
The members of Teatro Luna hopes their diverse representations resonate not only with young Latinas, but with everyone."The more specific you are, the more universal you are," Meda says. "Yes, they're Latina stories, they're women of color stories, they're female stories, but at the end of the day, they're human stories."