FLAGSTAFF, Ariz. – From the news media and Hollywood to the halls of Congress, the explosion of attention to the #MeToo and #TimesUp movement makes up the backdrop for a record number of women running for political office. But while Hispanic women, in particular, have made significant ground winning seats for political office, Latinas confront a layered set of ethnic and gendered advantages and disadvantages both outside and within their community.
Elizabeth Guzmán and Hala Ayala made history in Virginia last November, becoming the first Hispanic women elected to the state's House of Delegates. Both Latinas not only defeated incumbents in their districts, but they each flipped their seats from the Republican Party to the Democrats.
NBC News reported that Sylvia Garcia, a Texas state senator and Veronica Escobar, a former county judge in El Paso, Texas, recently won their House primaries in heavily Democratic and Latino districts, making their election this coming November almost a certainty.
The primary victories by Garcia and Escobar, certain to be the first Latinas from Texas to represent the state in the U.S. House, are also likely to boost other Democrats' chances by leveraging their multi-dimensional appeal as women and as persons of color. There are hopes they could help increase turnout that could help up-ballot races, such as the race for the U.S. Senate between U.S. Rep. Beto O'Rourke, a Democrat, and incumbent Sen. Ted Cruz, a Republican.
Researchers have coined this the "Latina advantage", and it has become an emerging theme in the academic world. A new edited volume on Latina elected officials, "Latinas in American Politics", edited by Sharon Navarro, Samantha Hernandez, and Leslie Navarro, expands the scholarship on Latina elected officials that they say once "simply left Latinas out of the picture".
Julia Hellwege, an assistant professor at the University of South Dakota and a contributor to the book, says that "the argument historically has been that clearly women of color should be double-disadvantaged because of their gender and their ethnic background."
However, Hellwege says this is "the classic 1980s-1990s arguments," perhaps out of touch with emerging evidence to the contrary. In the 2000s, she says, "we see other works that say actually they have some advantages in running when compared to other subordinate groups, such as white women and minority men. Particularly in state races, Latinas are winning at higher rates than other groups."
In her book, The Latina Advantage: Gender, Race, and Political Success, Christina Bejarano writes that "minority females encounter a positive interaction with their gender and race/ethnicity that results in fewer electoral disadvantages [than men]. As a result, they perform better electorally than minority men among some key voters."
The research of Bejarano's book was further substantiated by Jessica Lavariega-Monforti, a dean at California Lutheran University and contributor to the edited volume on "Latinas in American Politics."
However, this advantage is not being capitalized on by the Democratic Party, said Lavariega-Monforti. "We especially have these two victories in Texas," she said pointing to the Garcia and Escobar in Texas, "and yet the Democrats aren't seizing the momentum."
Shortly before the primary, Senate Minority Leader Chuck Schumer, D-New York, endorsed Garcia's rival in her primary for the Houston area U.S. House district seat, that is heavily Latino. The endorsement angered Latino groups that had been backing Garcia financially.
Thus emerges a problem with Latinas seeking political office.
Scholars point to cultural and institutional barriers that exacerbate the problems Latinas have, not only in running for office, but once they are in office as well.
Hellwege points out that Latinas are much more likely to live in multi-generational households as caretakers for other family members. For instance, Gov. Susana Martinez of New Mexico handles responsibilities for her sister, who has cerebral palsy. Latinas also have fewer resources, making it more difficult to take the frequent trips from Washington D.C. to their home district. These added responsibilities and pressures make the decision to run a difficult choice.
This is why Guzman, the Virginia candidate who was elected to the House of Delegates, has taken part in a new initiative between the National Hispanic Caucus of State Legislators (NHCSL) and Rutgers University called the Latinas Lead Initiative (LLI) to help recruit and train Latinas for office.
Frustrated by the lack of representation for Latinos in her state legislature and compelled by the election of Donald Trump, Guzman decided to run for office. However, she found it difficult to cross-fertilize ideas with other Latinas. The Latinas Lead Initiative is meant to serve as a clearinghouse of ideas on campaign strategies at the local level.
"All of the Latinas who are running for local office, we didn't know about each other. We all had our own campaign strategies," Guzman said. "Finding Latinas who are willing to help is important, to be there and take our success and failures. Trying to come up with a strategy. We are famous for working hard."
The added pressure because of family obligations and the lack of professional networks that facilitate campaigns makes running for office a difficult decision, but others point to problems within the Latino community as well that act as a disincentive to run.
In a phone conversation with NBC News, Lavariega-Monforti discussed a recent sexual harassment episode that hit Congress.U.S. Rep. Ruben Kihuen, D-Nev., a young charismatic immigrant who had captured the imagination of Latinos wanting to run for office, was recently accused by several women of sexual harassment. Initially, he declared that he would not run for office in 2018, but he recently announced that he was having second thoughts.
With the exception of an early call by House Democratic Leader Nancy Pelosi, D-Calif., and a few others for Kihuen to resign, the party has been conspicuously silent on the matter. The Congressional Hispanic Caucus, which is led by a woman, Rep. Michelle Lujan Grisham, gave a tepid response to Kihuen's harassment allegations. In an interview with The Nevada Independent, Raul Grijalva, a member of the CHC and veteran member said, "For us, as a body, to be arbiters and the judge and jury, that's way beyond our role."
However, when addressing harassment allegations of another Democrat, John Conyers, Raul Grijalva said: "The ranking member needs to step down, at the minimum." Rather than speaking for the CHC, however, Grijalva was speaking as the co-leader of the 76-member Congressional Progressive Caucus. Several attempts by NBC News to speak with the CHC were unsuccessful.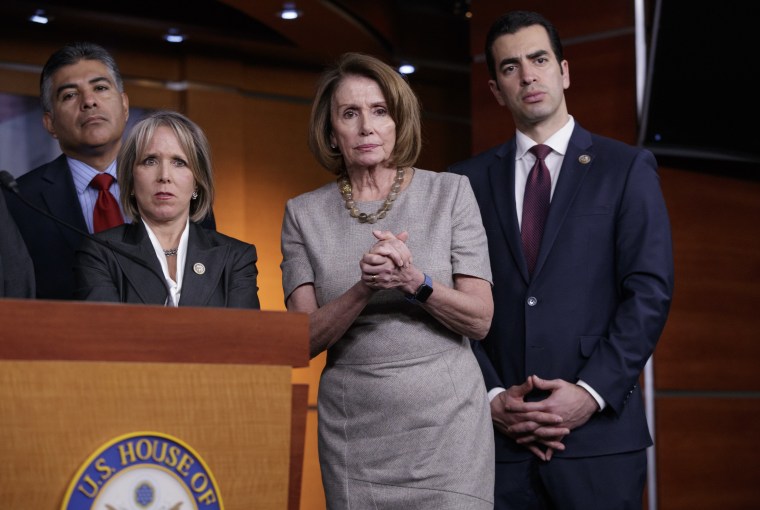 In a statement issued by the CHC in December, when the allegations were initially reported, the caucus said: "The CHC is committed to being a part of the solution, which ensures that our workplaces are safe, professional, and treat all employees with dignity and respect."
Melissa Michelson, a Professor at Menlo College who studies gender issues, says the weak response by the Hispanic Caucus only serves to reaffirm stereotypes about Latino men. "What happened to #TimesUp? Are we just going to pretend this doesn't happen?" In a phone conversation with NBC News, Michelson said this could damage outreach efforts to get more Latinas who are considering office by driving up the costs of running.
But more work needs to be done and despite the gains, greater reflection and action on women's issues is still a work in progress. "I think some of the good ol' boy network still plays in Latino politics and it's still a man's domain," said Lavariega-Monforti.