Though records and turntables are so nostalgic they're becoming hip again, you probably have to be a a music lover of a certain age to remember the time spent looking over record album covers. Holding these treasures in our hands at the 10 and 2 positions, we didn't just gaze. No, we admired and we downright studied them, searching for the smallest detail or meaning we might have missed before.
Ruben Cubillos of San Antonio is of a certain age. A self-described cultural and Tejano activist, creative director and musician – he was the former lead singer of the iconic group The Latin Breed – the 59-year-old Cubillos recalls the indelible impression a Commodores album cover made when he was still a teen. Sitting at the kitchen table, lost in the album cover's illustrations and the band's logo, he told his mother, "I love this, and I'm going to do this one day."
Dreams come true. Cubillos estimates that since 1985, he's created about 150 album covers for musical artists and Tejano icons like Little Joe Hernandez and Selena, the latter for whom he designed her cursive logo signature.
NBC News caught up with Cubillos on the eve of the release of his newest album cover project, the highly-anticipated release, "Los Dúo," from one of Latin America's most recognized artists, Juan Gabriel. Released Tuesday, Feb. 10, the album features the Mexican star reinventing past hits with other musical artists, including Vicente Fernandez and Juanes.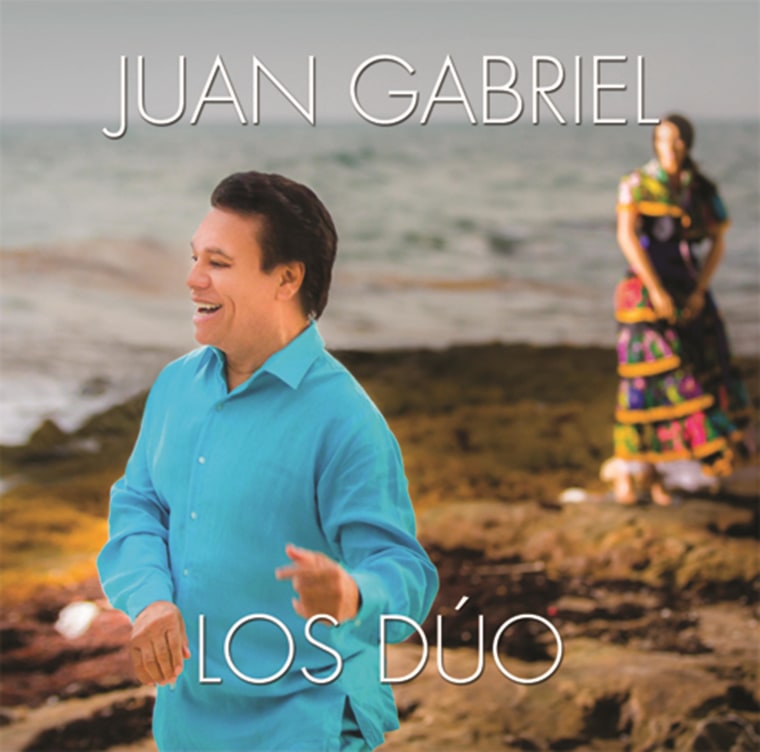 The album cover features a beaming Gabriel looking askance against the tropical backdrop of a lush Acapulco coastline. A dark-haired woman in a long, flowing dress of exploding colors stands in the background.
You've said the Juan Gabriel project might be your biggest cover yet. What do you mean by that?
Because of the marquee value of the artist. We're talking about a legend. This is the highlight of my career.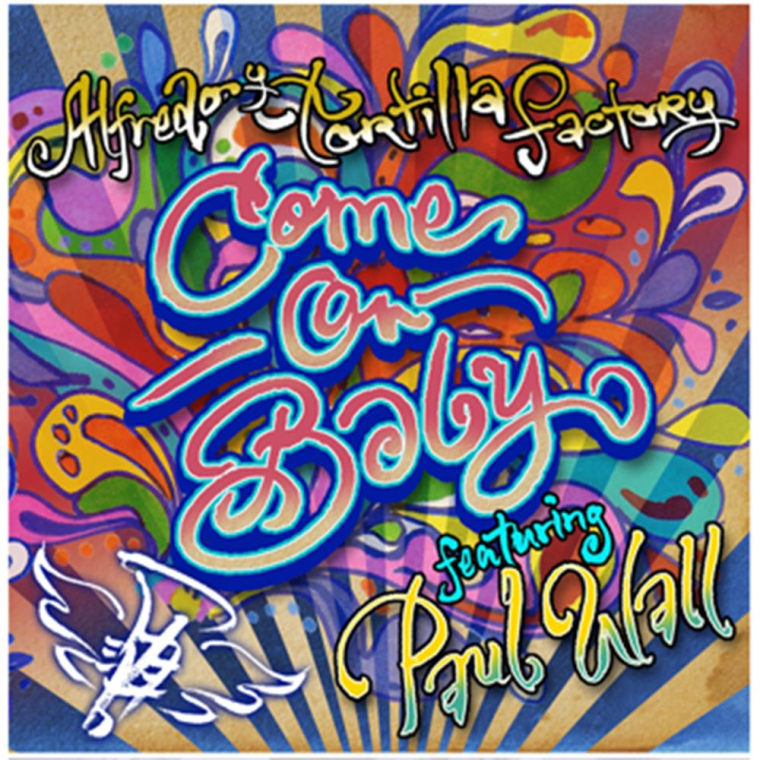 NBC: Why are album covers important, and why do they hold such a special fascination?
Cubillos: You have one frame to tell a story. So it's got to be interesting enough to pull you in, and it really needs to tell you the story of the music that's in it as well. The cover is just the one door. As soon as this front door is open, it has to have content that's better.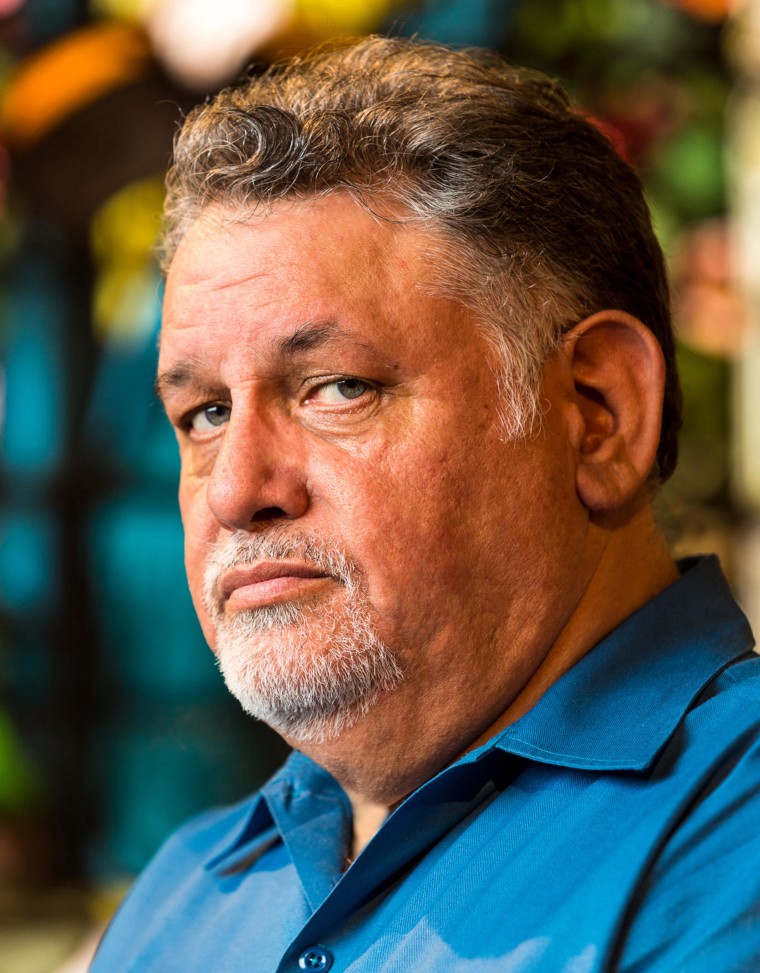 How did you get involved as art director for the project?
I've had a long relationship with Gustavo Farias (the album's producer.) We worked together in the mid-80s for Burger King and over the years on different projects in the Hispanic advertising world. … The one thing they wanted me to do was keep it simple, but keep it relevant to the times. And it needed to convey art. It's free-spirited. This is what the music is about. For this album, Gabriel is pairing up with other artists to do something very artsy, not the same renderings of his hits.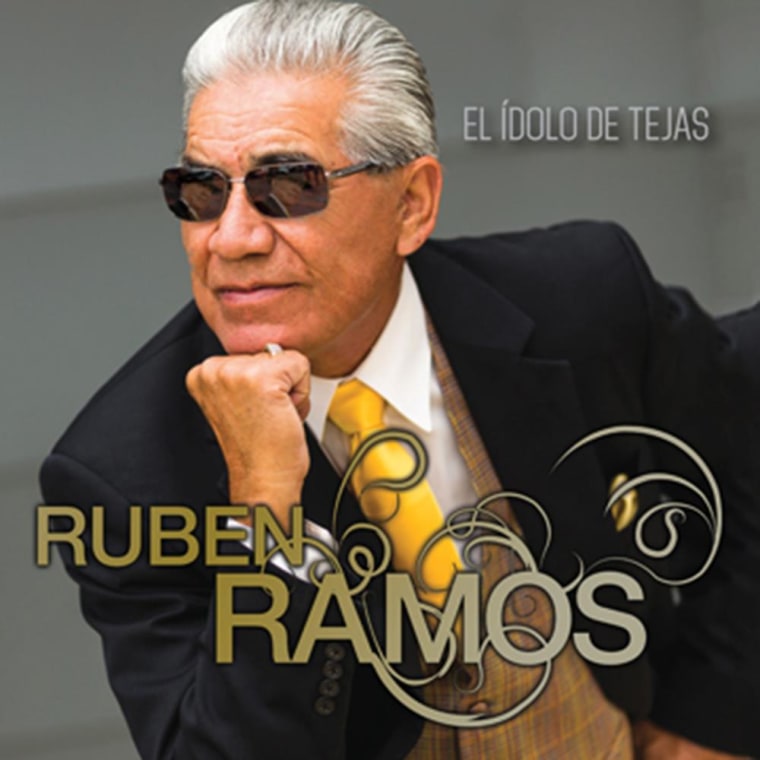 Your first album cover was for Little Joe for the record, "No Quiero Mas Amar." How did that collaboration come about?
I was probably about 23 and this was in the early 1980s. I had a class assignment (at the Art Institute of Houston) to draw an album cover for Joe. Well, he played in Houston that night, and I asked a mutual friend to arrange a meeting with Joe. He knew me as a musician but not as a designer. Well, musicians keep late hours, and the next morning, Joe, still looking groggy, met with me. I showed him what I had and he said, "Cool. Cool, man." Back then, the sketches were in hand-lettering. It took quite a bit of work. Later on, Joe called me and said he wanted me to do his next album. So, before I got out of art school, I had a published album cover. I always give Joe props for having faith in me.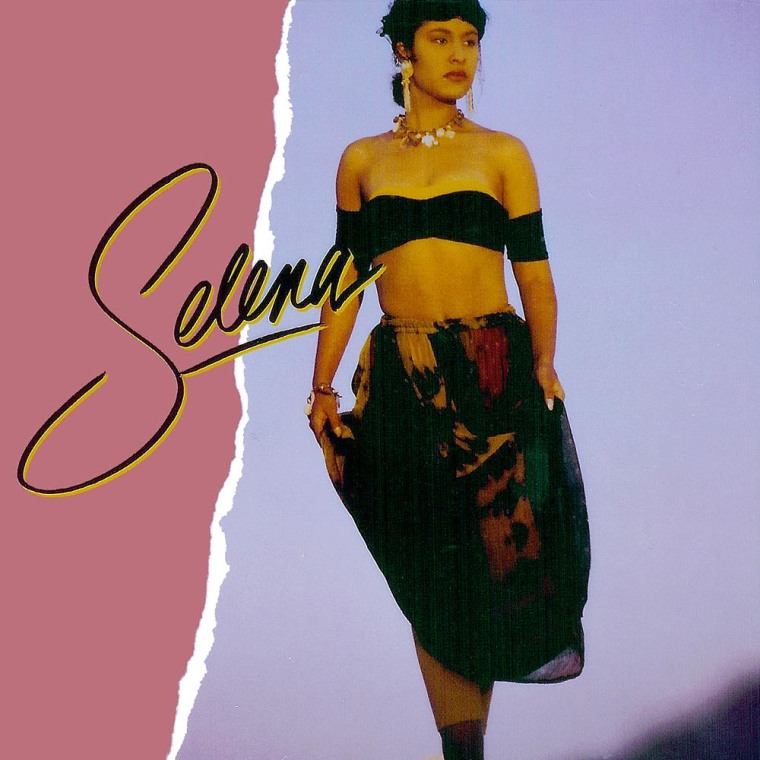 What was it like working with Selena?
I met her when we were both performing and she was coming up in the regional Tejano scene. We kept in touch. After I graduated from art school, I worked with an ad agency working with Coca-Cola and they recruited Selena as a spokesperson. We later worked together on her first release for Capitol Records, her national breakout. You never know how friendships are going to blossom. … I once did a photo shoot with her in San Antonio. The way we shot her captured her when the sun is going down, the blue sky, the sun tearing into her. She looked like a goddess. She had never done a photo shoot before. She had on a lot of makeup and big hairdos. I told her, 'We're going to put you on this pedestal.'"