There were five key "ingredients" that José M. Hernández's father shared with him to achieve a "recipe" for success.
Hernández would become one of NASA's few Latino NASA astronauts, and his inspiring story is now the subject of Prime Video's "A Million Miles Away," with actor Michael Peña starring as the engineer and former astronaut.
Audiences are likely to be inspired by Hernández's unwavering drive and determination to achieve his dream — despite applying and being rejected to the space program 11 times before finally being accepted.
From a young age, Hernández, along with his siblings would help his migrant farm working parents, Salvador and Julia Hernández, pick produce in the fields of the San Joaquin Valley in California. While oftentimes missing school and relocating for periods of time, Hernández was fascinated with the stars and space and had one big dream in mind: to become an astronaut.
"José's story was such an amazing, such a beautiful, honest, inescapable story that I just had to do," director Alejandra Márquez Abella tells TODAY.com. "I did have the experience of parallelizing myself to his story. If he could achieve all this then I can."
It also resonated with Peña. "My mom grew up not too far from where we shot in Mexico," the actor said in the production notes about Hernández's story. "Neither of my parents had a lot of opportunities. Each of them worked two full-time jobs so we could go to good private schools, which turned my attitude around as to what was possible. Becoming an actor is not the same as being an astronaut, but it is a nearly insane dream for anyone."
Read on to learn more about his decades-long journey from the fields to more than 200 miles above the Earth in the International Space Station.
A true story of 'reaching for the stars'
Yes, the film is based on Hernández's autobiography, "Reaching for the Stars: The Inspiring Story of a Migrant Farmworker Turned Astronaut," released in 2012.
After previously turning down offers to bring his story to life, Hernández was impressed with the producers, writers (Bettina Gilois, Hernán Jiménez and Márquez Abella) and director's vision.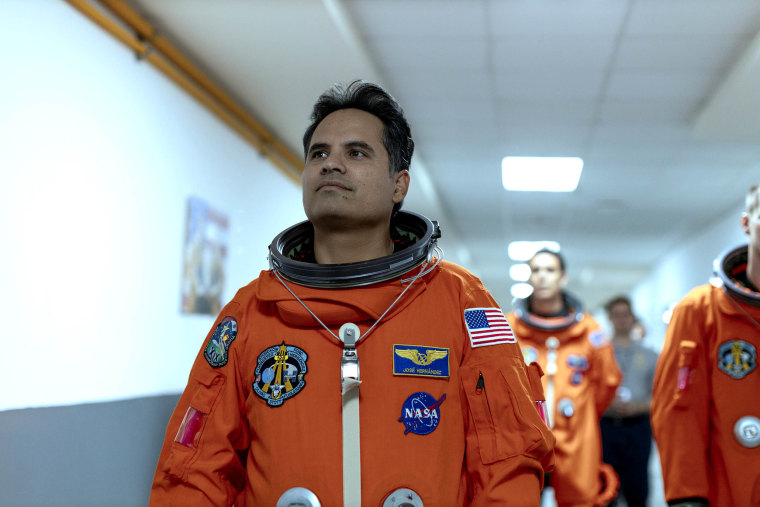 "I had written a couple of books and was giving motivational talks," Hernández said in the film's production notes. "My purpose is to encourage kids of any culture or race to reach their maximum potential. I saw the slate of movies this team has produced and knew these guys were serious filmmakers who could help bring my message to a wider audience."
For Márquez Abella, it was important for her and Hernández to have a close relationship, which they cultivated over time.
"Being Mexicans, both of us, it was easy to (form) a very familiar relationship from the beginning. I went to his house, I visited his family, his kids, his wife, his parents," she tells TODAY.com. "It was a very nice thing to have, not only because I wanted to observe and explore his life and his character, but also because I did want to have someone who could check on every technicality that the film needed. He was always around and it was a very nice experience."
A life-changing teacher's visit
Born in French Camp, California, Hernández's parents were originally from Michoacán, Mexico. As depicted in the film, and confirmed by Márquez Abella, Hernández's family followed the seasonal harvests. As a child, he worked in the fields with his parents.
Hernández only spoke Spanish until he was 12 years old and sporadically attended school. The film shows his second grade teacher Miss Young (Michelle Krusiec) visiting his home and talking to his parents about the importance of settling in one place so their kids could have a good education.
"That was a true story. She went to his house when he was a kid and she convinced the parents to stay in Stockton and stop moving around California and Mexico," Márquez Abella tells TODAY.com. "And that was a very (big) moment in José's life that changed everything."
"Of course, we have to add some sparks here and there so that the story rounds up the way that we wanted," she said. "But yeah, the story is true."
Márquez Abella notes that Miss Young visiting Hernández right before he headed to space was "added sparkle."
Once the family settled down and planted their roots, Hernández graduated from Franklin High School in Stockton and used his father's "road map" to make his dream come true.
Dad's 'road map'
Hernández's father, Salvador Hernández, gives his young son sage advice when he's frustrated from picking produce in the fields. He would go on to share with him the "recipe" to success, which is also how the film is formatted into various chapters of the engineer's life.
"Find your goal"
"Know how far you are"
"Draw a roadmap"
"If you don't know how, learn"
"When you think you've made it, you probably have to work harder"
"That's the recipe that José's father gave him in the fields when he was a kid and that was something that actually happened," Márquez Abella reveals.
"This wasn't in the script, but when I was editing the film, I thought that the film had the same structure as the recipe. It follows those principles, so it focused on those different stages of succeeding in José's life," she says.
"So I decided that we should chapter it in those ingredients," she continues, adding that it "made sense" and "it takes the audience in a much clearer way through the dream."
The engineering path
In 1984, Hernández earned his bachelor's degree in electrical engineering from the University of the Pacific. Two years later, he earned a master's degrees in electrical and computer engineering from the University of California, Santa Barbara.
After getting his master's he worked at Lawrence Livermore National Laboratory in Northern California. He was one of few Latinos there. The film depicts him getting mistaken for the janitor.
Once there, per the production notes, he and a colleague co-developed the first full-field digital mammogram.
A wife's love — and crucial support
In the film, Rosa Salazar portrays Hernández's wife Adela Hernández. While dating, she asks him, "What's your big goal? Dream?"
"I want to be an astronaut," he replies, while Adela Hernández bursts out in laughter. When he doesn't laugh, she says, "Oh my God, you're serious. OK."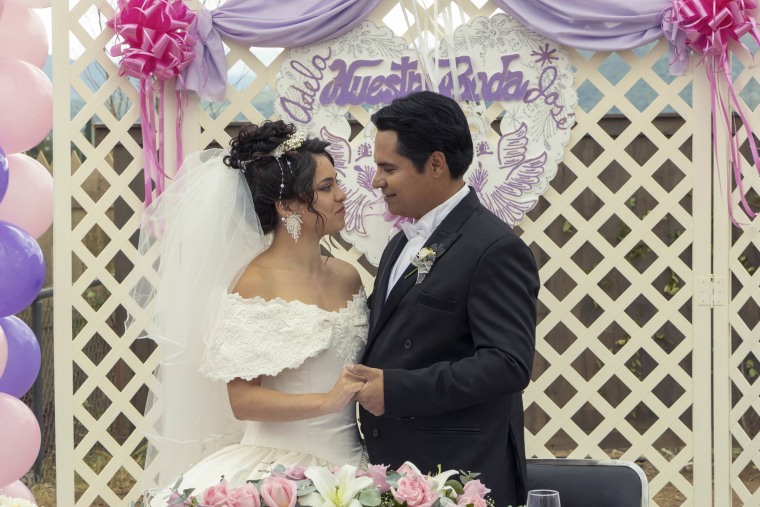 She would go on to be pivotal in making her husband's dream come true, supporting him after every rejection and pushing him to better himself. They share five children: Julio, Karina, Vanessa, Marisol and Antonio.
As the film showed, she eventually owned a restaurant just outside the Johnson Space Center gates called Tierra Luna Grill.
Rejections didn't stop him
Despite being rejected year after year, Hernández applied 12 times to NASA's training program before being accepted in 2004 at the age of 42. The film shows him keeping every rejection letter, but the director doesn't actually believe he kept them.
To bulk up his application, he became a certified scuba diver, obtained his pilot's license and learned to speak Russian.
Finally on August 29, 2009, Hernández would finally get to go to space. He traveled 14 days as a crew member on the shuttle Discovery, which transported seven tons of equipment and supplies to the International Space Station.
Per the film, "He had tacos and listened to José Alfredo Jiménez's 'El Hijo del Pueblo' up there."
His trip made him the first former migrant farmworker to have traveled to space.
Life after space
Hernández lives in Stockton, California, running the aerospace consulting firm he co-founded, Tierra Luna. As the film notes at the end, he still picks grapes with his father — only this time on their vineyard, where they make and sell their own line of wines, Tierra Luna Cellars.
He's also a motivational speaker, making guest appearances at various events. Currently, per the film, he and his wife are building a home where they plan living when they retire.
What does José M. Hernández have to say about 'A Million Miles Away'?
In an exclusive statement to TODAY.com, Hernández says he hopes the film inspires people to "pursue their own dreams" like he did his.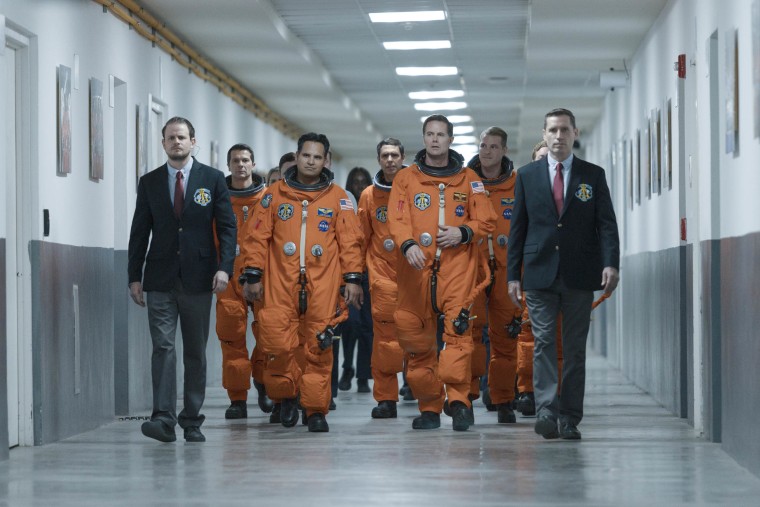 "I consider it an honor to have my life story told in the form of a film and by an exceptional director like Alejandra," he says. "I hope the film serves as a way of motivating many people to pursue their own dreams with the kind of passion I had to pursue mine."
As for Márquez Abella, she wants people to know that they can do whatever they set their mind to, as well as highlight "the people who take the time to pick the food and bring it to the tables."
"We have to be thankful for all of those (jobs) that no one wants to do, but (are) most necessary and important," she says. "To me, the important thing is to say that those jobs are honorable and they give you your work ethic and they give you your morals. It's from there that you're gonna build whatever you want to do. You don't have to become someone else, you don't have to be someone else or there's not another more honorable thing to do. You just have to look inside, and then look outside."
"A Million Miles Away" is streaming on Prime Video.
An earlier version of this story was first published on TODAY.com.