NEW YORK, NY — A group of Latino car wash employees, all immigrants, will see the largest per-worker wage settlement ever awarded in their line of work.
After years of litigation, 18 Latino car wash employees in the New York and New Jersey area will split a $1.65 million settlement for wage theft and emotional distress.
"Today marks the final step in a five-year battle: the battle for workers rights, the battle for immigrants rights and the battle against wage theft," said their attorney Steven Arenson. "Today, happily, this is the final piece in setting a record."
Each worker will receive, on average, about $91,000, and the two plaintiffs who worked the longest received almost $200,000 each.
The workers were employed at four car washes in New York City and Elizabeth New Jersey owned by José Vázquez. NBC Latino has reached out to Vázquez for comment.
The car washes where the plaintiffs worked were J.V. Car Wash in the Washington Heights neighborhood in New York City; Webster Hand Car Wash Corp. in the Bronx; Harlem Hand Car Wash Corp. in Harlem, New York City and the Bayway Hand Car Wash Corp. in Elizabeth, New Jersey.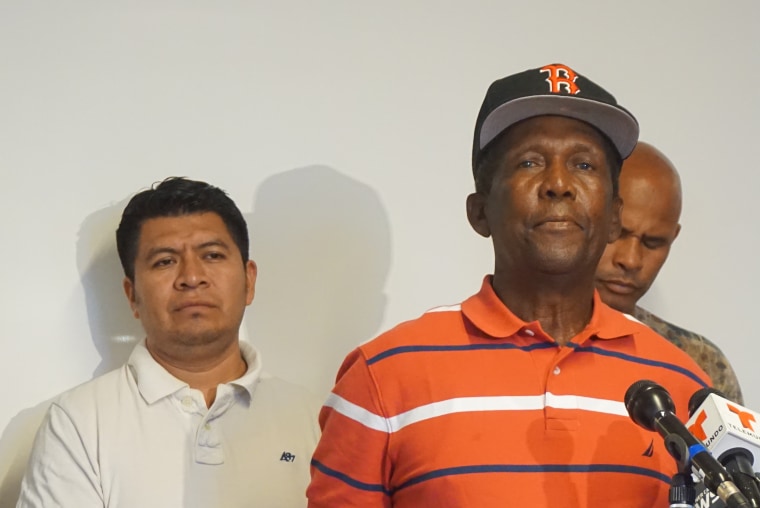 Ramón M. Alvarez, 70, worked for six years between Elizabeth, N.J. and the Bronx, N.Y. locations.
While employed at the car washes, Alvarez said he made as little as $20 a day, mainly from tips, while working 10-hour shifts at the New Jersey location. None of the employees were permitted to take breaks, and most ate their lunch in-between servicing cars.
When his manager learned that he was seeking legal help to earn a fair wage, Alvarez lost his job.
"When I looked for help they kicked me out of work because I looked for help," Alvarez said. "And for me, it was very difficult to take care of my family without a job. Today, I say thank you, God, that we won. Thank you to the American legal system. Here we thank the rules."
Alvarez currently lives with his 96-year-old mother in New York City, and with his settlement he plans to return to Santo Domingo, Dominican Republic to open a used car business.
Michel Rodriguez, one of the plaintiffs, began working at J.V. Car Wash less than a week after emigrating from the Dominican Republic. At its peak, that location can service up to 1200 cars a day, even during frigid weather.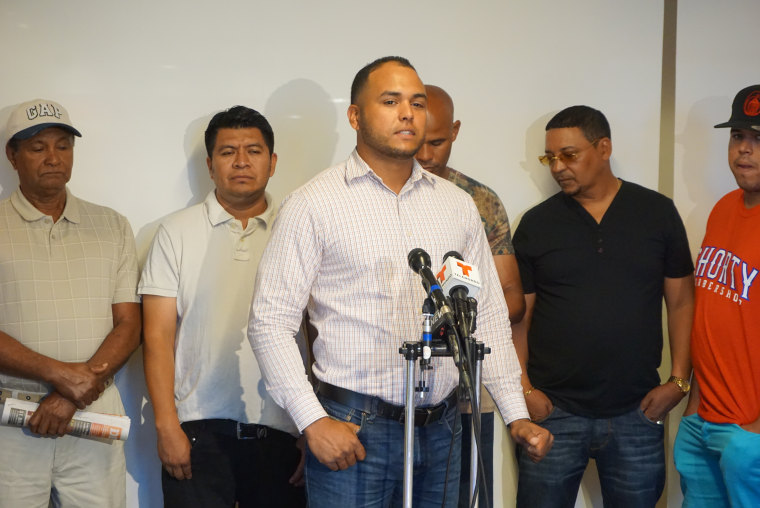 "It was my first job, and it was a very, very cold winter. We were sometimes out there with temperatures in the teens, and even below zero," Rodriguez said. "It is not a good experience, it is a very hard job and very hard work."
Rodriguez said he earned about $50 a day — including tips — for 12 hours of work. He said he would run to grab lunch during a lull, and eat it standing up before another customer arrived.
Now that he no longer works at the car wash, he intends to save enough money while driving for Uber so he can pursue a degree in criminal justice.
Vazquez filed for bankruptcy while the case went to court, and a trustee has taken over the car washes. Since filing for bankruptcy in New Jersey, the court-appointed trustee sold the car washes in New Jersey, the Bronx and Harlem. Vazquez remains the "debtor out of possession" of the J.V. Car Wash, meaning he owns the property and location, but cannot make money or manage the location until his bankruptcy case closes.
None of the plaintiffs are members of the Retail, Wholesale and Department Store Union, which presumptive Democratic presidential nominee Hillary Clinton supports.