CLEVELAND — Latino groups and their leaders were criticizing Republicans' presentation of immigrants following the party's first day of its political convention.
The National Hispanic Leadership Agenda, a coalition of 40 Latino groups, presented its positions and priorities on issues for the community on Tuesday near the arena where the GOP convention is being held.
Brent Wilkes, the executive director of League of United Latin American Citizens, said the "parade" of speakers sent a message that immigrants and people not legally in the country are more pre-disposed to commit murder.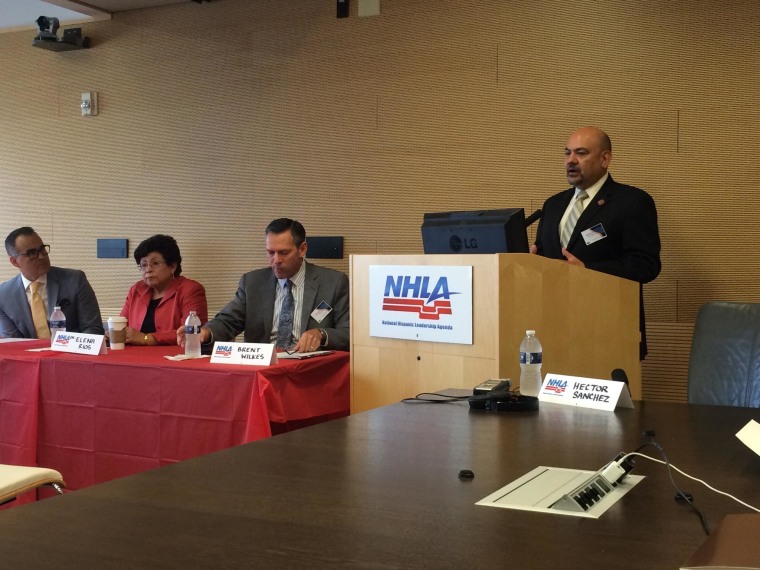 He called the message offensive and racist.
Wilkes was referring to the lineup of speakers which included family members of people who had been killed by immigrants not legally here. Among them was Jamail Shaw who said he was speaking to his son on the phone and suddenly heard the gunshots that killed him. His son had been killed by gang members who had targeted black males.
"We learned the killer was an illegal alien gang banger from Mexico," Shaw said.
Their comments were part of the GOP's general theme for the night, "Make America Safe Again," that wove issues of terrorism, the deaths of police officers in the Baton Rouge and Dallas ambushes on police and illegal immigration.
Related: GOP Convention Opens With Hardline Stance On Security, Immigration
"Yes, it's horrific when crime is committed in this country by anyone and it's certainly horrific if that crime is a murder," Wilkes said, adding that "if you are afraid of murder in this country you are much more likely to be murdered by a U.S. citizen than an undocumented immigrant," Wilkes said.
"For any candidate any person to charge … that because one person in this group is guilty of a crime that that crime then also can be conveyed to everyone else is very offensive and frankly is racist," he said.
NHLA presented its unified agenda for the Latino community that it has been issuing since the Reagan era. It includes only issues and proposals on which the 40 groups have reached consensus. The group considers the agenda a road map for candidates in addressing pressing issues of the community.
Many immigration advocates and others have decried the "criminalization" of immigrants that they say has occurred as state and local governments have used local and state laws to impose criminal penalties on immigrants or use state and local police to enforce immigration laws.
RELATED: Poll: Latinos Overwhelmingly Negative on Trump After Convention 1st Day
Even the Obama administration has been criticized as immigrants who re-enter the U.S. after deportation have been prosecuted criminally.
Dr. Elena Rios, president and CEO of the National Hispanic Medical Association, called the perspective on immigrants "divisive" because two of the speakers on crimes committed by people here illegally were African American.
"For blacks and Latinos to be pitted against each other is a very divisive approach and that's what happened last night," Rios said.
We are here to tell another story, different from the rhetoric you might be hearing," added Kenneth Romero-Cruz, executive director of the National Hispanic Caucus of State Legislators.
"Hispanic Americans are just like any other Americans. We love this country. We love being here. We love contributing to the fabric of what is America," Romero-Cruz said.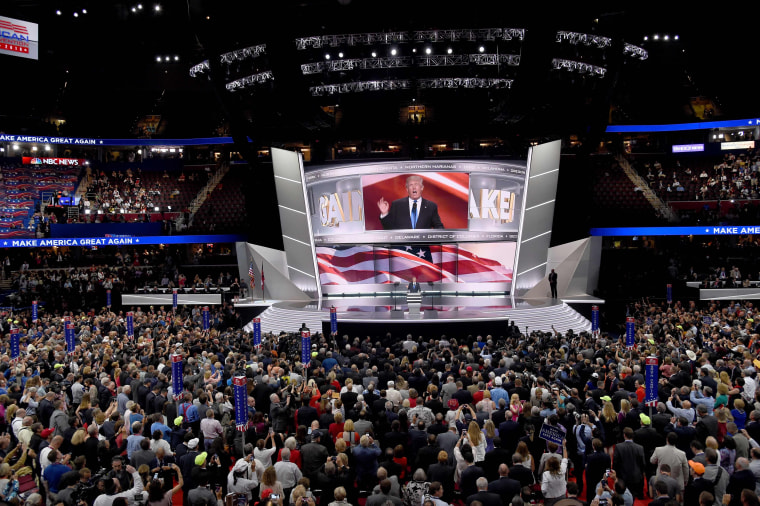 Wilkes acknowledged that "there are lots of folks in the Republican Party that understand the importance of Latino inclusion and … they've had a lot of effort to include Latinos in the party."
"What you are seeing here (at the convention) is one vision of the party," said Wilkes.
At a Tuesday morning news conference with Spanish-language and media covering Latinos, GOP spokeswoman Helen Aguirre Ferré said the speakers presented a view that everyone is a part of this country. She said while there are immigrants who are extraordinary among the 11 million who are often discussed, that there is another side to immigration not often discussed.
"The focus, more than anything, was that we have laws that have to be observed and we are not observing," Aguirre said.
But in a conference call to reporters, Aguirre's defense of the night's speakers was rejected.
"The Republican Party isn't trying to appeal to Latinos, and they certainly haven't toned down their rhetoric, they're only interested in demonizing us, attacking us, and dividing us," said Pili Tobar, a spokeswoman for Latino Victory Fund.
"But we are better than that and united — immigrants, women, the LGBTQ community, Muslims, and African Americans - we will defeat the Party of Trump in November," Tobar said. "Right now we're seeing Steve King saying that no other subgroups have contributed as much as white people. Trump has called for a border wall with Mexico," she said.
Some of the criticism has included attacks on Aguirre herself. Before joining the GOP, the RNC Director of Hispanic Media had written tweets critical of Trump and criticized him in appearances on television news shows.
"To see people like Helen Aguirre – who has traditionally been a supporter of immigration reform and up to a few months ago understood that Trump was dangerous and decisive – go on Spanish language media and claim he isn't racist is laughable and painful," said Maria Rodriguez of FLIC Votes.
"We've worked many years to combat the narrative that immigrants aren't criminals," Rodriguez said.
Some of the participants in the call have asked Aguirre to resign her position as a trustee of Miami-Dade College, where 68 percent of the college is Latino and a the student body includes a number of students who are not documented.
NBC Latino asked Aguirre for a response. "My focus has always been to help the GOP defeat Hillary Clinton because she is the face of the many failed policies that plague our nation today," she said. "The plurality of Republican voters chose Donald Trump and polls show that this race is close in key battleground states. He is an infinitely better choice than Hillary Clinton and his choice of Governor Mike Pence demonstrates that."