Americans for the first time will be able to respond to the census online next year, but there is skepticism that the change will lead to a more accurate count, particularly for Latinos.
The shift to digital, along with a potential question about U.S. citizenship, language barriers, underfunding and other issues, are combining to potentially make the 2020 census inaccurate and incomplete, according to the National Latino Commission on Census 2020.
"The census is at the greatest risk than it has ever been in our lifetime," Arturo Vargas, executive director of the National Association of Latino Elected and Appointed Officials Educational Fund, which formed the commission, told NBC News.
The commission held hearings in Los Angeles, New York, San Antonio, Orlando, Florida, and Columbus, Ohio, on the impact of Trump administration's policies on the census. Dozens of public officials, community organizers and others — many familiar with hard-to-count communities in their geographic area — provided input.
The commission's report was released Wednesday at the National Press Club in Washington.
"We have the Census Bureau continually telling us everything is on track," Vargas said. "This is a wake-up call. No. Everything is not fine. The Census Bureau needs to be proceeding, understanding the real problems it is facing and can't be sugarcoating what is happening throughout the country."
The Census Bureau declined NBC's interview request. In response to questions sent by email, as required by the bureau, Michael Cook, a bureau spokesman, responded: "The goal of the 2020 census is a complete and accurate count. We are conducting significant outreach to hard-to-count communities, and it will be easier to respond to the census than ever before."
The addition of a citizenship question is the largest concern, the commission found. The Supreme Court could deliver a ruling next month on the Trump administration's plan to ask people whether they are U.S. citizens, although the timing is not certain.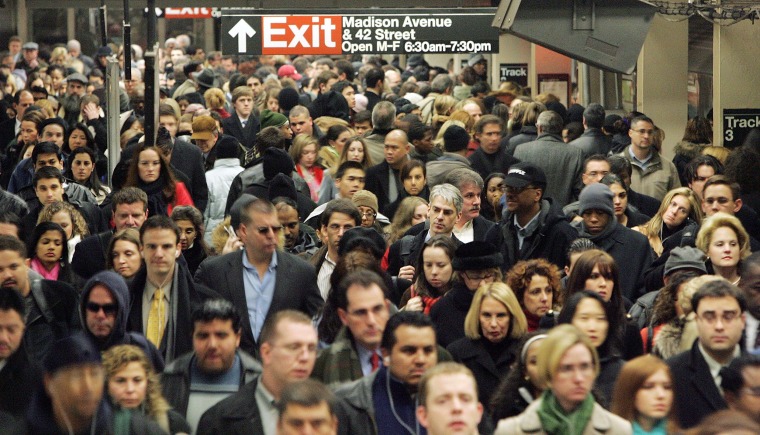 In an April hearing, the court appeared willing to allow the question, even though there was agreement between the government and challengers that its inclusion would reduce response rates. In a New York trial challenging the question, a statistics expert from Duke University testified that the Census Bureau's own research showed that asking citizenship would discourage responses from Latinos and noncitizens.
Members of the National Latino Commission on Census 2020, and witnesses who served on panels at hearings, roundly criticized the inclusion of the citizenship question. The bureau has not tested what effect the question would have on response rates, but is now planning to do so in July.
"Here in Los Angeles, the result of this would be disastrous," Los Angeles Mayor Eric Garcetti told the commission at a hearing, according to the report.
"The Latino community is concerned about the current political climate. The fear is real," James Diossa, mayor of Central Falls, Rhode Island, which has a 70 percent Latino community, said Wednesday.
Census data is used to decide how many U.S. House representatives each state gets, to divvy up funding for education, transportation, health and other programs among states and communities and by states to draw political election districts, as well as for voting rights enforcement.
The only Census test was in Providence, Rhode Island. Carlos Eduardo Tobon, a Rhode Island state representative said at the Press Club news conference that if the test is a glimpse of what is to come "we are in big, big trouble. The tactics to turn off and alienate people worked."
Questions about online access
Another major concern is the Census Bureau's plan to push for Americans to respond to the census online, the commission's report said.
A primarily digital questionnaire raises many red flags, the commission said. Yanidsi Velez-Bonet, a deputy director in Florida with the Hispanic Federation, told the commission that with the lack of access to the internet among many Hispanics, along with language barriers, "we are basically setting ourselves up not to have a fair and accurate census."
Alex Padilla, California's secretary of state and a commission co-chair, said during one of the hearings that prioritizing digital responses "was driven as a cost saver, not as a result of new and proven methodologies that are more effective."
According to the Pew Research Center, 72 percent of white adults in the U.S. used broadband at home in 2018, compared with 57 percent of black Americans and 47 percent of Hispanics.
In its most recent report on access to broadband, the Federal Communications Commission said that at the end of 2016, more than 24 million Americans lacked fixed broadband at speeds of 25 megabits per second (Mbps) for downloads and 3 megabits per second (Mbps) for uploads. Rural and tribal communities lagged further behind, the FCC found.
According to a Census slide presentation at a May 2 public meeting of the bureau's National Advisory Committee on Racial, Ethnic and Other Communities, 61 percent of 571,000 households in the test run in Providence, Rhode Island, responded online, while 7 percent responded by phone and 31 percent by mail.
The slide presentation stated that 52.3 percent of people responded to the census on their own and that the results "reinforced beliefs that certain demographics are less prone (to) respond via the internet."
But in hearings for the Latino Commission, several participants said that low-income residents in their communities don't have internet access. Texas state Rep. Cesar Blanco, an El Paso Democrat, said about 30 percent of rural and border households don't have access, including many who can't afford it.
Maria de la Luz Garcia, director of the Census 2020 Initiative in Los Angeles, cited a University of Southern California study that found 47 percent of households in southern Los Angeles have an internet connection.
It also remains unclear whether the questionnaire will function on smartphones, which many people use rather than a laptop and are often the only computer in Latino households.
Kevin Cosney, organizing coordinator for the African American Civic Engagement Project at California Calls Education Fund in Los Angeles, testified that 30 percent of African Americans only use internet on their phones.
Another participant, Ditas Katague, director of California Complete Count in San Francisco, said even if a mobile phone response form is created, some families will be reluctant to use their cellphone minutes to fill out the form.
Assistant Field Director James Christy said at the news conference that Census is planning to spend $500 million and will have a staff of 1500, double that for the previous census, for outreach.
"I'm here to say the Census is ready to go. We are on track. We are on schedule and we are on budget," Christy said.
Vargas said the census has been underfunded the past five years and is being forced to carry out a census it hadn't intended. He called on Congress to spend $8.5 billion for the census and said much of that money needs to be made available now.
The commission's research found many Hispanics prefer to fill out a paper version of the form and worried about whether the bureau is doing the needed outreach to inform Latinos of other options. There's also a concern about having enough paper forms to distribute and process.
NALEO's analysis of the Providence test found that 40 percent of Latinos filled out the questionnaire on paper and sent it in by mail, 35 percent did it in person with an enumerator, 20 percent did it online and 3 percent filled it out on the phone.
"Census will especially undercount Latinos if it relies too heavily on promoting online format, or if there is widespread belief that people must complete the form online," the commission's report states.
FOLLOW NBC LATINO ON FACEBOOK, TWITTER AND INSTAGRAM.