Members of the Congressional Hispanic Caucus have joined in the sit-in on the House floor that Democrats were staging to push GOP leaders to allow a vote on gun legislation.
The Latino lawmakers joined others in sitting on the floor and standing in the "well" of the House floor, disrupting the morning's business and continuing into the afternoon. At least one spoke in Spanish, noting that some of the victims of the Orlando massacre on June 12 had families in Puerto Rico and were from the Latino community.
Related: Analysis: Can Orlando Spur Latino-Gay Alliance on Gun Control?
The sit-in was being led by Rep. John Lewis, D-Georgia, a hero of the civil rights movement who was beaten along with other marchers by law enforcement officers as they tried to cross the Edmund Pettus Bride in a peaceful demonstration for voting rights. The March 7, 1965 event became known as "Bloody Sunday."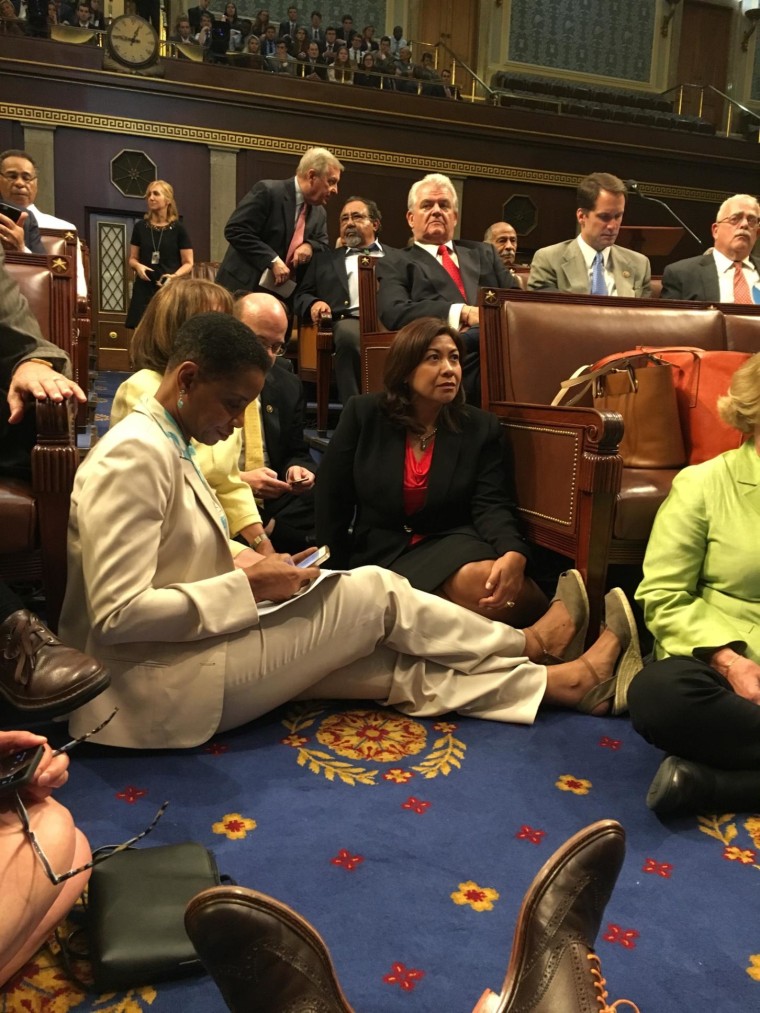 Some of the sit-in was seen live and on video while the House was officially in session, but once the GOP leaders gaveled the House to recess, the cameras were shut off.
With cameras shut off, members tried to get out word about their protest through social media, many tweeting out photos and updates or turning to livestream apps like Periscope and Facebook Live.
The members took turns at the podium, many making off-the-cuff speeches, on gun violence, criticism of the GOP, the historical nature of their protest and other topics. Some read the names of the victims of the June 12 massacre by a gunman at an Orlando nightclub. The Democrats were pressing for a vote on a bill that seeks to prohibit gun purchases by people on the "no-fly" list, prohibiting them from boarding planes.
During his turn at the podium, Rep. Jose Serrano, D-N.Y., explained the "protesta" in Spanish for families of victims of the Orlando massacre who he said "grieve in Spanish." Many of the victims of the massacre are Latino and had Spanish-speaking family members in Orlando and Puerto Rico.
The House is supposed to go into its July 4th recess at the end of next week, allowing members to return to their districts, so during the sit-in, members shouted "No bill, no break." The chant also became one of the sit-in's hashtags.
A study by Latino Decisions has shown that Latinos overwhelmingly favor modest reforms that reduce and restrict guns and ammunition. A Pew Research Center survey in 2014 showed found that Latino registered voters across the U.S. said they preferred gun control over the rights of owners by a margin of 62 percent to 36 percent.
In a news conference during the sit-in, House Minority Leader Rep. Nancy Pelosi, D-Calif., said the members would continue to be on the Capitol steps and on the floor of the House"until we get a vote."