HOUSTON – The morning after the last GOP debate before Super Tuesday primaries, a national group of Latino conservatives called on Ted Cruz, Ben Carson and John Kasich to drop their presidential bids "for the good of the party." The group then endorsed Marco Rubio.
The group has refused to back Donald Trump and Cruz, and aggressively opposed them, because of their immigration rhetoric and proposals to deport the 11 million people living in the country without legal permission.
Artemio Muniz, a member of the Latino Conservative Leaders group, recalled that when he was younger he saw law enforcement agents stand at supermarkets and pick people out randomly to check their citizenship status. Even as a child, he knew his father could be taken at any moment, he said.
RELATED: Marco Rubio Got Tough But State Wins Must Follow
"Nowadays we look at the Republican party and the battle for the soul of the GOP," he said.
"This is a battle we have to win for the soul of the Republican Party," Muniz said. "This is not the party of Reagan. This is not the party of W. Bush and this is not our party. We are going to fight for the soul of the Republican Party."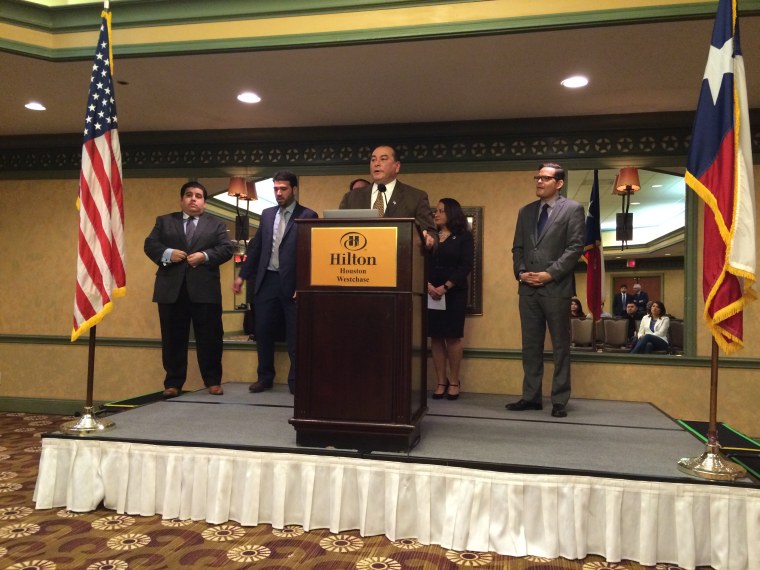 The leaders acknowledged that not all of Rubio's immigration views are acceptable to the community - such as letting the deportation relief program DACA expire. But they said he is the best chance for an immigration solution. Kasich has similar views on immigration, the leaders said, but not as strong of a chance of winning the nomination.
RELATED: How Did Republicans Do In Debate? Our Latino Panel Weighs In
"We respect Dr. Carson. We respect Gov. Kasich. We understand that Sen. Cruz has a right to run, but we ask they put the interest of the party and the country before their own interest," said Alfonso Aguilar, a spokesman for the Latino Conservative Leaders group. "If they continue in the race, Donald Trump is going to continue winning by default ... We can beat Donald Trump but we are running out of time."
Their endorsement came while Rubio was holding a rally in Dallas after the rough and tumble CNN/Telemundo debate at the University of Houston campus Thursday night. In Dallas, Rubio called Trump a con artist and read Trump's mean tweets about him.
The reality is that unlike in the general, a GOP candidate can win a nomination without huge Latino support, although in states like Texas, which carries 155 delegates, Latino support is more important.