Frida Kahlo, lucha libre, national flags or the iconic Puerto Rican coquí tree frog — Latino designers have turned a health precaution into a means of cultural expression.
As masks intended to curb the spread of the coronavirus become a mainstay amid the COVID-19 pandemic, artists and designers have stepped up to help communities protect themselves with style.
"We have to wear them to be able to go out, and I thought why not be able to wear something that I love deeply," said Ashley Nell Tipton, a plus size fashion designer and the winner of Season 14 of the fashion reality show "Project Runway." "It's a way of self-expression."
In recent weeks, the California native has shifted her company's production to focus almost entirely on making masks.
Her cultural designs include depictions of the Mexican painter Frida Kahlo and cards from the game Lotería. Tipton names these among cultural symbols she loves deeply, and said the community response has been overwhelmingly positive.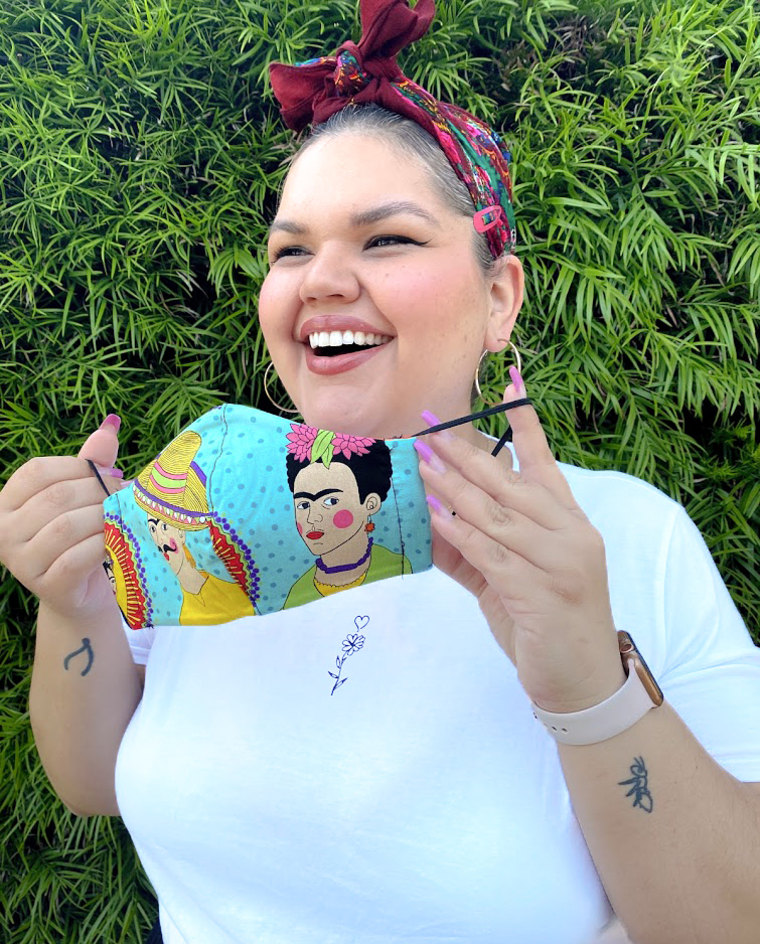 "Overnight, our life became masks," said Andrew Bisaha, Tipton's manager and her company's Chief Financial Officer, referring to the sudden and explosive demand for the product. He added that it's been a learning experience, as over time the team has figured out how to produce large quantities of masks while maintaining appropriate health precautions.
Since the prototype two months ago, Tipton and her team have donated around 5,000 masks to health care workers, and sold over 2,000 to retail customers.
"When people buy these masks, and they put them on, they have pride," Bisaha added.
For Marisol Catchings, the artist behind Azteca Negra, a line of Afro Latin jewelry and accessories, inspiration comes from a desire to help others feel seen.
"A lot of times, it's often overlooked or hidden," she said of the African influence on Latin American countries. As a black and Mexican woman, she said her cultural background instills in her feelings of love and happiness, and she wanted to create products to help others feel the same. "They get to wear something really awesome that they feel represents themselves," she added.
Catchings combines African and Mexican fabrics in her designs, many of which feature culturally significant patterns, like one mask styled after a serape, a blanket-like shawl that is commonly worn in Mexico and parts of Latin America.
Though Catchings has been cautious about getting others involved in her production amid the pandemic, she has had one staunch ally since the beginning.
"My mom has been the rock through this, just sewing night and day, and I've been asking her to take a break," she said. "But she hasn't."
A retired banker and one of the biggest supporters of Catchings' business, her mom was the first to suggest they begin making masks six weeks ago. Aside from making masks for sale, Azteca Negra's website has an online donation request form for first responders and health care workers. In the time since, they've donated almost two hundred masks to health care workers and completed nearly 500 retail orders.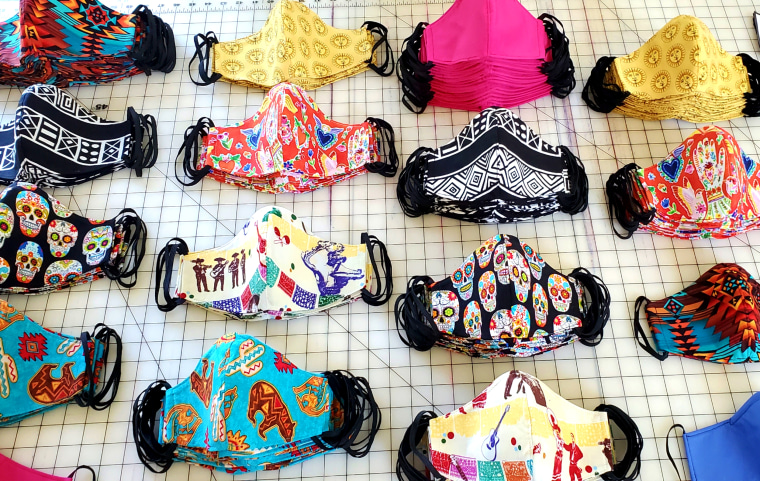 To Catchings, the ultimate goal is to alleviate the impact of the coronavirus, and she hopes her efforts will play a role in doing so.
"I hope everyone is wearing a mask, whether it's my mask or from anywhere. We'd like to flatten the curve and then to stay as safe as possible," she said. "So I encourage everyone to wear a mask, and I hope to reach as many people as I can."
Tipton shares those sentiments.
"I want people to wear it and just feel safe and be proud," she said.
Follow NBC Latino on Facebook, Twitter and Instagram.