Yonny Castillo, 21, began working in the fields with his family in Oregon when he was just eight years old. His family has picked blueberries, pears, and even cherries ever since he can remember.
But this summer, the Willamette University student has had a complete different experience. Instead of working all day in the heat and hand sorting fruit until sundown, Castillo put on a suit and tie and worked in Washington, D.C., meeting and interacting with professionals and Congressional representatives in Capitol Hill.
Castillo was one of four college students who recently completed this year's National Migrant And Seasonal Head Start Association (NMSHSA) summer internship program. It provides these students, whose summers have been spent picking fruit and vegetables, with a chance to work with professionals and organizations and work toward a more professional and lucrative future.
Yesenia Calderon, 23, is the daughter of migrant farm workers and attends Central Florida University. She wants to become an attorney and serve families in her community. Through the NMSHSA program, she had the opportunity to intern with the Mexican American Legal Defense and Education Fund (MALDEF) in Washington D.C. One of her biggest goals is to one day return to D.C. and serve those that need her at a larger scale, she said.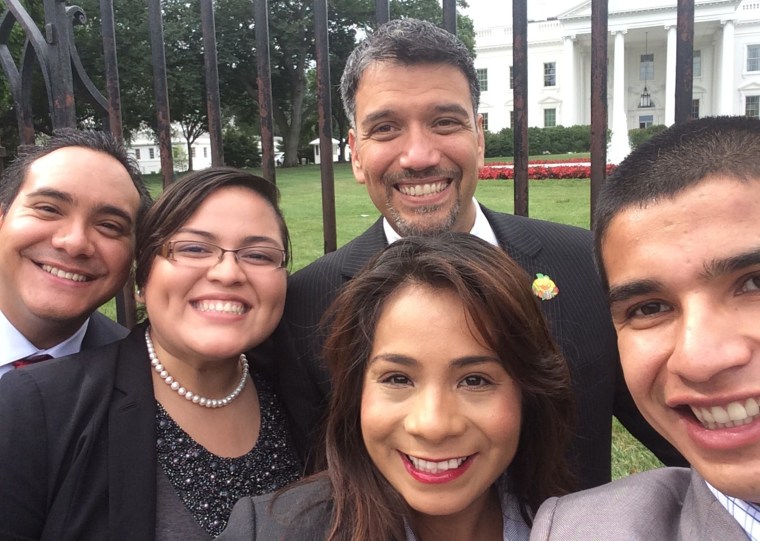 "Part of the challenges students have growing up is a lack of mentorship and guidance," said Cleo Rodriguez, Executive Director and founder of the National Migrant And Seasonal Head Start Association internship program.
Rodriguez knows what it is like; he was picking oranges and watermelons when he was 9 years old, his parents were migrant workers.
"It took me three years until I found my mentor in college at Texas State University," he said.
The college students in this Head Start program have already overcome incredible odds. Rodriguez said 66 percent of migrant children do not graduate high school, and even a fewer percentage of those who actually do are able to attend college.
66 percent of children of migrant farmworkers do not finish high school, so the college students in this program are already defying the odds.
The level of confidence these students gain through the program gives them networking skills and a professional etiquette needed to navigate the professional world. As a result, it can help break the cycle of poverty for them and their families, Rodriguez explained.
One unique opportunity for these students was attending a White House Citizenship Naturalization Ceremony with President Obama on July 4th.
"As soon as I walked in the White House I was so proud of myself and I just felt very empowered," said Yesenia Calderon.
For Yonny Castillo, the experience felt personal and closer to his heart. "Coming from a small town, I would never have imagined I would have a shot to be in the White House in the same room as the President," Castillo said.
"As a naturalized citizen myself, sitting there and watching their ceremony was really meaningful," he told NBC News.
Castillo said if it had not been for the NMSHSA summer internship program, he probably would have been working in the fields this summer picking blueberries for .39 cents a pound. All the money he makes is to try and cover college expenses, he added.
Through NMSHSA, Castillo interned with the Farmworker Justice, a national non-profit based in Washington, D.C. The Oregon college student hopes to one day be referred to as "Congressman Castillo;" he can provide a voice for those in his community through politics.
The students shared one thing very few Americans know, and that is life as a member of a migrant farm worker family.
"We would migrate twice a year and I would be in two different schools each year. I felt sad, because if I made friends, I knew in four months I was going to lose them," said Calderon. "I never had a bed set. It was always concrete because we would have to move so much growing up," she added.
That world seems more distant now with the completion of the program.
"I learned just to be able to dream just a little bit bigger. Making you realize that you can do so much more, and you can be so much more," she said.