WASHINGTON — Stories about home, family or childhood come rapidly firing from the lips of Ben Ray Luján, who heads the Democrats' operation to grow the party's numbers in the House.
He spouts tales of his Uncle Gus's wingtip shoes and sock hop prowess and of digging up worms and fishing with his brother, though they were always outdone on the catch by Tío (uncle) Robert. He also speaks of the family garden shared with his uncles and their families, including the kids.
"All of us worked the garden together and that's how we came together as a family," said Luján, chairman of the Democratic Congressional Campaign Committee, the DCCC (usually said D-Triple-C).
In the nation's capital, Luján is tending another sort of garden for his Democratic Party family. As the DCCC chairman he oversees the gathering and sowing of the field of candidates to run as Democrats for the House and the cultivation for re-election of those already planted in Congress, all with a hope of a bounty of seats in the House come Election Day.
He is the first Hispanic to chair the DCCC. A previous chairman, Tony Coehlo, a former chairman of the Congressional Hispanic Caucus, was of Portuguese descent.
"Right now what we are seeing is opportunity that has only gotten stronger because of the ugliness and divisiveness of Donald Trump," Ben Ray Luján, DCCC chairman.
Luján took over the DCCC in 2015, after one of the Democrats' toughest midterm election years. But what seemed a grim beginning is replaced by a hopeful outlook as the candidacy of Donald Trump has made Democrats think of greater gains in the House and even, if they allow themselves, to consider taking back the majority – although that is a long-shot.
"Right now what we are seeing is opportunity that has only gotten stronger because of the ugliness and divisiveness of Donald Trump," Luján said in an interview with NBC Latino.
RELATED: Republican Latinos Opting Out of RNC Convention or Going with Less Backing
"When Donald Trump decides to insult every family every community, wants to make fun of Latinos, those with disabilities, goes after veterans and prisoners of war, it's a disgrace and it's disgusting and because of that more and more people are paying attention this election cycle."
'Democrats Are on the Offense'
There are 247 Republicans in the 435-seat House and 187 Democrats. One Democratic seat is vacant following the resignation of Rep. Chakah Faattah of Pennsylvania last month.
Expectations have been that Democrats could win 10 more or possibly even 20 seats, but Trump has some thinking the 30 seats needed to take the majority is possible.
"Clearly in the House of Representatives, as we look at Congress, Democrats are on offense," Luján said. "We will pick up seats and it's only going to get better because of Donald Trump."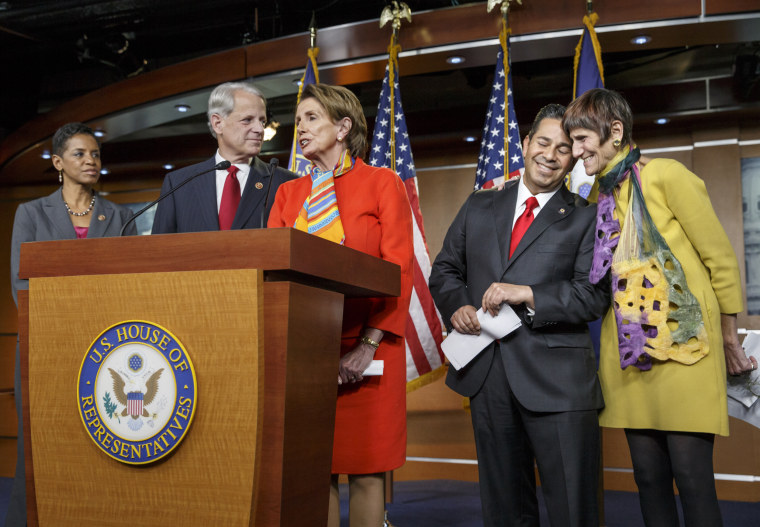 Some of the seats in competitive districts and others that are safely Democrat present opportunities to add to the 29 Latinos now in the House. They include:
- Salud Carbajal, a Santa Barbara County, board supervisor, running for retiring Rep. Lois Capps 24th congressional seat.
- Michael Eggman, a bee farmer in Modesto, who faces a tough race against incumbent Republican Rep. Jeff Denham, in California's 10th Congressional district. Eggman is Mexican American. This would be a gain for Democrats.
- Pete Gallego, a former congressman trying to win back the heavily Latino, swing Texas Congressional District 23 from incumbent GOP Rep. Will Hurd. This would be a gain for Democrats.
- Annette Taddeo, the DCCC-endorsed Democrat in the August primary race for Florida Congressional District 10, now held by Republican Rep. Carlos Curbelo. Former U.S. Rep. Joe Garcia, a Democrat, is competing to face Curbelo, who won the seat from Garcia in 2014. This would be a gain for Democrats.
- Emilio Huerta, son of Dolores Huerta, bested another Democrat to finish second to incumbent Rep. David Valadao, R-Calif., in the race for California's CD-21. They'll face off in November.
"I don't have a crystal ball in front of me," Luján said when asked about Democrats' chances of taking the House. "I'll leave all predictions to the pundits, but the pundits today are starting to change the narrative."
Growing Up With Wingtips and Food Under The Floor
If you want to know what it's like to be in Luján's shoes, you'll need to pull on a pair of wingtips.
Those are the work shoes of choice for Luján – a soft, brown pair on this day. And like so much else about him, they are a connection to his tight-knit family in New Mexico. In the case of the wingtips, they are an homage to Uncle Gustavo, his father's brother.
"Uncle Gus would just come back with work clothes wearing all that dirt and that grease or whatever, but his shoes were always shined. He took such pride in that," Luján said.
Pelosi's pick of Luján over other senior House members to run the DCCC was a surprise on Capitol Hill. She told the Washington Post just before the 2014 decision that he was a "really focused operational person."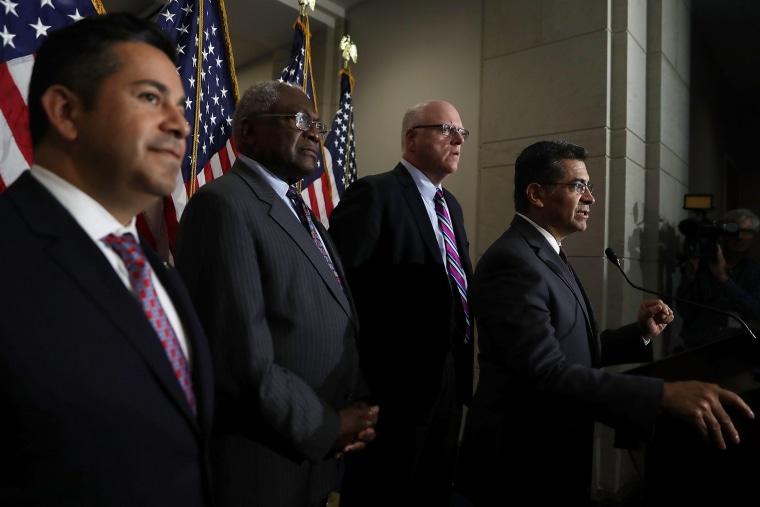 Luján had been the vice chairman of the Congressional Hispanic Caucus and oversaw fundraising for BOLDPAC, a political action committee that contributes to Latino candidates.
"From my perspective, it has been such a wonderful thing to watch his maturation process as a leader," said Larry Gonzalez, a lobbyist with the Raben Group who has supported BOLDPAC and CHC candidates. Gonzalez praised Luján's abilities to raise money and recruit and "ensure the party is putting resources where they belong, in diverse candidates."
Some have wondered whether the Democrats have done enough to capitalize on Trump for House races, but Gonzalez points out that many did not think Trump would last as long as he has. Republicans at the DCCC counterpart, the National Republican Congressional Committee, NRCC, say 2016 won't be a comeback year for Luján and his party.
"Simply put, Democrats do not have credible candidates to compete in the seats they absolutely must win in order to even think about reaching the majority," said NRCC spokesman Zach Hunter. "Combine these recruiting failures with Hillary Clinton's disastrous favorability ratings and you can see exactly why a majority is once again out of reach for House Democrats."
Democrats also must contend with state congressional districts that favor Republicans in many key states.
Turning Hometown Roots into Locally Grown Campaigns
Luján's father, also Ben Luján, was the speaker of the New Mexico House. His very distant relative Manuel Luján Jr. was a Republican congressman and Interior secretary under the George H.W. Bush administration.
Luján said it was never a certainty that he would follow his father into politics. But he was the youngest of four children and so had the chance to follow his father around to hearings, meetings and campaign events, since his brother and sisters didn't want to be stuck with him.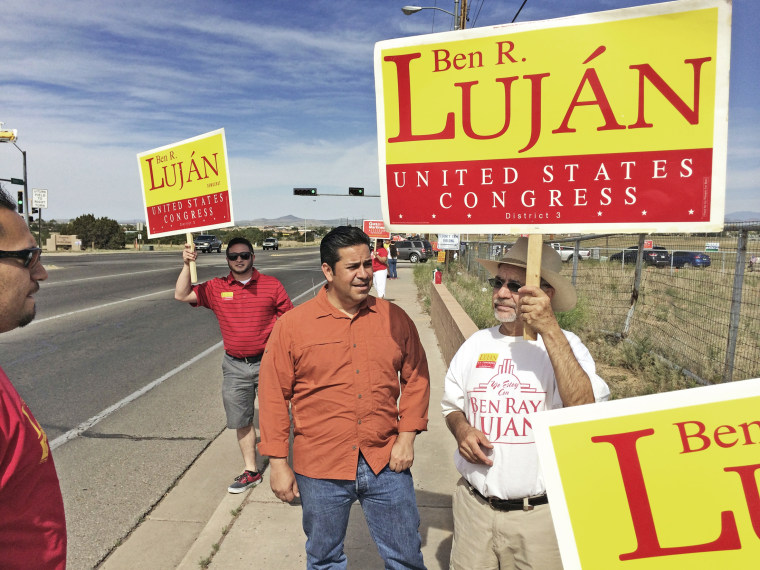 "I never fully appreciated the value of that education until I was older, and how dad was making such a profound difference in making people's lives better," he said. "It was through that, that I had my calling in public service."
Although he has a political pedigree, Luján's life is not one that would be considered economically privileged. Luján's father was an ironworker at Los Alamos and the son of a sheep herder. He died of cancer in 2012, which the family believes was a consequence from his exposure to asbestos at work.
Luján said it was his father's complaints to fellow ironworkers "about something in the community" that led them to urge him to get involved in public service.
"Dad always said it was his responsibility and our responsibility to bring voice to the voiceless," Luján said.
Luján grew up in the rural farming community of Nambé, where his family raised chickens and sheep, milking goats and sometimes a cow or two. His family ate vegetables and fruit from the garden and their chickens' eggs. In the winter, they relied on food they had canned.
The family garden was a central part of the extended family's survival, he said. Luján recalled being out early in the morning, before school, pulling weeds and learning from his grandparents that thinning the plants wouldn't deprive them of sufficient stocks of food.
"We didn't have much money," he said. "but you didn't grow up thinking you were poor because there was always food in the refrigerator or food in the cupboard, or better, under the floor where we kept the ground cold."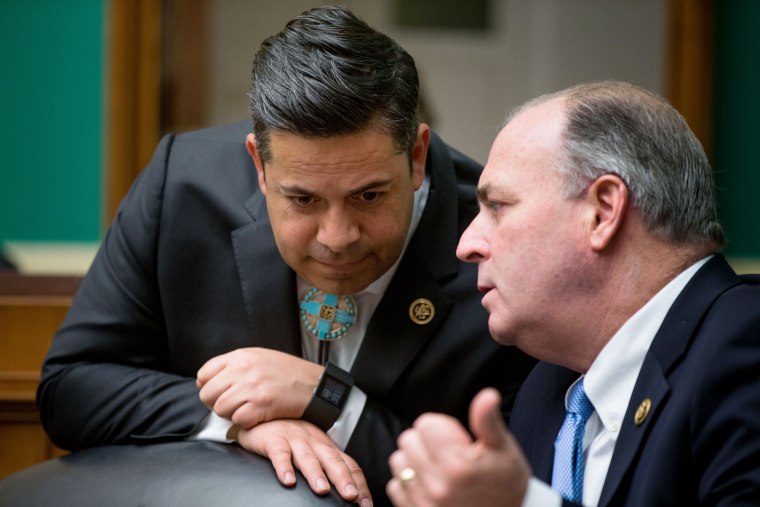 Luján is translating those inseverable ties to New Mexico and his discernible connection to family into what he calls a "lasting infrastructure" for the Democratic Party that is locally grown.
Campaigns often are staffed with people that are flown in for all over the country to a community that is the hotspot for a congressional race. Once the race is over, they leave and go home, leaving no lasting Democratic staff in place, Luján said.
He has opted to go local and boasts that now 86 percent of field staff is local, and 64 percent of that is completely local.
"I made it an effort that we were going to recruit local people, train them to be community organizers and get them involved in local campaigns. So that way after the campaign was over, there was still infrastructure at home," he said.
"Whether it's a campaign or an effort to get more support for local school districts — those campaign organizers are going to be in those communities, hopefully to be running more campaigns in the future and running for office themselves."