The head of a national Latino organization said Wednesday that 7.8 million Latinos are expected to vote in this year's elections, a 15 percent increase over 2014, but lower than in 2016.
Arturo Vargas, executive director of the National Association of Latino Elected and Appointed Officials (NALEO), delivered the numbers in a Washington news conference and in a report. The group has made a tradition of releasing expected Latino voting totals that have generally been close to the final numbers.
Already, 5 percent of registered Latino voters have said in a tracking poll conducted for NALEO by the polling firm Latino Decisions that they have voted, Vargas said.
"Latinos are ready to make their voices heard," Vargas said.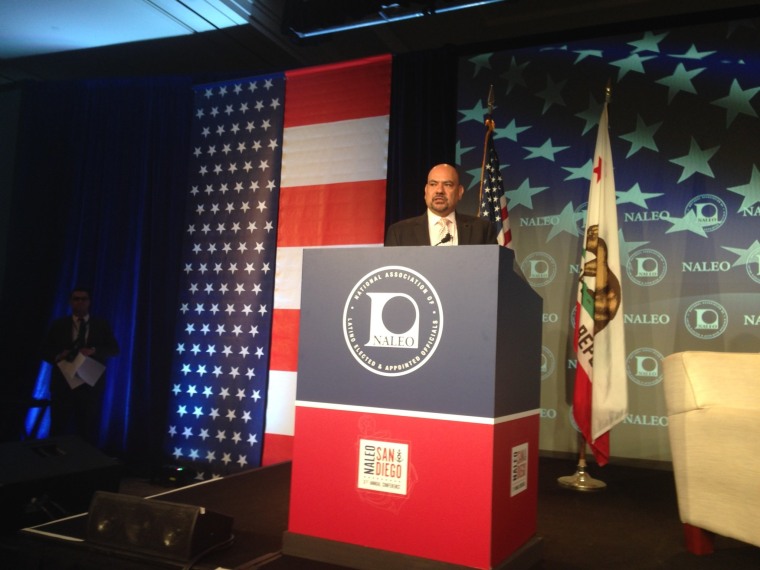 There are 29 million Latinos eligible to vote in the country. The percentage of those eligible who actually do vote has been declining since 2006.
In 2014, about 6.8 million turned out, about 27 percent of eligible Latino voters, according to Pew Research Center. If the NALEO forecast for this year holds, turnout rate would increase slightly to 28 percent.
In 2016, 12.7 million Latinos voted, about 47.6 percent, but that was a presidential election year.
There has been great interest in how Latino voting will fare this year, the first Congress-wide election since President Donald Trump took office. There have been expectations of increased Latino turnout in response to Trump's rhetoric about Latinos and policies that have affected the community, including on immigration and health care.
Some political pollsters and consultants have said Latino interest and enthusiasm in voting is down and cause for Democrats to worry. Latinos tend to vote for Democrats and the party has targeted 111 House districts, including 29 where Latinos are 10 percent or more of the eligible voters, in its quest to take control of the U.S. House.
The latest NBC News/Wall Street Journal poll in October found a significant increase in interest in the election among Latinos over the last month. About seven in 10 Latino voters (71 percent) now express high interest in the election, compared with just 49 percent who said the same in mid-September.
In a Latino Decisions' tracking poll done for NALEO, from 60 percent to 53 percent of Latinos surveyed over several weeks said they had not been contacted by a party, nonprofit group or candidate about the elections or about registering to vote.
"Latinos are still once again, in our opinion, and I think the data bears this out, are being ignored," Vargas said. "A majority of voters are telling us no one has reached out to them."
He said one factor is less investment in nonprofit organizations that had been registering and mobilizing Latinos. NALEO, which has had voter registration programs in the past, has seen "dramatic disinvestment" in its programs by national foundations, funders and donors, he said.
"Latinos have been abandoned by the donor community in election 2018," Vargas said.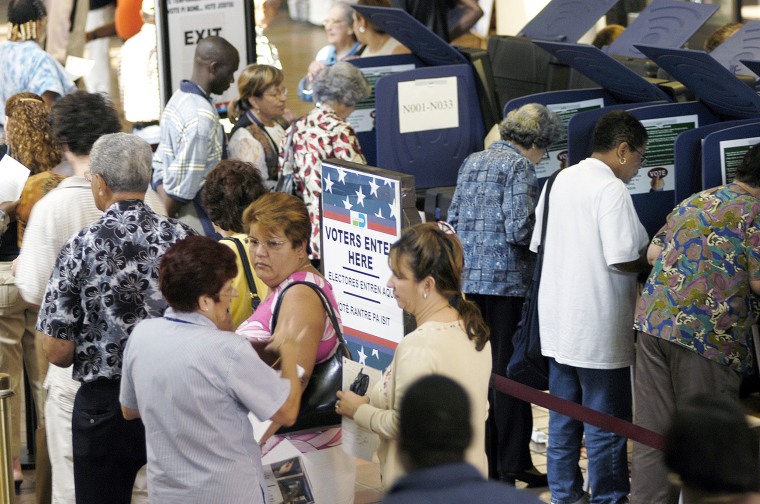 Instead, money is being "surgically directed to certain electoral races and campaigns so particular electoral outcomes can be achieved by the donors and folks investing in races around the country," he said.
Vargas also said stricter voting requirements, such as voter ID laws, precinct errors and registration problems, also are discouraging Latino voting.
Democratic Party Chairman Tom Perez pushed back this week on criticisms that the party has not invested in the community. He told NBC News that there has been "important and substantial investment in Latino voters across the country" since he began as chairman. The party also issued grants to states to help state parties hire Latinos locally for Latino outreach, among other things.
He said the investment began last year and showed success in turnout in Virginia as well as a Supreme Court judge race in Pennsylvania.
"I knew when I took this job we needed to up our game in every community," Perez told NBC News.
The Democratic Congressional Campaign Committee, headed by Rep. Ben Ray Lujan, D-N.M., also has made investments in Latino outreach.
DCCC executive director Dan Sena told NBC News earlier this month that there has been a "cultural shift" at the committee whose job is to get enough Democrats elected to put the party in the majority in the House. Sena said the DCCC is spending $25 million on reaching communities of color in swing districts. After Trump was elected it launched "March to 18" to put locally hired organizers in 21 of the most vulnerable Republican districts, Sena said.
"House Democrats take no community for granted and that's why we put organizers on the ground in key swing districts to talk to Hispanic voters and build relationships within days of President Trump's inauguration," DCCC spokesman Javier Gamboa said in a statement after Vargas' news conference.
A national poll "is not the best way to measure whether House Democrats are reaching out to and turning out Latino voters in order to flip key swing districts," Gamboa said.
Vargas pointed out that Latino registered voters have high turnout rates. In 2012 and 2016, registered Latino voter turnout was 82 percent and 83 percent, respectively.
"If we manage to get Latinos registered to vote, they are going to vote, so any obstacles to voter registration (have) a direct effect on Latino voter turnout," he said.
Despite the outreach issues, Vargas said enthusiasm and mobilization are high among Latinos because of "self-mobilization."
According to the Latino Decisions poll, 69 percent of those surveyed said they have encouraged friends or family to vote.
"Our research over the years about effective and credible messengers and mobilizers to get Latinos to vote (shows) that it's family members who are the most trusted ... in particular, Latinas in the household — mothers, wives, girlfriends, sisters, abuelitas — are catalysts for civic participation," Vargas said, using the Spanish word for grandmothers.
Over the summer, the Democratic Party launched a project dubbed "¡Mujeres Mobilized!" (Women Mobilized) that recruits Latinas to call voters, knock on their doors and talk to neighbors to drive up Latino turnout.
This year's elections could significantly increase the numbers of Latinos in Congress. There are now 34 Latinos in Congress. Thirty-one are incumbents or are likely to be replaced by another Latino, according to NALEO.
There are 10 Latino candidates who are strong competitors for seats not held by a Latino, so after the election and with the departures and new arrivals of Latino members, there could be 41 Latinos in the House, Vargas said. There are a total of 435 House members.
FOLLOW NBC LATINO ON FACEBOOK, TWITTER AND INSTAGRAM