A Latino group that has pressed for a path to citizenship for immigrants and has been critical of President Donald Trump is featuring a Trump Cabinet member and a lineup of Republicans for its awards gala, stressing its bipartisan nature.
The National Association of Latino Elected and Appointed Officials or NALEO is holding its gala Tuesday night and awarding Rep. Mario Diaz-Balart, R-Fla., and his brother, former congressman Lincoln Diaz-Balart, with the Edward R. Roybal award for outstanding public service. The former congressman is chairman of the Congressional Hispanic Leadership Institute.
An eight term congressman, Mario Diaz-Balart heads the House Appropriation Committee's subcommittee on Transportation, Housing and Urban Development. Considered a moderate, he has, at times, opposed GOP legislation and voted with Democrats, often when it has dealt with immigration. He has worked in the House on drafting immigration reform legislation and supported a pathway to citizenship or legal status for immigrants.
Lincoln Diaz-Balart served from 1993 to 2011 in the U.S. House. Among other things, he authored the Nicaraguan Adjustment and Central American Relief Act of 1997 that provided legal residency to hundreds of thousands of immigrants from the region who were not legally in the U.S.
Mario and Lincoln Diaz-Balart are brothers to Jose Diaz-Balart, NBC News and Telemundo news anchor.
Republican Reps. Kay Granger, R-Texas, Mike Quigley, R-Ill. and Ileana Ros-Lehtinen also are scheduled to speak.
The evening's keynote speaker is Housing Secretary Ben Carson, whose appearance at the bipartisan group's gala follows his remarks to Housing and Urban Development employees likening slaves to immigrants, which drew swift reaction. Later on Facebook, Carson reversed his earlier comments and said slavery and immigration were "entirely different."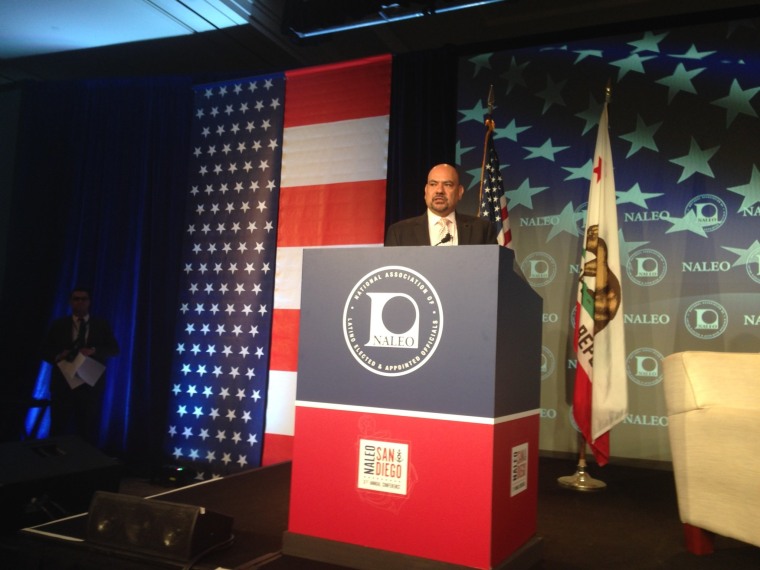 Arturo Vargas, the organization's executive director, said the Republican lineup reflects "who we are. We are a bipartisan organization and we are not going to change who we are because of changes in government," he said.
NALEO's membership includes elected and appointed officeholders from both major parties.
NALEO has been critical of Trump's call for a border wall, his campaign kick-off comments calling Mexicans rapists and criminals, his immigration policies and Trump's low representation of Hispanics in the Cabinet. Trump has nominated one Hispanic to his Cabinet, naming Alexander Acosta to head the Labor Department after Andrew Puzder withdrew amid controversy.
The organization has long worked to improve the process for becoming a citizen to make it more accessible and affordable. The group also works to get Hispanics more civically engaged and elected to office at all levels of government.
Edward R. Roybal is a former member of Congress who was a founding member of the Congressional Hispanic Caucus. In his congressional career, he served on the Appropriations Committee. He was an advocate for the elderly who supported stronger fair housing laws. He also was a proponent of establishing a Department of Education, and wrote legislation to provide bilingual proceedings in courts.
He led Democratic opposition to the 1986 Immigration Reform and Control Act, the Reagan era legislation that created a process for about 3 million people to gain legal status, what was then called "amnesty."
Roybal had opposed the system in the bill for identifying people who could work legally in the U.S., tagging it a national ID card similar to Nazi Germany. Democrats had opposed employer sanctions then and supported stronger enforcement of labor laws to crack down on immigrant hiring.
NBC News' parent company Comcast NBC Universal is the gala's main sponsor.