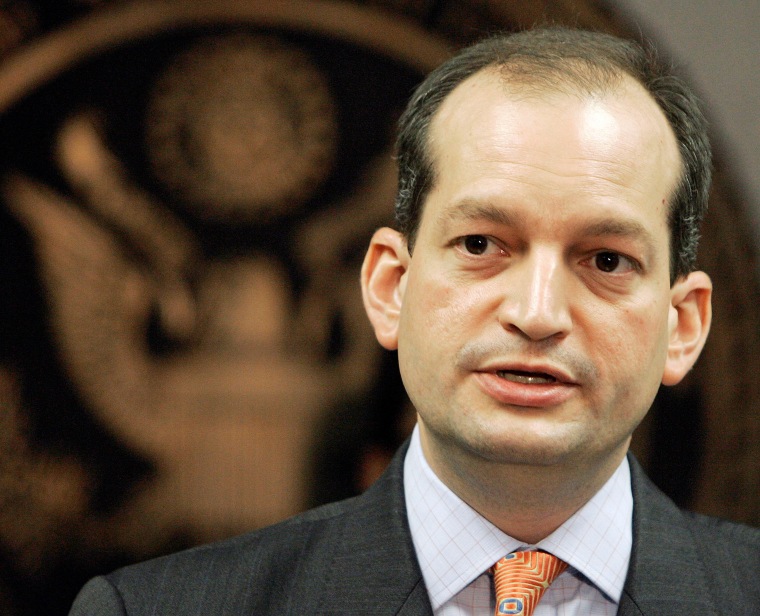 MIAMI — After much criticism and disillusionment about the lack of Latinos in President Donald Trump's cabinet, Hispanic organizations applauded the nomination of Alexander Acosta for Labor secretary.
If confirmed, Acosta will be the first and only Hispanic in Trump's cabinet.
RELATED: Everyone In Donald Trump's Cabinet
Arturo Vargas, executive director of NALEO Educational Fund (National Association of Latino Elected and Appointed Officials) called this "a very positive development," adding "we believe he served the country well. So we look forward to his confirmation process."
Vargas told NBC Latino he saw Acosta a couple of weeks ago and they chatted about the possibility of returning to serve in the administration, though the possibility of being nominated for Labor Secretary had not yet developed.
Latino Republican lawmakers praised the fellow Floridian. Sen. Marco Rubio wrote in a statement "I know Alex Acosta well, and he is a phenomenal choice to lead the Department of Labor." Republican Florida Congressmen Mario Diaz-Balart and Carlos Curbelo praised Acosta, Diaz-Balart tweeted that "Dean Alex Acosta is a man of great principle, integrity, and courage" and Ileana Ros-Lehtinen, tweeted "Congrats to mi amigo, Alex … He'll do a great job!"
Acosta is the dean of Florida International University's law school and a former U.S. attorney general.
Acosta is a first-generation university graduate and lawyer. He has an undergraduate degree from Harvard College and a law degree from Harvard Law School. He was the first Hispanic Assistant Attorney General before becoming U.S. Attorney in 2005.
Trump's first choice, Andrew Puzder, withdrew from consideration Wednesday after drawing fire over his professional and personal history.
RELATED: One Latino in Trump's Cabinet? It Would Be a Setback, Here's Why
Acosta served as South Florida's top federal prosecutor during President George W. Bush's second term in office. The 48 year-old Cuban American then joined FIU's faculty.
Trump drew heavy criticism for failing to nominate a single Hispanic in his first round of choices for Cabinet secretaries, given that Latinos are the second largest population group.
Hispanic National Bar Association Pedro J. Torres-Díaz issued a statement that seemed to allude to White House Press Secretary Sean Spicer's comment that Trump had chosen "the best and brightest" when asked to defend the lack of Latino nominees.
"Today's nomination demonstrates that diversity does not come at the expense of highly skilled and experienced candidates for this presidential cabinet," referring to Acosta as the "son of Cuban immigrants, with a demonstrated commitment to public service and our nation" and dean of one of the nation's most diverse law schools.
Javier Palomarez, president and CEO of the U.S. Hispanic Chamber of Commerce, said that Latino leaders had been disappointed at the lack of a Latino cabinet member but that "our ongoing dialogue with the administration" had proven effective.
The chairman of the conservative business group Hispanic 100, Mario Rodriguez praised Trump's choice. "I feel that Mr. Acosta is a strong, tactical, and qualified choice that will bring both extensive experience and knowledge to President Trump's Cabinet, while effectively representing out culturally diverse nation," wrote in a statement.
But some Democrats warned that Acosta's record deserves a closer look.
Xochitl Hinojosa, an aide to former Obama Labor Secretary Tom Perez, took to social media immediately following the nomination. "Let's hope he actually vetted this person before offering the job," she tweeted.
In response to another tweet that cited similarities between Acosta and Perez, Hinojosa wrote "Major Difference: Perez turned around the Civil Rights Div after an IG report showed politicizing hiring for career positions under Acosta."
Hinojosa was referring to a government report that concluded that Acosta, as assistant attorney general, had failed to supervise a deputy attorney general "who considered political and ideological affiliations in hiring career attorneys."
The Civil and Human Rights Coalition released a statement also urging a thorough review of Acosta. "Following the failed nomination of Andrew Puzder, it is incumbent upon the Senate to conduct a thorough review of Alexander Acosta's records. Our next Secretary of Labor must fully respect our laws designed to protect American workers."