If there is an argument to be made about President Barack Obama's executive action to bring millions of immigrants into American society, Rep. Xavier Becerra says it is in him and his family.
The son of a Mexican immigrant and one of four children, Becerra, D-Calif., said his daughter is the last of his three children to go to college, having just gotten an acceptance letter.
"My father was a construction worker most of his life. My mother when she came from Guadalajara, Jalisco, Mexico to the United States never had a chance to go to college either and became a clerical worker. But they did nothing, but build this country," said Becerra, the Democratic Caucus chairman and first Latino to serve on the tax-writing House Ways and Means Committee.
Becerra made that argument in defense of the stymied expanded Deferred Action for Childhood Arrivals, DACA, and Deferred Action for Parents of Americans and Lawful Permanent Residents on Friday, DAPA, programs Obama authorized in the summer of 2014.
On Monday, legal arguments will be made at the U.S. Supreme Court over his action and opposition from the state of Texas and several other states to the programs.
Millions of immigrants illegally here, mostly Latino, but also Asian, black, Irish and of of other backgrounds, could be shielded from deportation and get legal permission to work under the programs, if they are allowed to go forward. Monday's action is only a hearing, a decision won't come until later.
"My three daughters are all going to go to college and it's not even a question. When I was applying to college my parents were hoping that I would just go, somewhere," Becerra said. "Today they look at their grandkids and they know those kids will have a chance to build this country in bigger and better ways than my parents ever had a chance.
"That's why all of us are standing together as champions for immigrant families," said Becerra, who was flanked by members of the Hispanic Caucus, Asian American Caucus and their allies on immigration issues, such as Rep. Zoe Lofgren, D-Calif., who has been a leader on immigration reform.
Related: Immigrants Qualifying for Executive Actions Deeply 'Embedded' in U.S.
Rep. Linda Sanchez, chair of the Hispanic Caucus, called the DACA and DAPA a "game-changer for our communities." Sanchez's parents also immigrated from Mexico. Her father was an industrial mechanic who later started his own business and her mother was a bilingual education teacher.
"The idea behind both (DACA and DAPA) is simple and the economic benefits to this country are huge," Sanchez said, citing a Center for American Progress report that said the changed lives of the immigrants could grow the economy by $230 billion.
Rep. Judy Chu, D-Calif., said 11 percent, about 1 million, of Asian American and Pacific Islanders in the U.S. are not here legally and about 400,000 would benefit from the president's executive action.
"This decision will affect millions of aspiring Americans who have already put down deep roots in our communities and contributed to our economy," said Chu, the daughter of Chinese immigrants.
Becerra sees the decision before the Supreme Court as one in which the eight justices – there has been a vacancy since the death of Justice Antonin Scalia - get to decide whether to allow the 11 million immigrants here without legal permission to build the country.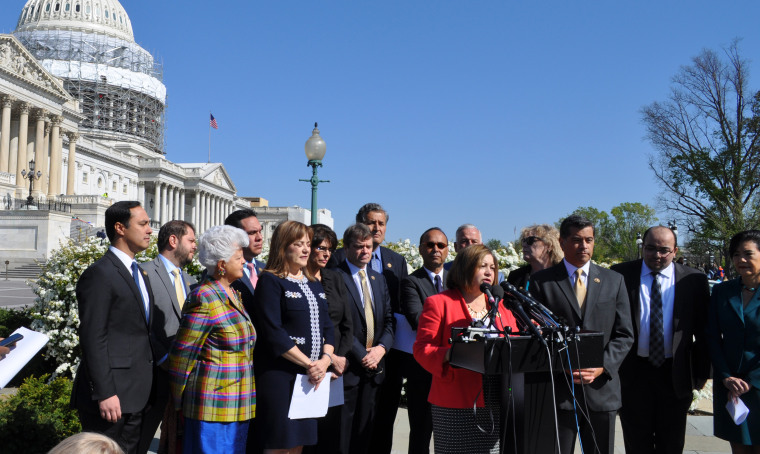 Rep. Luis Gutierrez, whose parents are from Puerto Rico, said he would be in the Supreme Court Monday to watch the arguments.
Gutierrez, D-Ill., recalled that the he had urged Obama as long ago as February 2011 to use his powers to take the sort of actions that are now being contested. Gutierrez said he was told repeatedly it couldn't be done by the president, advocacy groups and "groups of Latino celebrities and actors," "even when the president scolded me in front of my members of my colleagues of the Hispanic congressional caucus to say, 'I cannot do it and you are being irresponsible in suggesting that I can.'"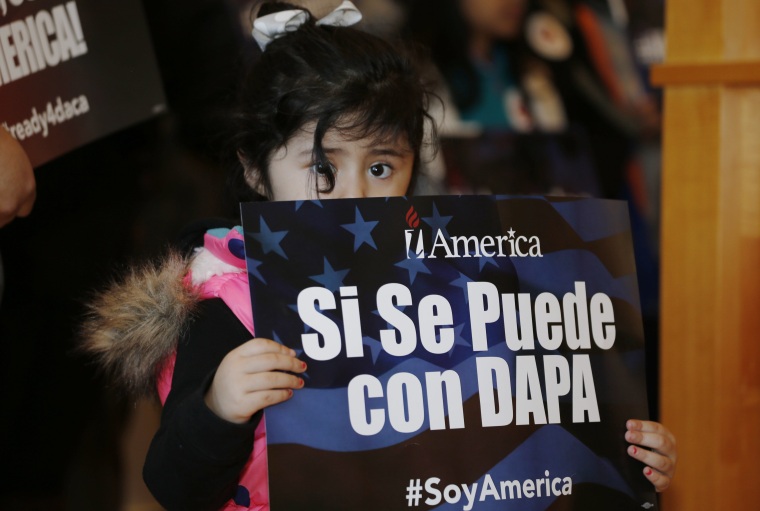 Obama authorized a DACA program in 2012, narrower than the expanded program contested in court. As a result, 713,000 immigrants, who had been here illegally, have been allowed to remain, work legally, go to school, start businesses, buy homes and more in the U.S.
One such person is José Aguiluz, board vice president at CASA of Maryland. He came to the U.S. at 15 from Honduras. His parents sold their possessions to send him to the U.S. on a tourist visa so he could get medical treatment. His visa ran out when he was in the hospital, so he was not legally allowed to remain and could not work in nursing, which he was inspired to do by his nurses. But he said his life change when Obama announced DACA in 2012.
"Now I work as a nurse in an operation room at a hospital and I will be graduating in May with a bachelor's in nursing," Aguiluz said.
The issue and the time it took the administration to propose the programs remain points of contention in the 2016 presidential race.
Related: Dreamer Says She Fears Deportation After Exchange With Ted Cruz
Rep. Zoe Lofgren, D-Calif., called the criticisms of the programs "overheated rhetoric," and read a statement from Justice John Roberts that a principle feature of system for removing immigrants from the country is the "broad discretion" immigration officials are empowered with, "including as to whether it makes sense to pursue removal at all."
"I hope that the court will not have a confusing time in sorting out the right wing, over heated rhetoric that is trying to muddy the waters," Lofgren said.
The vacancy on the court means there could be a tie in the case and that would mean the lower court ruling, which blocked implementation of DACA and DAPA, will stand, however there are elements of the case that could still be tried in court in Texas and work their way back up to the high court.
Related: Latino Groups React to Supreme Court Taking On Immigration Actions
Gutierrez said he believes there will be a 5-3 decision in favor of the programs. If not, there is additional potential action that could come from voters and the administration.
"There is an election coming up next November and it was dozens of Republican state attorney generals that brought this action," he said. In addition, at the administration has a deportation priority system in place and regulations are soon to come that will make it easier for about 3 million people to get green cards through family relationships. Also, those who got DACA in 2012 will still have it.
Republicans in the U.S. House passed a resolution to intervene in the case and have filed a written legal argument in the case. Republicans and others have said the president violated the constitutional separation of powers by authorizing a DACA expansion and DAPA.
Related: U.S. House to Oppose Executive Action in Supreme Court.
He stopped short of affirming that if the programs can't go forward, immigrants will be safe from deportation, saying there are deportations he is fighting today "that should not be taking place." But he said deportations have dropped from more than 410,000 to 225,000 this year.
Lofgren said the group gave pages of other recommendations to the president on other actions he could take and there are other legal fights that can be waged.
And there still is the congressional fight, Gutierrez said. Even if it doesn't happen this year, "we will win ultimately, comprehensive immigration reform."