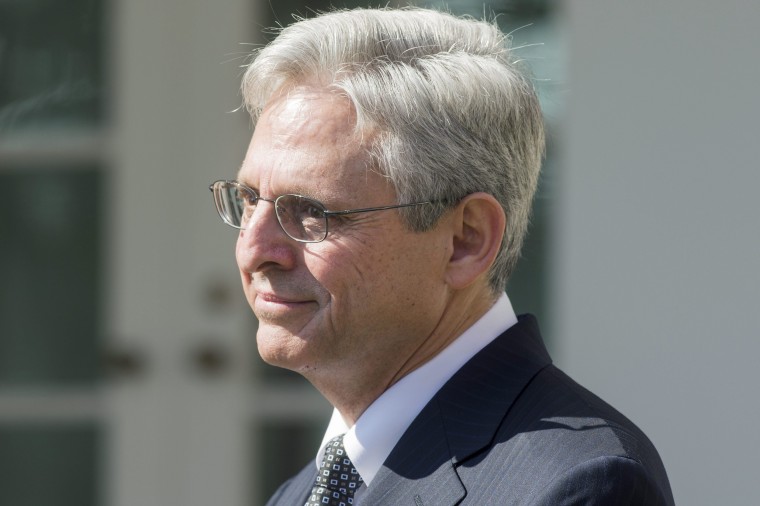 When President Obama nominated federal appeals court judge Merrick Garland to the Supreme Court this morning, it came as a surprise to some observers who had hoped for a candidate that would increase the high court's diversity. Now many Latino legal experts say that they support the president's nomination and will do their best to help it move forward.
Thomas A. Saenz, President of the Mexican American Legal and Educational Defense Fund, said that he was pleased with Garland's nomination. "He is clearly a very experienced jurist who has been involved for over 19 years on significant cases," Saenz said. "He is a justice who will move the Court from where it had been with Scalia, but not move it dramatically. This is a choice that will put the Senate under pressure to recognize its constitutional duty to consider and vote on the president's choice."
White House press materials note that Judge Garland has more federal judicial experience than any other Supreme Court nominee in history, and that he was confirmed with bipartisan support in 1997. The grandson of Jewish immigrants from Russia, he is widely seen as a sensible, moderate choice for what is sure to be a politically-charged confirmation process.
"Ever since Obama has been in office, he has been diligent in pushing for diversity in his administration," said Rafael Collazo, Director for Political Campaigns at National Council of La Raza. "His prior Court picks were both women, and one was Latina… Obviously Judge Garland is someone of the highest caliber who deserves to be considered."
RELATED: Latino Legal Experts Say Supreme Court Vacancy Must Be Filled
"Every day, millions of Latinos go to work and do their jobs, just like other Americans," Collazo said. "As more people become aware of this process, more Latino voices will call on the Senate to do their job. And it will become increasingly difficult for the Senate to remain inactive."
"We are going to carefully review and analyze Garland's record and qualifications, and we encourage senators to do the same," said Hector E. Sanchez, Chair of the National Hispanic Leadership Agenda. "There should not be any excuses; they (the Republican members of the Senate Judiciary Committee) need to reverse their position of obstructionism and delay. They must let the process continue, as the Constitution requires, and vote up or down."
"We are united in defending the integrity of the judicial system, because the stakes are particularly high for Latinos now," said Sanchez. He mentioned current and upcoming issues before the high court – affirmative action, immigration, Texas' redistricting plan, reproductive rights – as important cases that will have an impact on the Hispanic community.
Robert Maldonado, National President of the Hispanic National Bar Association, said "We are glad the president put a name forward and we will undertake our own due diligence to look into Judge Garland's qualifications and then make our assessment of the candidate."
"The president told us that Garland is someone who would be good for our communities, and we are hopeful that is the case, " Maldonado said. "The most important thing now is that the Senate move forward with their duty, and there does seem to be some momentum moving in that direction."
Maldonado pointed to former Attorney General Alberto Gonzalez' op-ed in today's USA Today, urging senators to give Garland a vote.
Still, not all Latinos hailed the president's announcement. "This nomination comes at the wrong time," said Alfonso Aguilar, President of the Latino Partnership for Conservative Principles. "I agree with Senator Mitch McConnell (R-Ky.) who said that, in such a divided environment, it is not good to nominate someone in an election year."
RELATED: Opinion: We Deserve a Full Supreme Court Bench
"The president can make his nomination, of course," Aguilar said, "but with the advice and consent of Congress. The advice right now is no hearing, no nominee." He cited the so-called "Biden rule" of not allowing a nominee in an election year – remarks that the Vice President clarified in a recent New York Times column. Aguilar added that he did not think this Supreme Court nomination would be an issue in the upcoming election.
Maria Blanco of the University of California Davis Law School termed Garland's nomination "a missed opportunity."
"I was disappointed, although I think Garland is very qualified," she said. "Appointments to the Supreme Court are rare, and they last a lifetime. This was an opportunity to diversify the Court in terms of gender, ethnicity, and race… And the legitimacy of the court as a public institution is strengthened when people see themselves represented." Garland, Blanco observed, very much fits the mold of a "Beltway nominee."
"And I don't believe that you need to trade diversity for qualifications," Blanco continued. She is not optimistic that Garland's nomination would proceed to a hearing and vote – "But I hope I'm wrong."
RELATED: Here's a Short List of 5 Potential Latino Supreme Court Nominees
Thomas Saenz of MALDEF noted that if Garland were elevated to the Supreme Court, it would create a vacancy on the D.C Court of Appeals – which could mean an opening for a qualified Latino. "There has never been a Latino or Latina serving on that court," Saenz said. "While we are pleased beyond measure to have Sonia Sotomayor on the Supreme Court, it is time for us to break another barrier. Looking ahead, I would hope that the president nominates a Latino or Latina for that all-important court."
The D.C. Circuit Court of Appeals, also known as the Federal Circuit, is extremely powerful because it has jurisdiction over challenges to federal regulations and national security matters. It is often viewed as a stepping stone to the Supreme Court.
"I think the Supreme Court, like many institutions, still has work to do in terms of diversity and representation for the nation," Saenz said. "But neither I nor the U.S. Senate is authorized to make Supreme Court nominations – and the president is. His duty is clear, he has fulfilled it, and now the Senate must fulfill theirs."