THANKS FOR THE VOTES? -- New Jersey Gov. Chris Christie won 50 percent of the Latino vote during his re-election by staying away from the ugly immigration rhetoric and showing up in Latino communities. But just this week, Christie took a stand with three other states against President Barack Obama's executive action. This is the same Christie who won accolades from Dreamers for signing a bill that granted in-state tuition to immigrants not legally in the U.S. A New Jersey young immigrants activists' group immediately held the entire GOP accountable for Christie's move: "His main concern is to play the same senseless games of Republicans in Washington, D.C." said Ana Bonilla, a member of the New Jersey Youth for Immigrant Liberation. Should Christie officially become a 2016 presidential candidate or even if he doesn't, any return visits to Latino communities that gave him their vote would be must-watch events.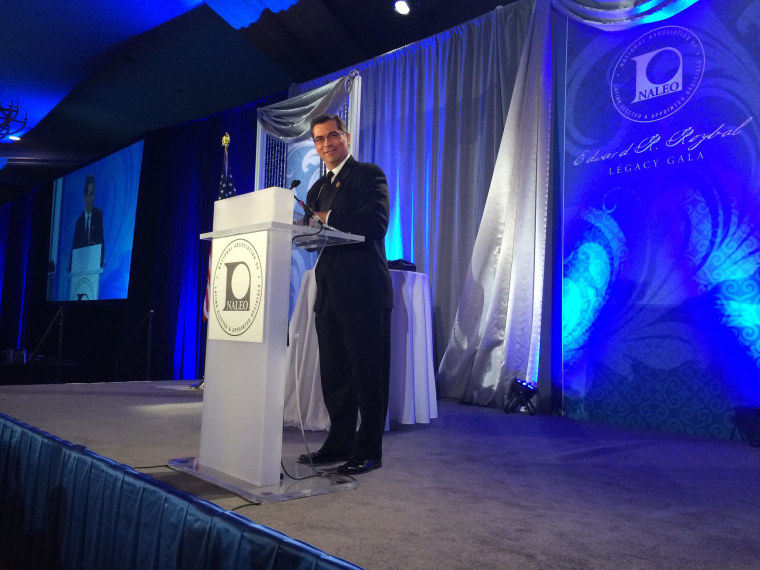 WITH FRIENDS LIKE THESE --On opposite sides of the immigration debate, Rep. Raul Labrador, R-Idaho, and Rep. Xavier Becerra, D-Calif., regularly butted heads in a bipartisan effort to write a comprehensive immigration reform bill in the last congressional session. So when Labrador helped honor Becerra this week at the National Association of Latino Elected and Appointed Official's gala, it became something of a roast. Labrador said he stopped sharing things with Becerra because he's pretty smart. "I needed to be very careful, because if not, he would make me look like a fool." Labrador then questioned whether Becerra outsmarted him by endorsing him in his bid for majority leader, which Labrador did not win. In the end, the bipartisan group working on immigration reform disbanded with no agreement. But Labrador and Becerra still seem to be friends.
THE TAX MAN, IMMIGRATION SHOWDOWN COMETH –- April 15 may already be on your calendar, but you may want to add April 17. First file your tax returns, then keep watch two days later for how things go in the 5th Circuit Court of Appeals, which will hold a hearing on whether DACA and DAPA should go forward. With hearings so close to the tax filing deadline, it's a good time to ponder that the National Immigration Law Center's testimony last week that the programs would generate $18.9 billion in tax revenue over the next decade. Opponents counter that comes with greater local expenses for schools, hospitals, public safety. But, as mentioned in the New York Times Monday, there is strong consensus among economists about the boost immigrants give the country.
THE GOP IN YOUR "VECINDARIO" -- Despite the immigration lawsuit, GOP chairman Reince Priebus told attendees at the legislative summit of the pro-immigration reform U.S. Hispanic Chamber of Commerce the party isn't just showing up every four years to ask Latinos for votes. It's embedded year-round in Latino and other minority vecindarios (neighborhoods). In Latino communities, the party is hiring Hispanic staff and connecting and listening to Latinos, he said. The party remains in 11 states and wants to expand in this election cycle. Priebus also said the party has created a shorter primary: "I can't control everyone's mouth, but I can control how much time we have to kill each other," he said.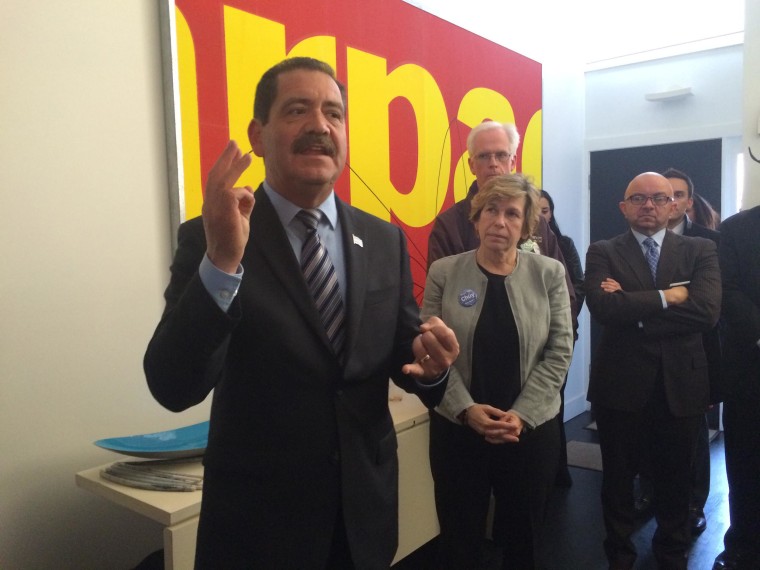 THE MAYORAL WANNABES MONEY TOUR -- No less than three Latino mayoral candidates, all who would be the first Latinos to lead their respective cities if they win, made it to Washington this past week looking for financial backing for their races. They were piggybacking on a week of Latino-focused events, so many that it seemed Hispanic Heritage Month had been compacted and jammed into this past week. Getting most of the attention was Chicago mayoral candidate Jesus "Chuy" García, whose fundraiser drew teacher and labor union leaders along with Latino activists and progressives. Also looking for some donors' dollars were Nelson Diaz, who wants to lead Philadelphia and Marcos Ronquillo, who hopes to unseat the incumbent Dallas mayor. The Latino pipeline is filling up.
SHIRT OFF YOUR BACK -- While many of us are looking forward to shirtsleeve weather, that's not an option while toiling in America's farm fields. National Farmworker Awareness Week ends Saturday, giving the public one more day to donate a long-sleeve shirt to protect farmworkers. The Association of Farmworker Opportunity Programs is accepting new and gently used shirts to raise awareness of farmworkers' health and of their exposure to heat and chemicals when cultivating and harvesting America's agricultural fields. The shirts will be distributed to workers.