A poet with a remarkable vision, Martín Espada's beautiful new volume of poetry, Vivas to Those Who Have Failed (W.W. Norton), takes its title from a line in one of Walt Whitman's most beloved poems "Song of Myself." It's an appropriate nod to the great American writer since, like Whitman, Espada's work commemorates the stories and struggles of the working class.
Espada has strong ties to New Jersey, and the title poem pays homage to one of the most important events in immigrant labor history, the Paterson Silk Strike of 1913. Though the strike did not achieve a key demand — an eight-hour workday — it is credited with amplifying that fight.
As Espada puts it, those who fail to "become the river" keep the momentum going that carries others to the completion of a goal. That's a sentiment he brings forward in the poem "How Could We Have Lived or Died This Way," in which he addresses the current wave of black citizens killed by white authorities. Protest and bearing witness not only demand change, they become measures of a society's willingness and ability to resist or achieve it:
I see the poets, who will write the songs of insurrection generations unborn
will read or hear a century from now, words that make them wonder
how we could have lived or died this way, how the descendants of slaves
still fled, and the descendants of slave-catchers still shot them, how we awoke
every morning without the blood of the dead sweating from every pore.
Although Espada's courageous verse also casts light on the Sandy Hook shootings, ISIS, and the atrocities committed against the indigenous Acoma Pueblo community, his voice comes through the clearest in the series of moving elegies to close friends and to his Puerto Rican father.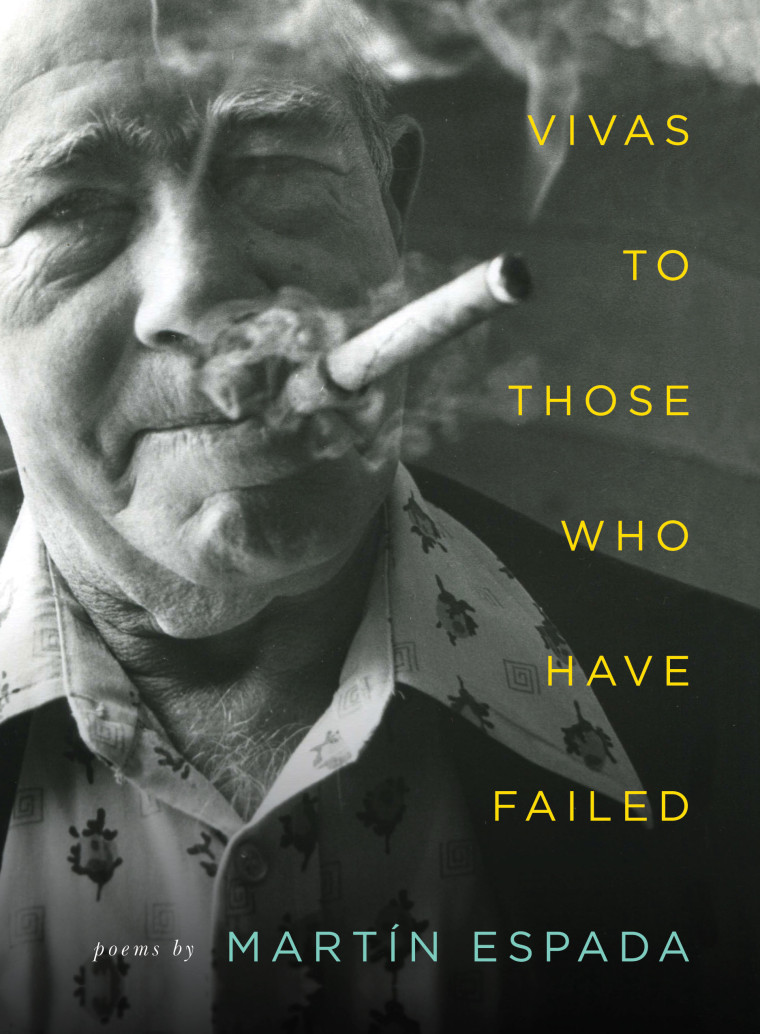 Frank Espada (1930-2014), was a renowned civil rights and community activist as well as an acclaimed photographer; his pictures are in the collections of the Smithsonian and the Library of Congress. As Martín Espada tells PBS, his father came to the U.S. from Puerto Rico as a child. He played semi-professional baseball and later joined the Air Force. In 1949, he was jailed in Mississippi for a week for refusing to sit in the back of the bus. Based on that experience, he dedicated his life to community activism - founding East New York Action in his own Brooklyn neighborhood - and to civil rights.
His legacy left a mark on his son's worldview.
"Sit down. Tell me everything. Haunt me," the poet pleads his father's ghost, and an eventful journey unfolds, symbolized by Puerto Rico's Mimosa pudica, the moriviví plant that "dies" when stepped on or touched and then springs back to life:
My father would die too, but then he would live again,
after every riot, every rally, every arrest, every night in jail,
the change from his pockets landing hard on the dresser
at 4 AM every time I swore he was gone for good.
Moments of awareness, confusion, rage and grief crave acknowledgment and therefore the need for public expression, so it's the poet's duty to show the way.
This is why "Vivas to Those Who Have Failed" is a book populated by poets: they're descendants of union leaders, they read their poems in surprising spaces like the Coney Island Aquarium, they die (like José Martí) in revolutions, but, most especially, they live to sing the stories of those who need to be remembered.