Hugo Campos was a toddler when he and his parents fled the civil war in El Salvador and moved to California. A year later, his parents separated and Campos' mom, not knowing a word of English, struggled to make ends meet.
They moved around a lot until they settled in Montebello, a suburb of Los Angeles, and lived in a neighborhood where drugs and gangs were prevalent. In high school, Campos began cutting class and thought college wasn't for him.
Certainly the odds were against him.
But today, Campos is a chef with 15 years of experience in the culinary industry. The 32-year-old is the chef instructor for Philabundance Community Kitchen, an adult culinary training program for low-income adults in Philadelphia. He teaches students culinary skills and prepares them to work in commercial kitchens.
During the 14-week program, students get a chance to intern at top Philadelphia-area restaurants, such as Moshulu, Earth Bread + Brewery and Pod. They also prepare meals for shelters and emergency kitchens. Philabundance, a hunger relief organization based in Philadelphia that serves about 90,000 people per week, runs the adult training program.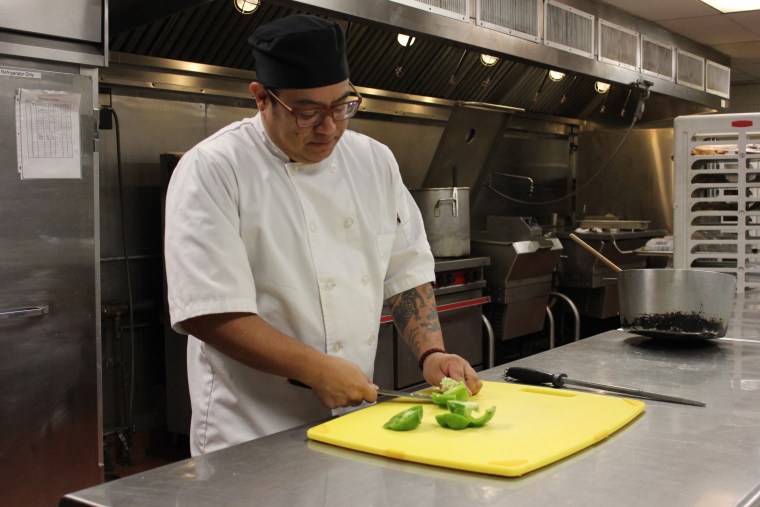 RELATED: Our Latino Heritage: U.S.-Born Son Loves El Salvador's Smells, Sights
Campos said he sees the program as a chance to help people the same way others helped him. He doesn't just teach students culinary skills. He also teaches them life skills that he learned early in his career, such as how to work under pressure and how to behave in the workforce.
"Even if the students graduate and they don't end up in the culinary field, at least the life skills that they learn here will help them throughout their life as they have for me," he said.
Campos was 17 years old when he started his culinary career working as a dishwasher at a diner in Corona, California. The restaurant manager saw potential in him and helped him become a prep cook and then a line cook.
Wanting to continue moving up the career ladder, Campos enrolled in the Le Cordon Bleu College of Culinary Arts-Pasadena and graduated with an associate degree in culinary arts in 2004. "It opened the doors to a lot of opportunities," Campos said about his college degree.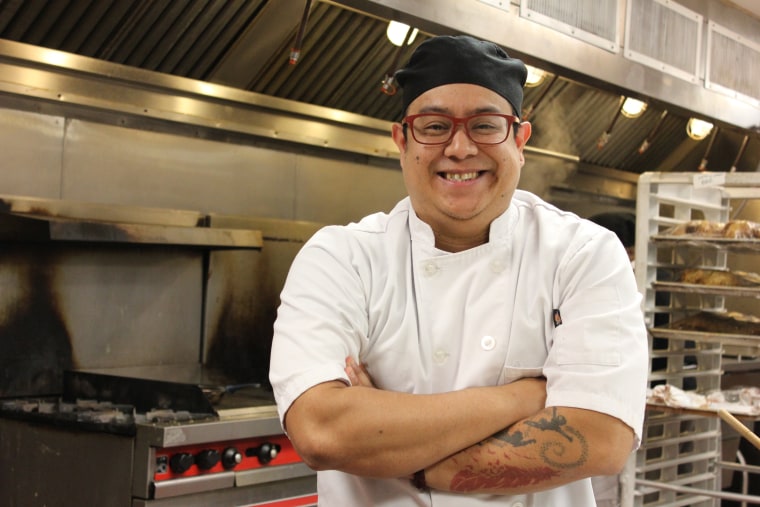 He began working at several well-known restaurants in California, including Nic's Beverly Hills where the owner and chef, Larry Nicola, mentored him. After a decade of working at several restaurants, Campos wanted to try something new.
"I got to a point in my life where I realized it was time for me to give back," he said.
RELATED: Project Enye (ñ): A Voice For 1st-Gen Latinos, Between Two Worlds
That's when he moved to Seattle and started working for an adult culinary program called Farestart. He was there for nearly three years and held the positions of adult chef trainer, sous chef and adult training supervisor. Last year, he applied for the chef instructor position at the Philabundance Community Kitchen and was hired in the fall.
Stefanie Arck-Baynes, senior manager of communications and public relations for Philabundance, explained that Campos was hired not only for his experience in the kitchen and at a Farestart, but his life experience, as well.
"As much of the program focuses on building life skills, and many of the students have dealt with challenging circumstances prior to joining the PCK program, having a chef who can relate to what they've been through has allowed him to build a rapport and trust with the students that helps facilitate better learning inside and outside of the kitchen," said Arck-Baynes, who said that his skills as a chef instructor and, more importantly, a mentor have lent well to the current class.
In Campos, culinary students see a chef whose journey from the El Salvador's civil war seems a long way away, yet an example of a life transformed.