Defending La Copa América champions Chile have done it once again. After a full 90 minutes, additional time and penalty shoot-out, the roughest, most chaotic match we've seen so far in this tournament left Argentina players and fans — especially those who idolize futbol superstar Lionel Messi —in heartbreak.
"I think we have such great players who are so dedicated to the Argentinian National Team; they tried their hardest but unfortunately we couldn't close another championship," said soccer fan Valentina Diego, 22, who lives in Miami but grew up in Buenos Aires.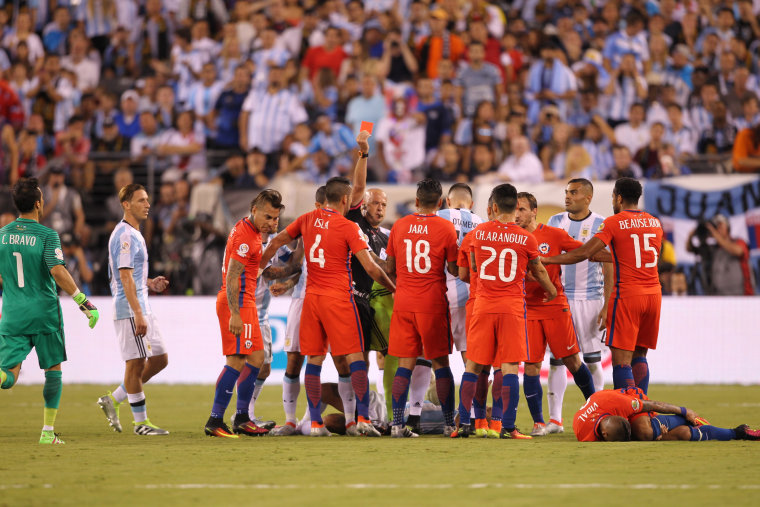 The first half of the much-anticipated final game saw two red cards, over a half a dozen yellow cards, and so many clear chances that would just not go in. Argentina forward Gonzalo Higuain had an opportunity to put Argentina ahead after the first few minutes, but his one-on-one attempt with the Chilean keeper was saved.
Marcos Rojo for Argentina was shown straight red later in the half after Chile's Marcelo Diaz was sent off after accumulating two yellow cards during the match.
"I think he's very overwhelmed (Messi) —Argentinians love him and we will always support him, and no matter what he decides, we will stand by him," said a soccer fan.
The second half slowed down gracefully as both Argentina and Chile defending their beloved nets looked to equalize. Both teams had chance after chance but failed to capitalize with a goal.
"Both keepers were outstanding throughout the game making crucial saves, specifically Claudio Bravo, the Chilean goalkeeper,[who had] an amazing performance," Venezuelan soccer fan and recent Northeastern University graduate Fernando Pardi, 23, from Caracas, Venezuela said in an interview with NBC News.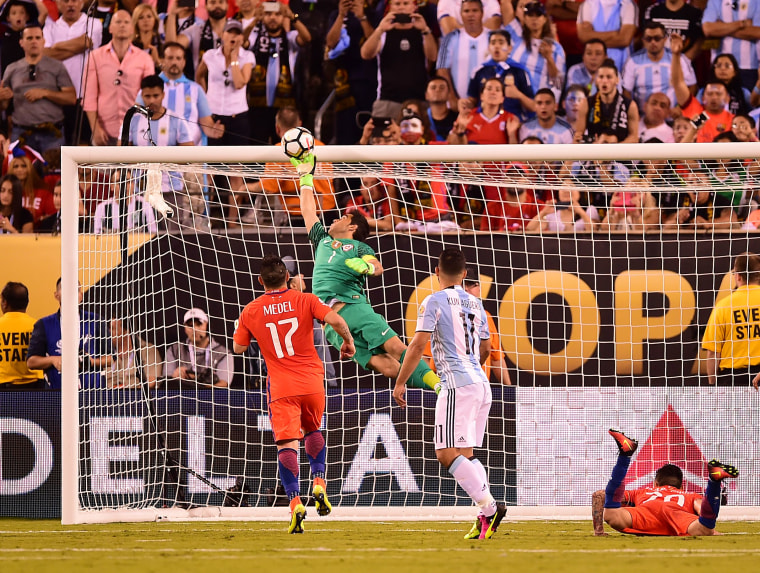 Argentina forward Sergio Agüero was denied in spectacular fashion by Chile's goalkeeper Claudio Bravo. The 2016 Copa America Golden Glove Winner somehow kept his top corner header out of the net.
The match went into overtime as both teams continued to search for the winning goal that would bring everlasting glory and fame to their country. After the overtime finished, the game went on to be decided by a penalty shootout.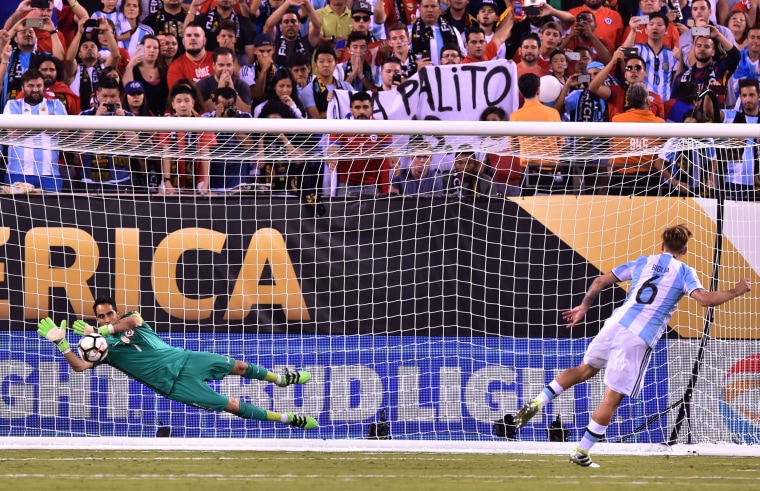 With the spotlight on Argentina and Captain Lionel Messi, 29, the pressure resonated through the stadium.
It was time for Lionel Messi, the Argentinian legend to step up and swing his majestic left foot to hit that ball and bring history back to Argentina for the first time in over 20 years.
Feeling the pressure against his FC Barcelona teammate Claudio Bravo (Chile), Messi ran up the ball, swung his leg forward, and sent the ball skyrocketing over the net. This moment was painful not just for Argentina and its supporters but also for soccer fans worldwide.
"In my opinion, penalties don't determine a winning team, but that's the way it has to be", said Valentina Diego.
Messi tried to cover his emotions on his face with his jersey, but the soccer world could see right through it. Chile went on to win the penalty shootout 4-2.
"It (Chile's win) gives us a reason to dream about being champions of the world and leaves the future generations a huge responsibility to keep being winners," said Chilean soccer fan Marco Hormazabal,22, a college student in Boston who grew up in Chile. "Messi is the best in the world and the Chilean people respect him, it is not his fault for the loss."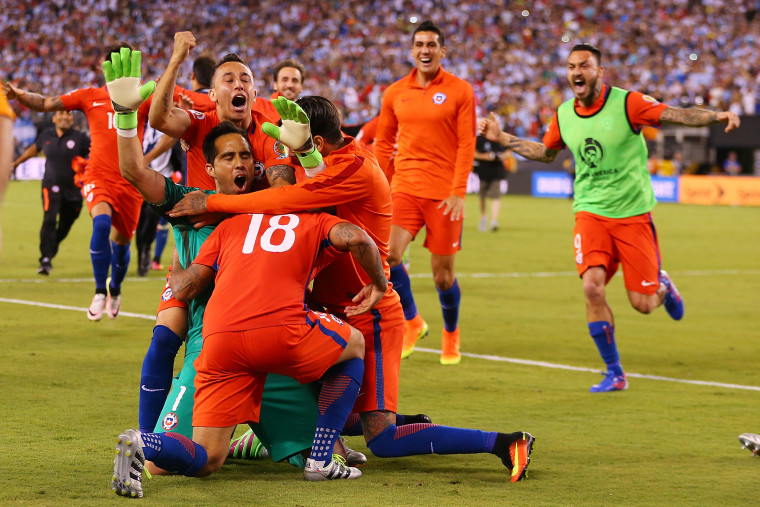 The true pain and suffering on Messi's face was extremely hard to watch. It was tough to see soccer's finest, just sitting there, after being brought down to his knees, only gazing into the distance as Chile celebrated their well-earned back to back victory.
"I think he's very overwhelmed (Messi) —Argentinians love him and we will always support him, and no matter what he decides, we will stand by him. I do think that if we keep supporting and believing in him, he may go back to the Argentinian National Team", Valentina Diego said.
Many say Lionel Messi is the greatest player of all time, but after countless disappointments to his country and fans and after Sunday's traumatic match, the Argentina captain announced that he is retiring from the Argentinian national team.
"For me, the national team is over, I've done all I can. I've lost 4 finals, It's just not for me," Lionel Messi said after defeat to Chile in the Copa America final."It hurts not to be a champion," Messi concluded.
"I am extremely disappointed to hear how he [Messi] has handled the situation and his reaction to losing another final," said soccer fan Fernando Pardi. "For a professional footballer that has won almost every trophy possible with his club except for a title with his national team, it dissatisfies me to see him give up and surrender his chances to future opportunities with Argentina. Life is hard, you win some and you lose some. A player with as much history as Lionel Messi cannot be such a sore loser and cannot give up on the dreams of millions of Argentinians," he said.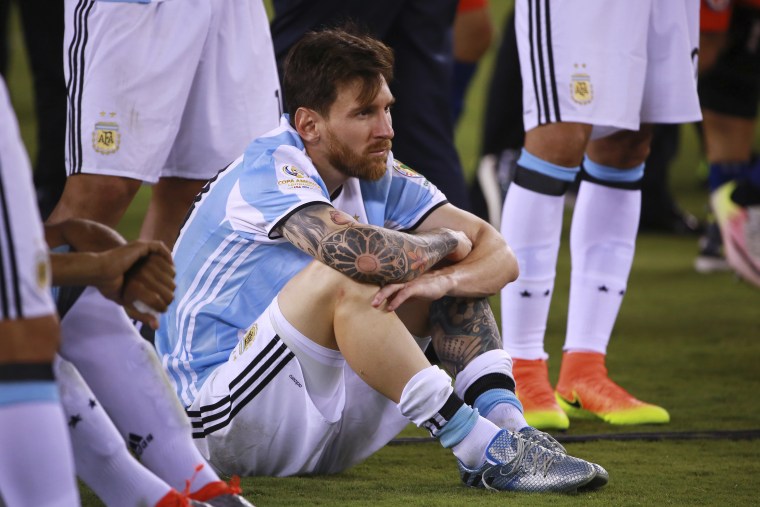 "For me, the pressure of wearing that shirt is the only thing he can't control. He is the best player in the world, but there is something about that shirt that overcomes him (his talent)", said Argentinian soccer fan Lucas Barbuzzi, 24, from Bariloche, Argentina.
The ceremonies erupted for Chile as forward Alexis Sanchez won player of the tournament and teammate Eduardo Vargas with the most goals, won the Golden Boot.
The Chileans are going home to celebrate with there second straight Copa America trophy. And for Argentina, it's a tough time with rumors of other players besides Messi leaving the national team.