MIAMI, Fla. — Alexandra Rozenblat, a 15-year-old survivor of the Parkland shooting which claimed the lives of seventeen students and educators on Feb. 14th, said the aftermath has been "a giant blur."
"Time either goes by super quickly or in some instances it stands still and goes by so slow," she said. "I would do anything to go back to math class and thank Gina for helping me understand the lesson, or tell Alaina how sweet she was, or ask Jaime where she got her leggings — or just smile and say hi to Coach Feis in the morning one last time," she said, remembering some of her former classmates and the high school football coach who were gunned down.
Rozenblat and her family are determined to support the students' call for tougher gun control legislation. The family is participating in a Saturday march in Parkland, one of the 800 sister marches around the country and abroad that is part of the March for Our Lives. Organized by the Marjory Stoneman Douglas High School students, the main event alone in Washington, D.C., is expected to attract over half a million people, and it's expected to be one of the largest marches in U.S. history.
Students have pulled all-nighters organizing details for the march, scheduling speakers, renting stages, and walking march routes with police.
"I do feel like we all have hope that what our classmates are doing will make a difference," Rozenblat said.
Pop stars Ariana Grande, Jennifer Hudson, Miley Cyrus, and Demi Lovato will march alongside the students. "Hamilton" creator Lin-Manuel Miranda is expected to appear for a live performance at the rally.
Several of the Rozenblat's fellow students who have been leading the movement have achieved national prominence, recently featured on the cover of "Time" magazine under the headline "Enough." They are often on TV or quoted in newspapers promoting tougher gun regulations. Their grassroots movement has already raised over $4 million.
Emma Gonzalez, who is Cuban-American and is one of the student leaders, spoke to MSNBC's Rachel Maddow on Wednesday about why they are spending so much of their time and energy insisting on gun control legislation.
"Everybody decided, we know how this is going to end up. We know that the politicians are going to say 'thoughts and prayers.' They're going to say those words and that's all they're going to do," said Gonzalez. "That's not what we want to happen this time around. We want this to stop. We've seen this before. It's time to break the pattern. The definition of insanity is doing the same things over and over again and expect a different result."
Latinos are younger than the rest of the U.S. population and make up about 40 percent of millennials.
"Given their numbers, they can make a difference in terms of being a mobilizing force," said Stella Rouse, director of the Center for American Politics and Citizenship at the University of Maryland.
But the question remains whether they will play a significant role, she said. In a book she authored, due out in August, Rouse and her co-author show that Latino millennials are more supportive of gun control measures than either white or African American millennials.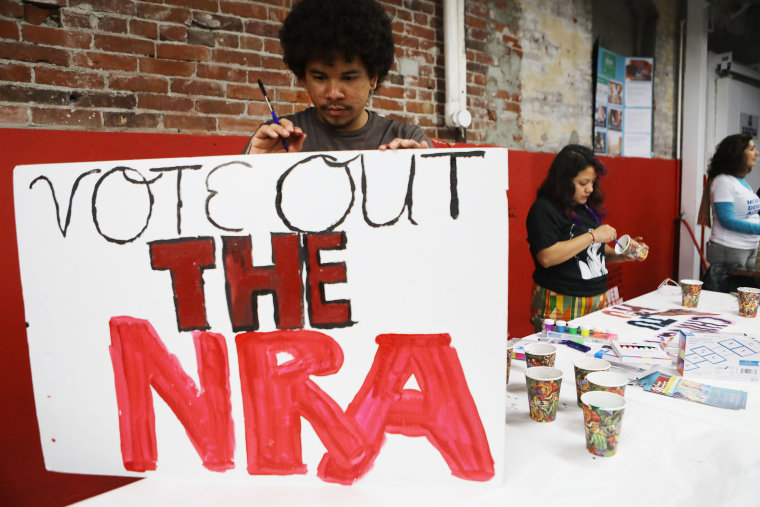 "However, the issue of gun control has not previously been an issue Latinos care strongly about," according to Rouse. Immigration, education, or healthcare remain top issues for them.
It remains to be seen whether this is something that hits home for young Latinos as a group and if they will mobilize to sustain attention on the issue, said Rouse.
A 2014 Pew Hispanic Research survey found a majority of Latino registered voters (62 percent) thought controlling gun ownership was more important than protecting the rights of gun owners (36 percent).
For Parkland students grappling with the mass shooting, it's still very raw. Rozenblat said students are "always on edge and feel uncomfortable. Going to class and seeing the empty desks where their classmates used to sit has been very hard, said Rosenblat.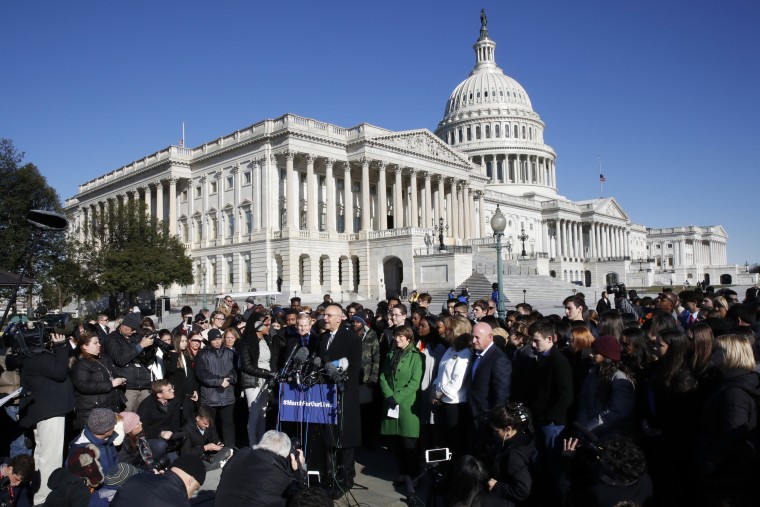 Last week, Florida Gov. Rick Scott signed into law gun regulations that include a three-day waiting period, raising the gun purchasing age to 21, and banning bump stocks. But Floridians will not be able to vote on adding the gun control measures to the state constitution this year because a state board rejected the proposal, citing technical rules.
On the national level, despite public pressure to break the decades-long gridlock on gun control, Congress has yet to take up the issue.
Rozenblat's father, Sergio Rozenblat, thinks this weekend's march sends an important message.
"This is an expression that we are bigger than the NRA," Rozenblat said. "Candidates will have to address and confront their new reality that there are going to be kids that are going to be asking out loud what their position is on gun control and assault weapons."
Rozenblat, who came to the U.S. from Argentina when he was 12, drew a parallel between this movement and the protests about five decades ago to end the Vietnam War.
"The similarities between this and when I was a kid during the Vietnam War are exactly the same. The motivation is exactly the same," he said.
He recalled organizing a school walkout with other students while he was attending Flushing High School in Queens, New York. Now, he is supporting the students in his daughter's school, who are turning a tragedy into a national movement.
"I'm convinced, these kids are not going to stop," he said.