WASHINGTON, D.C. -- In downtown Washington, a worker scurries up scaffolding that runs from the street to the top of the soon-to-be hotel that bears Donald Trump's name.
On Monday, Trump showed off to news media the redevelopment of the Old Post Office that he is converting to an upscale hotel.
Trump brought his campaign to the nation's capital Monday, a trip that included meeting with some members of Congress and a speech before American Israel Public Affairs Committee.
Before his arrival, Latino workers could be seen entering and exiting the construction site and working inside the fenced off site being developed by the man who has angered a large sector of the Latino community and who polls badly with Latino voters.
RELATED: Workers Building Trump Hotel Represent Different Immigrant Image
So why are Latinos working for him when he declared on the day he announced his presidency that Mexicans are rapists, criminals and people who bring drugs to the U.S.?
"I don't think about those things because we have to work and our family has to eat," said Anthony Fuentes, who had just finished his shift and was heading to catch a bus home.
"The work is good, but I can't stand ignorance," said Fuentes, who left Puerto Rico just a few months ago to work in the mainland.
"Trump is an ignoramus. He is stupid," he said.
Last July, the Washington Post reported on the $200 million project Trump was building here. In its report, the Post said most of the workers were citizens or working legally. But some laborers had told the Post that some workers had first entered the U.S. illegally.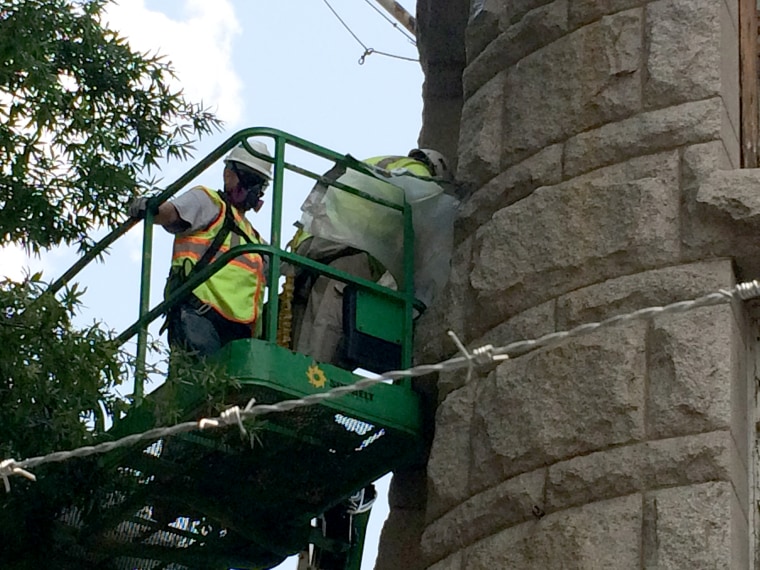 Chef José Andres was to open a signature hotel at the restaurant but pulled out after Trump made his comments against Mexico and Mexicans.
In his news conference, Trump said his hotel would create 500 jobs and would open in September, ahead of schedule.
"We'll probably have close to 1,000 construction workers on the site, including off-site work," Trump said.
"This was considered one of the great buildings of Washington, one of the great buildings in the country and it has been restored to the highest level, well beyond from when it was built," he said. "I think when it's completed it will truly be one of the great hotels of the world."
Although the U.S. has a system to verify workers' status when hiring, known as E-Verify, its use by employers has been voluntary. Some candidates want to require employers to use it.
Trump has called for a nationwide E-Verify in his immigration reform agenda on his campaign website.
He also supports mass deportation of all immigrants here without legal status, allowing the "good ones" to return legally, construction of a border wall, placing 250,000 more Border Patrol agents on the border and deny citizenship to children born to parents not legally in the U.S.?
One worker who wouldn't give his name said the workers at the site had legal status, that there were not workers on site without documentation. He added that most of the workers are Latinos.
"The Hispanics are doing a service and (Trump and others) don't realize what they are doing. The people of this country don't want to dirty their hands" from the jobs done by Latinos, Fuentes said.
As a Puerto Rican, Fuentes doesn't have to worry about legal status because Puerto Ricans are American citizens. Like hundreds of thousands of others, he left the island because of the poor job prospects in debt-saddled Puerto Rico.
RELATED: Donald Trump Huddles With Group of GOP Allies in D.C.
But he and other workers feel a sense of solidarity with workers who are not legally present and see them as having the same pressure to provide for their families.
"Mexicans are people like us. The families have needs just as we do," Fuentes said.
Another worker, also Puerto Rican but who has been living on the mainland longer, said it was important for Puerto Ricans to support people in the country without legal permission.
"They are just like us and we cannot be racist because they are like us and we need to support them," said another worker also leaving for the day who did not want to give his name because he did not want repercussions at work.
Fuentes said he wasn't going to vote, saying politicians make promises they don't keep and comparing them to someone who offers a child a piece of candy, and then puts the candy away.
Although he is working for Trump today, Fuentes said things could be different tomorrow for him and others who want to deport immigrants.
"Tomorrow it could be them. Today it's us and they don't think that tomorrow it could be them," Fuentes said. "He's on today and he doesn't know that maybe tomorrow he may be below me. The world can turn around," he said.