In Colorado, polls have shown Hillary Clinton up in the state and then Donald Trump closing in and then Clinton up again by some 10 points.
But having worked in Nevada, Clinton's Colorado state director Emmy Ruiz says she's accustomed to the shifts that go with the politics in a swing state.
When the Clinton campaign first arrived in Nevada two years before the primaries, Ruiz said she often was asked 'why are you guys even here?' and was also told 'you guys are going to win by a landslide.' The race tightened there too and there still is dispute over who won the Latino vote in Nevada.
But one thing's certain, Clinton, who had won Nevada in 2008, won the caucus there last February. In Colorado, however, she lost the state's March Democratic caucus.
"We have learned to be focused and to try to win every vote," Ruiz said. What was learned in Nevada, Ruiz said, is being applied in Colorado.
Hillary Clinton was to attend a public voter registration event in Colorado Wednesday afternoon and remind residents to register to vote. The state has the highest percentage of registered voters of any state, according to her campaign and this is the first year ever registered voter will get their ballot in the mail. Coloradans will be begin getting their ballots by mail Oct. 17.
The state is considered to have shifted from red to blue in 2008 when then-Sen. Barack Obama won. Until then, the state had voted Republican in every presidential election since 1964, except when Bill Clinton won the state in 1992.
But when Republican Cory Gardner won the state's U.S. Senate seat in the 2014 mid-term race — ousting incumbent Democrat Mark Udall — Democrats learned the state was not yet deeply etched in blue.
Oscar Ramirez, a Democratic strategist and principal at the Podesta Group, said Colorado is a state that can't be taken for granted.
RELATED: Pro-Clinton PAC Spends $700K on Ads Aimed at Fla, Nevada Young Latinos
"It's not Florida, not Ohio, but for Democrats to win, they need to give Democratic voters a reason to come out," said Ramirez. "Otherwise we have a replay of the Mark Udall race in 2014."
He said Democrats expect Colorado to be competitive.
"To be competitive means the Latino vote is front and center," Ruiz said. Colorado's Latino population is the 8th largest in the country. The 555,000 Hispanic eligible voters in the state are about 15 percent of all of Colorado's eligible voters.
RELATED: Clinton Nevada Director Emmy Ruiz: Clinton Built 'Vast' Latino Support
When Obama won Colorado in 2012, Latinos outperformed other states in their support of the president, with 87 percent of the community backing him. Political experts say Clinton is doing better with Latinos and in the state, than Obama did at this point in time in 2012.
In July, polls showed Clinton with a comfortable lead and the campaign pulled advertising and shifted resources to other states. But she went back on the air in the state after the race seemed to tighten. Ads paid for by Pacs have continued to air. Trump recently canceled some ad spending in Grand Junction, Colorado. The campaign said it was going to other markets.
In NBC News' latest battleground map, Colorado leans Democrat, giving Clinton the edge. An Oct. 3 Monmouth University poll showed Clinton with an 11-point lead over Trump in the state. Colorado U.S. Sen. Michael Bennet, a Democrat, also held an 18-point lead over his GOP challenger Daryl Glenn, according to the poll.
"Some polls had suggested that Colorado was becoming more competitive. That may have been true last month, but it does not appear to be the case now. Clinton's current lead is as comfortable as it was three months ago, which is probably why her campaign has not diverted a lot of resources here," Patrick Murray, director of the independent Monmouth University Polling Institute, said in a statement when the poll was released.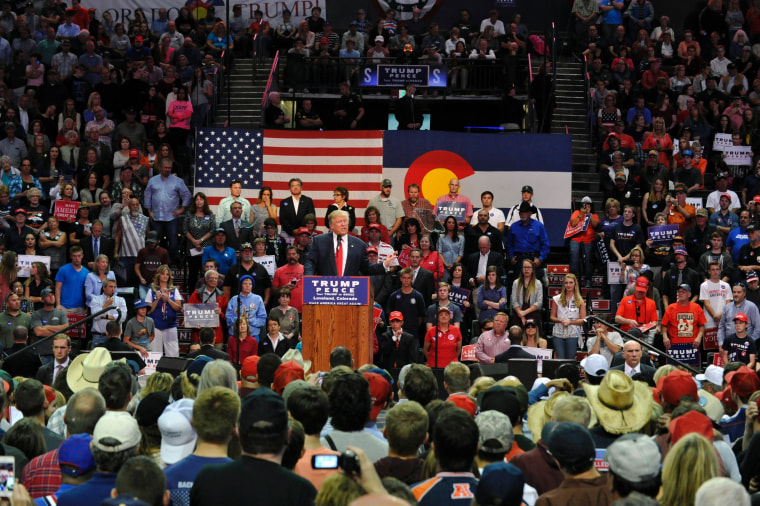 Although the state often is known for its long established Latino population, newer and expanding Hispanic populations are being seen in places like Aspen, where workers in the resort areas have settled, as well as in in Colorado Springs and Greeley, Ruiz said. This has created opportunities to grow Democrats' Latino base in a year when GOP Hispanics and others are separating from the party's nominee, Trump.
"When you think of the Latino vote in Colorado, how often does Colorado Springs pop in your head?" Ruiz said. "I was in Colorado Springs (this week). We had 50 people. Moms, dads, kids, families making commitments to knock on doors together," Ruiz said.
A 17-year Colorado Springs resident, Maria Combest said she has made more than 100 calls for Clinton and is knocking on doors with her daughter and two sons to get Latinos to vote.
"We were lucky to be born in the U.S." she said she has told her children, and then reminded them they have cousins who were not.
"Even my nuera, my daughter-in-law, she's from Michoacán, she just (became a citizen). I finally talked her into it. I'm getting her to vote," Combest said. Same for her sister in Chicago.
The Trump campaign did not respond to requests for interviews on its Latino outreach in Colorado. Sen. Ted Cruz won the state in the primaries. It was from Colorado that Kendal Unruh waged the Free the Delegates movement to prevent Trump from winning the nomination.
RELATED: Poll Shows Bleak Picture For Trump Among Latinos In Battleground States
George Rivera, Republican Party chairman in Pueblo County, said his party has been at work in southern Colorado trying to attract more Latinos since Mitt Romney waged his failed presidential bid in 2012.
"When he didn't get elected I talked to our chairman then and I told her then we needed to continue the effort among Hispanics so we didn't lose any ground," he said.
That work is paying off, Rivera said. He had just been in the office and a young Latino declared he wanted to change his party affiliation because Donald Trump represents more of his views.
Even though an overwhelming share of Latinos hold a negative view of Trump, Rivera said he thinks such conversions could be a trend, sparked by this election.
"I think this election has also been something that kind of got Latinos starting to think and to analyze more and I think they see the Republican party holds values they hold," Rivera said.
He said the weekend bombshell of a video of Trump saying he can grab women by their genitals and kiss them without their consent because he's famous, hasn't seemed to change things or made his efforts to win over voters' minds more difficult.
"We're big 2nd Amendment people here. I was at a gun show just this weekend… People I spoke to hadn't changed their opinion one bit," he said.
Since the comments emerged, several Republicans have been distancing themselves from Trump, including some in Colorado.
But Hugo Chavez-Rey, chairman of the Colorado Hispanic Republicans in Denver, said Trump's comments have actually increased enthusiasm for the candidate.
"They come up with an 11-year old conversation that is not much more that you'd hear from any locker room. I'm a former athlete and that's nothing compared to what you hear in locker rooms. It's a distraction from the real issues," he said.
"Saturday when I was out I only had one person bring that up," said Chavez-Rey, who was born in Peru and whose family immigrated to the U.S. through his parents' jobs. The voters are more interested in whether their small business will prosper under Trump or where he stands on school choice, he said.
In a Latino Decisions poll of 400 Colorado Latinos, 72 percent said they would vote for Clinton. The poll, released last month, has a margin of error of plus or minus 4.9 percentage points.
Colorado is one of the states where the Immigrant Voters Win PAC, backed by progressive philanthropist George Soros, has been providing funding to groups to turn out immigrant voters and those who back immigration reform. Colorado Latinos Rise is one of the groups and said in a statement that it has 193,786 attempts to reach Latino voters at their door in several Colorado counties.
Colorado has its regional differences that divide it politically. But in some areas and with Trump at the top of the ticket, Democrats see some possible upsets.
The strongest possibility is in the congressional district race between incumbent Rep. Mike Coffman and his Democratic challenger Morgan Carroll. The significance of winning the Latino vote in that district was recently on display as the two debated in Spanish, with Carroll using a translator.
Once an immigration hardliner, Coffman's immigration views changed when he was re-elected in a district with boundaries that were redrawn to make the district more Democratic. It also became a district where more than 1-in-5 residents is Latino. Coffman distanced himself from Trump early on i the race and after the weekend's bombshell called on Trump to step aside.
Carroll has criticized Coffman's shift as pandering and has criticized him as helping pave a way for Trump. But Coffman has also criticized a vote by Carroll against in-state tuition for young immigrants. The race could help Democrats take back the Senate and so has drawn Republican House Speaker Paul Ryan and Democrat Minority Leader Nancy Pelosi to help campaign for the candidate. After the debate she also criticized him for similarities between Coffman's closing statement in this year's debate to one he made in a debate two years ago in another Spanish language debate.
RELATED: Will Donald Trump Sink Senate Races?
Rick Palacios, chairman of Colorado's Democratic Party, recently traveled through rural Colorado, including cities such as Montrose hoping to shore up Latino voting in areas where Hispanic votes are often overlooked.
He said when he arrived with yard signs at the Montrose office, the many volunteers stood up and broke into applause.
"They see the hate and vitriol of Donald Trump and want to be able to hit back," Palacios said
"I think there hasn't been as much outreach (to Latinos) in the past. We have taken for granted that Latinos are going to vote for the Democratic nominee," he said. "This is different, this is an attack on our culture and our heritage and we can't be confused about that. A lot of people who have been apolitical in the past, now they are absolutely going to vote against Donald Trump."