AUSTIN, Texas — In her campaign ad, congressional candidate Xochitl Torres Small aims a rifle at an avian target and shoots. A bird can be seen falling in the distance.
"In New Mexico, folks understand guns are a part of our heritage. It's a starting point for us," Torres Small said in an interview with NBC News.
The line may sound like a Republican candidate's talking point, but Small is the Democrat in the neck-and-neck New Mexico race 2nd Congressional District.
Small, a hunter, is a proponent of background checks for gun sales. She's running against Republican state Rep. Yvette Herrell in a district represented by a Republican since 2011.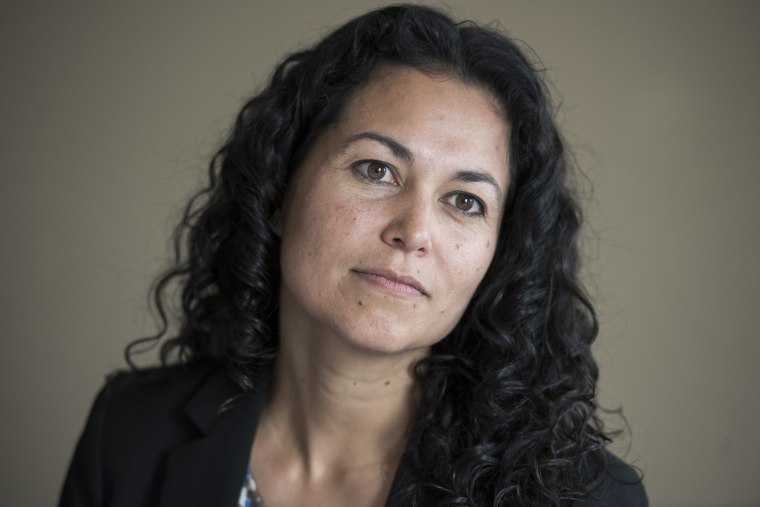 The congressional district is one of the 111 where Democrats are waging their battle to win control of the U.S. House and one of 29 where Latinos make up 10 percent or more of the eligible voter population.
They are the districts where Latinos "can really have an influence" on which party controls the House, said Dan Sena, executive director of the Democratic Congressional Campaign Committee, (DCCC), whose committee raises money and works to get Democrats elected and re-elected to the House.
Small's performance thus far has excited Latino groups and others who are trying to turn out Latino voters this election.
In addition to New Mexico, the 10 percent and up Latino districts that could go from Republican to Democrat are in Arizona, California, Colorado, Florida, Nevada, New York, Pennsylvania and Texas.
Ten of the House races are rated "toss-up" races while another five are rated likely Democrat by Cook Political Report.
How Latinos vote varies by state, district and election, but generally, Democratic candidates get the majority of Latino support. In a Latino Decisions poll for the week of Oct. 9, 71 percent said they would vote Democrat in the midterms, up from 63 percent who said they would in the week of Sept. 5.
Only five of the districts that the DCCC is targeting have Latino candidates: Gil Cisneros in California 39, Mike Levin in California 49, Ammar Campa-Najjar in California 50, Debbie Murcasel-Powell in Florida 26, who is trying to unseat Republican Rep. Carlos Curbelo, and Small in New Mexico 2.
But the DCCC's targeted Latino districts include those without Latino candidates, such as California District 10, where Democrat Josh Harder faces Republican incumbent Rep. Jeff Denham or Texas District 23 where Democrat Gina Ortiz Jones, who faces incumbent Republican Will Hurd.
Mobilizing the voters
Topics such as health care and immigration — particularly the parent-child border separations —have polled high with Latinos as motivators this election.
But groups who work on Latino civic engagement have said since the election that relying on Trump alone would not be enough to reverse a Latino midterm turnout rate that has been declining since 2006.
Small said she mindful that the lower half of New Mexico's 2nd Congressional District has an independent streak in many Hispanic voters.
"New Mexicans don't care which party gets the credit or the blame," she says in the hunting campaign ad, "we just want someone to deliver."
"There is a wide diversity of Latino and Hispanics in the district," Small told NBC News. "There are people like me who are a few generations separated (from immigration to the U.S.) and then there are others where the border crossed them."
Torres Small will turn 34 the day before the election. Many young Latinos, including in the district, are not identifying with either party. They are choosing no party or Independent, she said.
"They don't feel the party has served them or got things done," she said. "I identify with that."
Latino turnout fell to a record low of 27 percent in 2014. Those who did not vote outnumbered those who did by almost three to one that year, Pew found.
A Latino Decisions' weekly tracking poll for the National Association of Appointed and Elected Officials (NALEO) found 55 percent to 60 percent of Latinos said they hadn't been contacted by a campaign, organization or group about registering to vote and voting.
That has raised concerns about turnout, especially among Democrats, although 70 percent of those polled said they were almost certain they would vote and 14 percent said they probably would vote.
Chuck Rocha, a Democratic consultant who is doing work with the DCCC, complained that super PACs and other political committees are spending very little money on Hispanic outreach, work that Rocha's firm had done in elections.
"I don't see much changing this cycle except there's an excitement, but that alone will not be a recipe for victory," he said.
But Sena said there has been a "complete cultural shift" at the DCCC, which has been doing more in this year's election than in previous midterms.
"We are spending an unprecedented amount for communities of color," Sena said, adding that the spending is about $25 million.
Five days after Trump was elected, DCCC launched its "March to 18" effort that put locally hired organizers in 21 of the most vulnerable Republican districts, including in the 10-percent plus Latino districts.
"The truth is we made the community a priority. It's why we put people on the ground a year and a half out before Election Day," he said.
The DCCC put money into several of the campaigns and has emphasized to candidates that the help comes with an expectation that they would be doing connecting with Latino communities and working to turn out Latino voters.
"It's a function of making sure we are putting our candidates in front of the Hispanic community," Sena said.
In primaries, some success stories
Cristóbal Alex, president of Latino Victory Fund, said while there is a need for greater spending and attention on turning out Latino voters, there have been some recent success stories that show Latinos are not disengaged.
In California's June primary, Latino voting in majority Hispanic precincts increased as much as 245 percent over 2014, which helped move Gil Cisneros into the general election race in California District 39, the Sacramento Bee reported. Cisneros is in a tight race with Republican Young Kim.
In Virginia, Latino turnout was up in 2017 when the governor's seat and legislative seats were in play.
Latino Victory Fund, which seeks to get more Latinos elected and more Latinos to vote, ran an ad that drew controversy. The ad showed young minority children running in fear from a truck with an Ed Gillespie sticker and a Confederate flag.
Alex said the ad helped get Latino support for then-Democratic candidate Ralph Northam and to seal victories for Virginia House delegates Elizabeth Guzman and Haya Ayala.
"Everyone attacked us (for the ad), including Russian bots," Alex said. "We moved Latinos 50 points. We even moved white votes 15 points."
Latino Victory also organized campaigning in Orlando, Florida, tailored for the Puerto Rican population to help Rep. Darren Soto, a Democrat, win his primary. The campaign included caravanas (caravans) with music that were led by Soto or organizers. They traveled through communities and were joined by supporters who urged early voting and attendance at events. Soto won his primary, doubling Latino support from the previous year, Alex said.
"We can always do more and my hope is we will do more as we progress," Sena said. "Having said that we have candidates telling unique stories we believe Latinos will listen to."
FOLLOW NBC LATINO ON FACEBOOK, TWITTER AND INSTAGRAM