Gustavo Navas in Miami has already voted for this election and voted Republican because he supports President Donald Trump. In Flagstaff, Arizona, university student Alexandra Arias cast her first ballot and took a stand against Trump.
Millions of Latinos are expected to vote in this year's election and potentially millions more won't bother.
But there are hopes that there are many Hispanics among the people who registered for the first time this year, and among those helping to set records on early voting and who will show up at polls on Election Day next Tuesday.
Urged by friends, Arias, 18, mailed in her first ballot to vote in her hometown of Scottsdale, Ariz. Growing up in a predominantly wealthy, white neighborhood with many retired people "distanced me from a lot of problems."
Although she considers herself not "into politics," she knows she doesn't like the politics of Trump.
"I definitely don't agree with the president," she said. "Knowing that I don't want what he wants makes me want to work towards a world I agree with more, and the only way I can do that is voting."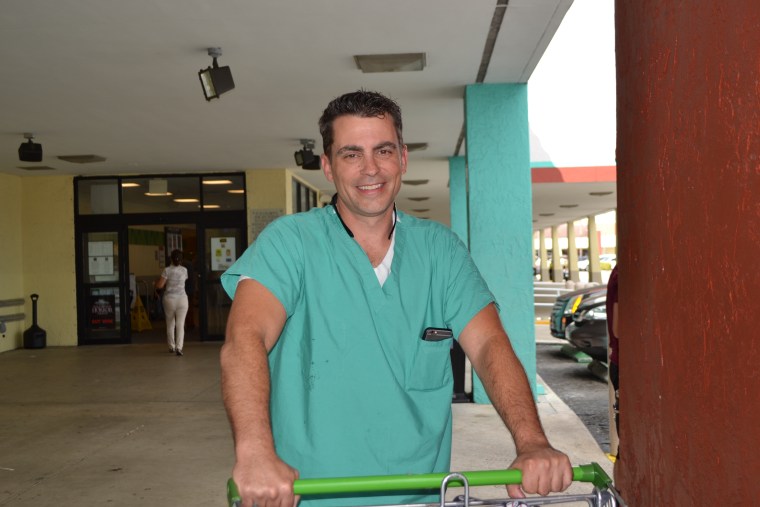 Navas has voted Democrat in the past but during the last couple of years, he has felt his views aligned more with the Republican Party.
A father of three, Navas works in the healthcare field while his wife is a teacher.
"I would say that one of the major reasons I voted for Trump is for his adamant support for border security," he said.
Trump has said he wants tens of thousands of active duty troops on the nation's border with Mexico and has pushed for the building of a solid wall on the border. This past summer, his administration separated migrant children from parents after they arrived on the border and kept them in federal custody, allowing deportations of some parents without their children.
But Navas is also thinking about economic prosperity. He said his parents lost their jobs when companies moved overseas and so he supports Trump's efforts to increase manufacturing jobs in the United States.
Maria Daly, 18, whose mother is originally from Nueva León, Mexico, said the child separations and the environment weigh on her mind as she thinks about voting.
A Minnesota native, she is a student at Bentley University in Waltham, Massachusetts and said she's very motivated about her first election. She planned to vote for Democrats.
"The whole separation between kids and their parents, at least to me, and I think a lot of people, is inhumane," Daly said.
She said her biggest worry is "sustainability." She is very concerned about reports that the world has 12 years to prevent a climate change disaster.
"We need to exercise our right and show what matters to us because it is our future that is being affected," Daly said.
Robert Benavides, 52, a San Antonio small business owner, doesn't like what he sees as Democratic victimization of Latinos, the "poor you, poor me, we have to stick together," he said.
"I'm old school. I believe in America and that Americans can be anything they choose to be with hard work," said Benavides, a Trump supporter who said he won't vote for Democratic Senate candidate Beto O'Rourke. "The only way you're going to succeed in the United States is work as hard as you can ... and as Latinos, we have to work harder than anyone else."
A question of turnout
There are an estimated 29.1 million Latinos eligible to vote in the United States this year. While only 6.8 million Latinos voted in 2014, more Latino voters say they have given a lot of thought to voting this election than four years ago, according to a Pew Research Center survey.
In Leon Valley, Texas, Patricia Jasso, 30, fit her early voting in after a jogging and weightlifting workout.
"I do want to advocate for public schools and support them," said Jasso, who teaches high school English. Her family and friends challenged one another to go the polls and then texted each photos wearing their "I voted" stickers.
Similar to the rest of the population, Latino voters have an array of issues on their minds, falling on different sides of the immigration issue and having contrasting views of Trump.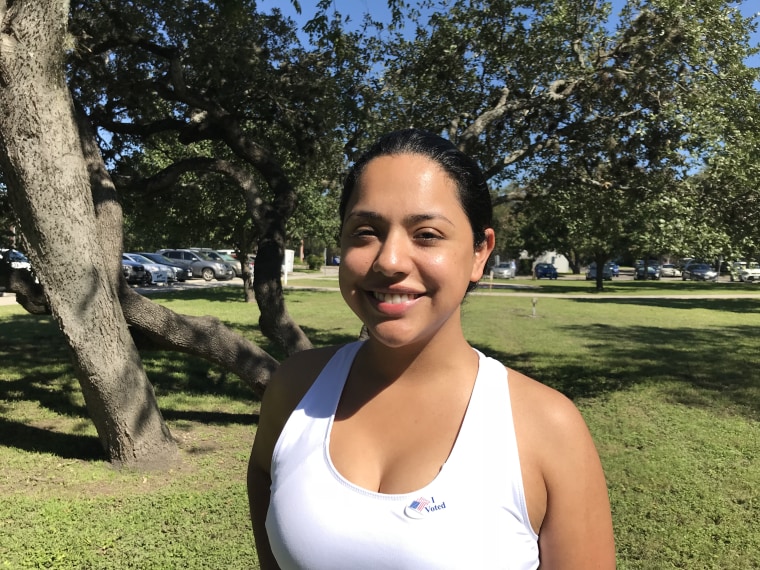 A September NBC News/Wall Street Journal/Telemundo poll found only a quarter of registered Latino voters approve of Trump and that Latinos preferred a Congress run by Democrats rather than Republicans by a high margin of 64 percent to 43 percent.
Turnout in midterms is always lower than elections that include a presidential race and Latino turnout fell to a record low in 2014, the last midterm election year.
Leni González, a longtime Arlington, Va. resident who goes back and forth from El Salvador where her husband is for his job, is making sure she gets back to Virginia to vote.
"It is important to vote as we are selecting a senator this year and the incumbent (Sen. Tim Kaine, D-Va.) is the antidote to the horrendous current presidential administration, which has steadily worked to erode and undermine civil and human rights," González said.
"I want to make sure my vote is counted and that my Latino voice is heard," she said.
In Miami, Octavio Ramos, 59, of Miami, is a retired educator who runs a tutoring and college admissions prep business.
He said he voted for Bill Clinton and Barack Obama and did not support Hillary Clinton or Trump. He's voting Republican this year, supporting former Florida governor Rick Scott in the Senate and Rep. Carlos Curbelo in the House.
"I'm voting for Carlos Curbelo because he's the devil that you know," he said. "The person that's running against him (Democrat Debbie Murcasel-Powell) is unknown, unchallenged."
Voter issues: Health care, college affordability
Trump has been doubling down on immigration as the election has neared and polls have been showing Democrats with the edge to win the House. Democrats have been driving a message on health care and Republican efforts to repeal it.
Dr. Sergio Rimola, a medical doctor in Alexandria, said that as a physician he fears Republicans will eliminate health insurance coverage of pre-existing health conditions if they keep control of the House.
He is hoping the nation will follow or improve on the example of Virginia, which elected a Democratic governor and increased the number of Democrats in its state Assembly. As a result, it expanded who is eligible for Medicaid coverage.
"I am confident my candidates will keep up their promise to the Latino community," Rimola said.
Linda Luna, 42, a police officer at a San Antonio college campus, said last weekend she was still researching the platform of candidates before voting. But she said health care was a top concern.
A mother of three, she attends school part-time while her husband is a full-time student. With only one income, she is concerned about the cost of health care and, in particular, the high deductibles of her employer-provided coverage.
"My immediate concern right now involves my family," Luna said.
College affordability also concerns younger voters. Eduardo Garcia, 27, of New York City, is finishing up a public administration degree at the John Jay College of Criminal Justice and works as an intern at nonprofit.
He listed free tuition as a top issue for him, along with education access, universal health coverage and affordable housing.
"I hear a candidate pushing for this, that person has my vote," he said.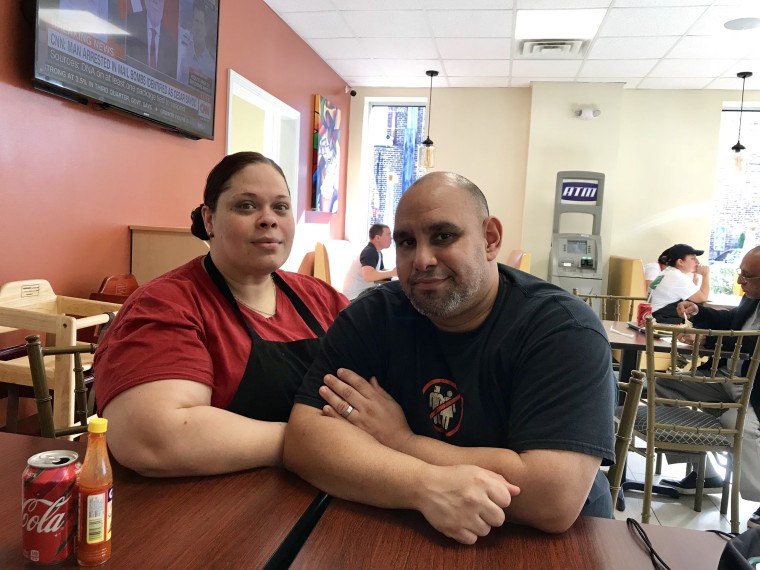 Manuel Timm, a 19-year-old college student at Northern Arizona University, mailed in his ballot to vote in his hometown of Glendale, Arizona. He topped his issues list with education, along with women's rights, the LGBTQ community and diversity in politics. But he enters the election a bit exasperated.
"Trump makes me so frustrated in politics that I tend to be just a fly on the wall. I consider myself a political person, but because of the Trump administration, I can't watch the news," Timm said. "Same sh––, different day."
To vote or not to vote
Not everyone has voting on their mind. Carlos Santiago, 38, of Bridgeport, Connecticut, works at a pasta factory in Stratford.
He relocated to Bridgeport — which has one of the largest Puerto Rican populations in the state — after Hurricane Maria destroyed his house in Isabela, Puerto Rico.
Santiago had not registered to vote; his mind more preoccupied with trying to recover from the hurricane. He said he is disappointed in the help he and his family have received in the aftermath of the hurricane.
"The situation is pretty dire," he said. "They promised to help us, but in the end, they didn't end up helping anybody."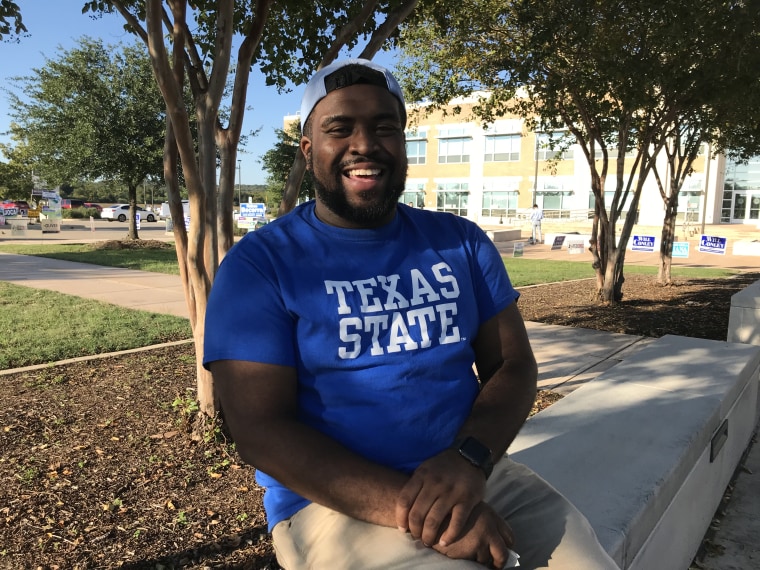 But for Prince Winbush III, a student at Texas State University in San Marcos, Texas, voting is a must. Winbush helped fight to get extended early voting days and an Election Day polling site on his campus.
He said he's looking for equality for students, such as doing away with the state's 3-peat law that allows colleges to charge more for a course taken three or more times.
He was hit with that extra cost when he dropped a history class while caring for his grandmother and working full time and a second time when he had problems with the professor. The $300 class cost him $600.
Winbush, vice president of the Texas State University College Democrats, said he has voted in every election possible since he was able to vote and will continue to show up at the polls.
"I came from a family who believes in that," said Winbush, who is African American and Puerto Rican. "Too many people died to get the right to vote. It makes no sense if I didn't."
Reporting by Suzanne Gamboa in Austin and San Antonio, Carmen Sesín in Miami, Patricia Guadalupe in Washington, D.C., Alexandra Campbell Howe in Bridgeport, Stephen A. Nuño in Flagstaff and Nicole Acevedo in New York.
FOLLOW NBC LATINO ON FACEBOOK, TWITTER AND INSTAGRAM.