Jacob Monty, a former adviser to Donald Trump on Hispanic outreach, has forewarned fellow Latino Republicans they could be facing a GOP loss in the White House race. He said it's time for conservative Hispanics to "fix" the GOP.
Monty made the projection in a Facebook invitation to 270 people for an Oct. 19 gathering in Las Vegas, the same day and in the same city as the last presidential debate.
"As we approach what appears to be yet another defeat of the GOP presidential candidate by a left leaning democrat (sic), it is incumbent on Latino conservatives to come together to fix our Party (sic) so that we can capture more Latino votes," Monty wrote in the Facebook posting.
Monty warned that unless the the number of Latinos increases "the GOP will cease to be a national party."
"As we face our third loss, in twelve (12) years, the same issues that hamstrung us in 2008 remain, and have essentially grown stronger," Monty stated.
Monty, an immigration lawyer in Houston, was one of several Hispanics who expected Trump to ease his immigration policies following their meeting with Trump in mid-August. But Monty and other Latinos dumped Trump and quit his Hispanic advisory council after Trump recommitted to mass deportations and to a pledge to make Mexico pay for a border wall in an Aug. 31 speech in Arizona.
RELATED: GOP Hispanics Dump Trump After Arizona Immigration Speech
Reached by phone, Monty was a little less resolute about a coming White House race loss for the GOP, but definitely doubtful of his party's chances.
"Probably Hillary is going to win. We need to be prepared for that," he told NBC Latino. "None of us has an Ouija board, but that's the way I see it. That's the way all the founders of the Latino Conservative Conclave see it."
In addition to finding ways conservative Latinos can "fix" the party, the race for chairmanship of the Republican Party also will be discussed, he said. Former GOP presidential contender Carly Fiorina has been prepping for a run at the post, according to reports.
After Mitt Romney's loss in the 2012 presidential election, the GOP conducted an "autopsy" of the party and concluded its survival hinged, in part, on drawing in more Latinos. The party said to do that in needed to embrace and champion immigration reform.
"If Hispanic Americans perceive that a GOP nominee or candidate does not want them in the United States, they will not pay attention to our next sentence," the autopsy stated.
Trump started his campaign by blasting Mexico and asserting it "sends" Mexicans to the United States who are rapists and criminals and bring drugs. He called a federal judge born in the U.S. a Mexican and questioned his ability to be fair in presiding over a lawsuit against Trump.
As a result, a number of Hispanics in the GOP have refused to back Trump. Even if he wins, Monty said, "we are not going to let up" on the biggest impediment to drawing Hispanics to the party, immigration. Some 75 percent or more of all Latinos have a negative view of Trump, according to polls.
Monty said the conservative Latinos group will look for ways to add stiff language to the party platfortm that specifically "disavows" mass deportations.
"We can't have a party that puts stuff like that (mass deportations) in a platform, supports a candidate like this and wants to roll us out for Hispanic Heritage Month," he said.
Not everyone participating shares Monty's bleak view. Jerry Natividad, a businessman in Colorado and Trump surrogate, said with two debates left, "more information to be exposed and policy discussed" a Trump win still is possible.
He said he's not enamored with Trump, Trump was never his first choice and he's troubled by some of the things but believes he's the best chance for changing corruption in Washington, D.C.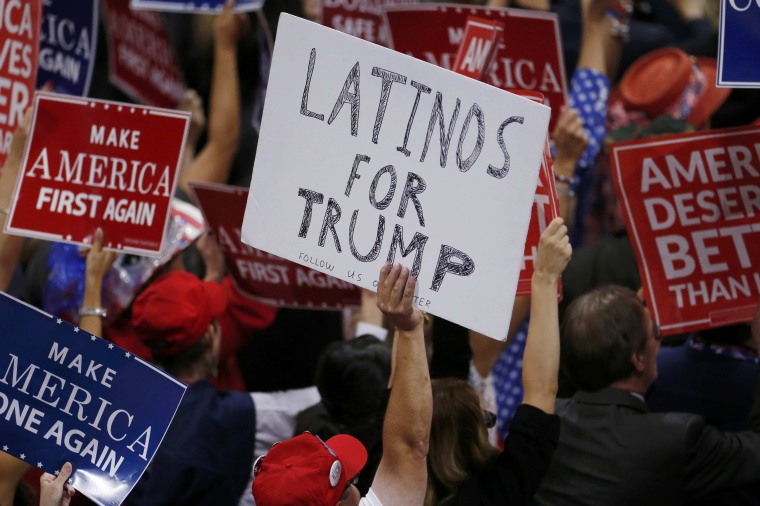 "Whether there's Republican support or not among Latinos, I prefer to have a Republican in the White House, that's not negotiable," Natividad said.
Deciding to be against Trump may have some consequences for some Latino Republicans.
Artemio Muniz, chairman of the Federation of Texas Republicans, said he's been under pressure from fellow Republicans to back Trump.
He's received calls from party leaders and influential people in Texas, friends and people who he respects, he said.
"Some have tried to convince me to join the Trump campaign. The reason they give is the Trump people are here to stay and if you have any political ambition jump on the Trump train now or there may be backlash in the future," he said.
But he said he's not worried about that.
"My heart is in building a majority coalition for the future so we can be a competitive national brand from the top down on the ticket," Muniz said.