Moctesuma Esparza has by all accounts lived the American Dream. A kid who grew up in East Los Angeles during the tumultuous times of the Chicano civil rights movement in the sixties and seventies, Esparza has spent his career highlighting the Latino experience through film. The Emmy winning and Oscar nominated movie producer —he was one of the producers of the hit movie Selena as well as The Milagro Beanfield War and Gettysburg, Esparza has expanded his efforts by bringing the movie going experience to several Latino communities.
"When I grew up I could walk to three movie theaters, but today Latinos have to drive a far distance to see a movie. I want to make movies a neighborhood event," said Esparza in a telephone interview with NBC News.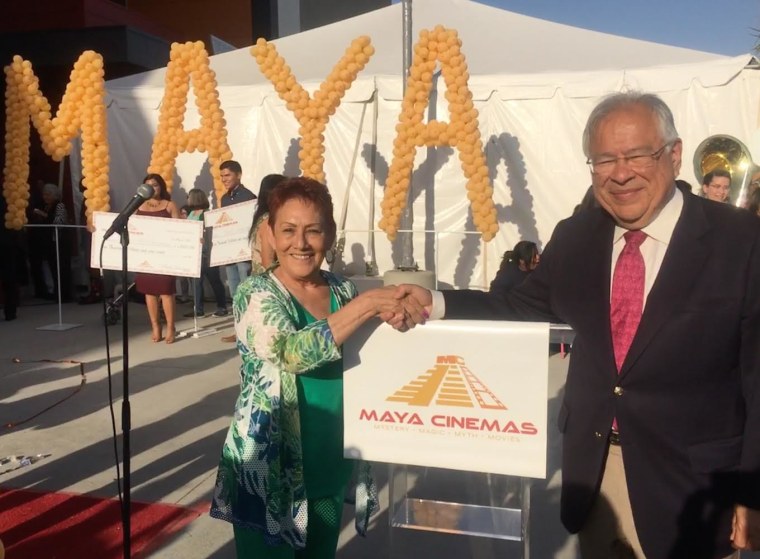 The owner and CEO of Maya Cinemas, Esparza opened his latest theater in Delano, California on May 16th, a $20 million dollar multiplex in the heart of the Central Valley. Before the theater's opening, the agricultural city of just over 50 thousand residents had no movie theater; families would have had to drive over a half hour to go see a movie.
Delano holds significant symbolic value for Esparza's target audience of Latino families. Delano was the epicenter of the farm workers movement, where civil rights activist Cesar Chavez and Dolores Huerta joined workers in a strike against grape growers. The historic event set into motion the establishment of the United Farm Workers union.
The farm workers movement is emblematic of Esparza's own experiences growing up. As a youth leader at Lincoln High School in El Sereno, a working-class, Latino enclave in Los Angeles, Esparza helped organize a massive student walkout in protest for equal education and school reform in in 1968. Frustrated by the lack of opportunities, Esparza sought to transform the presence of Latinos in cinema, entering UCLA and getting a degree in the School of Theater, Film and Television.
Esparza used his experiences as an activist and his degree to tell the story of his community through film. His first documentary, Requiem 29,chronicled the life of Rubén Salazar, the first Mexican American journalist employed by the Los Angeles Times who became an journalist-activist and was killed by a gas canister shot by sheriff deputies while dispersing a crowd of Chicano protesters who organized against the Vietnam War.
After decades of film making and activism, Esparza conceived and launched Maya Cinemas in 2003, and with the newest one in Delano, it now has theaters in five California agricultural and industrial cities with large Latino populations: Bakersfield, Pittsburg, Fresno, Salinas and Delano. Esparza plans to expand to other cities across the country where Hispanics make up a large share of the population.
Though movie going in general is in decline, Esparza has leveraged the economic power of the Latino movie going audience. According to the Motion Picture Association of America, "Latinos, who represent 18% of the total U.S. population, comprised 24% of 'frequent' moviegoers — those who attend at least once a month." According to their report, Latinos went to the moves an average of 4.5 times in 2017, making them the most enthusiastic movie going ethnic group in the country.
A co-founder of the National Association of Latino Independent Producers (NALIP), Esparza is using his clout to support budding Latino artists who want to break into the film business by showing their movies at Maya Cinemas.
"We have a program that's going to support Latino filmmakers who haven't had an opportunity, but are making entertaining and watchable films", said Esparza.
He recently co-produced the movie "Taco Shop", a comedy that pits competing taco businesses against each other, which played at Maya Theaters.
Esparza said it's important to extend opportunities behind and in front of the camera. While famous Latinos have always dotted the Hollywood landscape, they've had to grapple with a "clannish and nepotistic" industry that has made it difficult for Hispanic actors to flourish, said Esparza. The famous Rita Hayworth was born Margarita Cansino, symbolizing the complex relationship between ethnicity, race and Hollywood.