WASHINGTON, D.C. — Latino leaders and groups denounced the choice of Alabama Republican Sen. Jeff Sessions for attorney general, announced by President-elect Donald Trump on Friday.
"If you have nostalgia for the days when blacks kept quiet, gays were in the closet, immigrants were invisible and women stayed in the kitchen, Sen. Jefferson Beauregard Sessions is your man," Rep. Luis Gutierrez said in a news release, using Sessions' full name.
RELATED: Trump Taps Alabama Sen. Jeff Sessions for Attorney General Post
"No senator has fought harder against the hopes and aspirations of Latinos, immigrants and people of color than Sen. Sessions," said Gutierrez, D-Ill.
Thomas Saenz, president of the Mexican American Legal Defense and Educational Fund, MALDEF, called the pick "very disturbing and concerning."
"Sen. Jeff Sessions has not shown himself to be somebody who respects the law, particularly as it relates to immigrants and civil rights and we are concerned about his nomination and we certainly will oppose it," Saenz told NBC Latino.
Related: MALDEF's Thomas Saenz Talks Latino Civil Rights and Trump's Presidency
The Alabama senator, first elected in 1996, is a former U.S. attorney. He is chairman of the Senate Judiciary Committee's Subcommittee on Immigration and advised Trump on immigration during the campaign.
The Senate blocked his appointment to an Alabama federal judgeship following testimony raising questions about his views on black people and on race. Sessions will face another hearing and his appointment must be confirmed by the Senate.
In his time in the Senate, he has opposed easing immigration laws and championed tougher enforcement and opposed the nomination of Sonia Sotomayor to the U.S. Supreme Court,
Trump's candidacy was clouded by questions too about his regard for Latinos and other minorities, starting with the day he launched his presidential bid by saying Mexico sends Mexicans to the U.S. who are rapists and bring drugs and crimes. He said he "assumed" some were good people.
Not all Hispanics opposed the Sessions pick. Sen. Ted Cruz, a Cuban American who is the first Hispanic to win a presidential caucus, congratulated his "good friend" and colleague Sessions in remarks at the Federalist Society convention. He said he will make an "extraordinary" attorney general. Cruz, R-Texas, had expressed interest in the Cabinet position.
"He is a committed and deeply principled conservative and if those who serve in this administration have even a fraction of his integrity and his commitment to principle, we are going to see an administration that does remarkable things for the people of this country."
But organizations that assist immigrants, many of whom are Latino, and Latino activist groups expressed dismay:
"The nomination of Senator Sessions to lead the Dept. of Justice will exacerbate racial divisions throughout the country and drive the American people further apart," said Roger Rocha, president of the League of United Latin American Citizens.
Gustavo Torres, executive director of CASA, a Latino and immigrant advocacy group, called Sessions "a dangerous man in this position."
"He has voiced some of the most anti-immigrant rhetoric and proposals to come out of the Republican Party.
In a release, CASA noted that Sessions has opposed every immigration bill to come before the Senate in the last two decades and that included a pathway to citizenship. He also has opposed legal immigration proposal, including visas programs for science, math and high-tech workers, CASA said.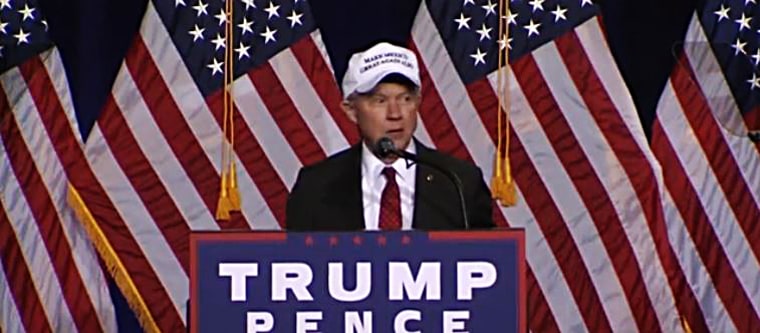 Ali Noorani, head of the National Immigration Forum, posed several questions Sessions should have to answer at his confirmation hearing, including how he'll ensure people get their fair day in court in the immigration court system, how he'll enforce immigrants' civil rights and how he'll intervene if states take actions harmful to immigrants.
"The sanctity of the Constitution must come first. It guarantees due process for immigrants," he said.
Related: Study Finds No Evidence of Widespread Voter Fraud
Gerry Hebert, whose testimony about racially charged statements by Sessions in his previous Senate hearing helped sink that nomination, criticized his voting rights record.
"As Attorney General of Alabama, Sessions prosecuted black citizens on phony charges of 'voter fraud,'" Hebert said in a statement.
"Sessions has also supported discriminatory voter ID laws based on the myth of widespread voter fraud, denied a continuing history of discrimination against minority voters in the South and celebrated the Supreme Court's decision —that gutted the landmark Voting Rights Act, a law he will now be sworn to protect and enforce," he said.