Latinos went to the polls Tuesday, some serenaded by mariachis, others hoping to find a taco truck near their polling site and many urged to take part in the election that catapulted their community to the front lines of the presidential contest.
José Lopez originally from El Salvador but in the U.S. for nearly two decades, became a citizen this year and is voting for the first time. He said he was going to vote to stop Trump.
"I feel like I finally have a voice in this country and I am so proud of that," said Lopez, a Virginia resident who works in building maintenance. "I also like Hillary Clinton. I think she is very capable and she has the experience. Plus she knows the White House like the back of her hand. She can walk in there and from the very first day start getting things done," Lopez said.
Latinos have been breaking records for turnout in states with early voting periods. Many were watching to see whether the higher turnout would continue Tuesday.
Trump has been a big motivator for many in the electorate, but experts say high turnout is indicative of more than just a reaction against Trump.
The perception of a threat "isn't enough to turn out Latino voters when there is not a concerted effort to organize them and to mobilize them to turn out to vote," said Luis Fraga, a political science professor at the University of Notre Dame.
Andrea Martinez, 19, graduated from high school over the summer and is going to school part-time while she works in a restaurant.
"I'm disappointed actually because I wanted Bernie Sanders to win. He had a lot of good policies. I'm not happy with the choices we have now but we have to stop Trump from becoming president. He is truly dangerous," said Martinez, a Maryland resident.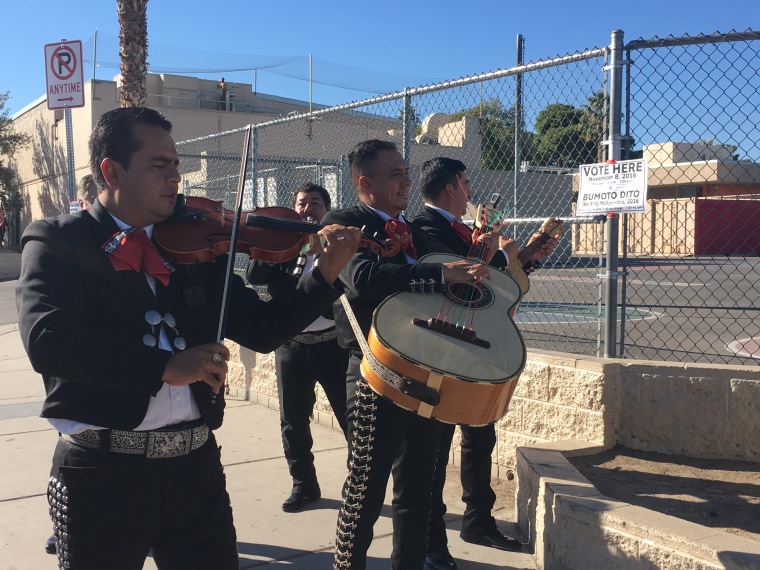 In Las Vegas, the group Mariachi Vegas was to serenade Latino voters as they headed to the polls, singing a revised version of "El Mariachi Loco" The song's opening stanza, "El mariachi loco quiere bailar, (the crazy mariachi wants to dance), has been changed to El mariachi loco sale a votar (has gone to vote).
"The mariachis, they call it a serenata (serenade) and it's what you would do for someone you love. It's like we are saying we appreciate you for voting — it's not some chore. It should be celebrated and fun," said Laura Martin, associate director of PlanAction, which organized the serenata under the Immigration Voters Win Campaign, a multimillion-dollar effort aimed at turning out Latino and immigrant voters. The group backs Clinton and other Democratic candidates.
The festive voter turnout effort contrasts with a an election year that has been characterized as filled with negativity.The cultural celebration also is something of a pushback against Donald Trump, who began his campaign vilifying people from Mexico.
"People aren't ashamed to be Mexican or immigrants or Muslim," Martin said. "Our diversity isn't a burden. It is what makes our county already great."
Mariachis also were to serenade an elderly couple from El Salvador, who had been legal permanent residents since 1988, decided to become citizens and cast their first votes Tuesday. The couple, Fabio, 91 and Marta, 80, Alvarado had told their daughter "they were so extremely disturbed" by the anti-immigrant rhetoric of the campaign that they were they pushed their daughter to help them get their citizenship, said Jorge Mario-Cabrera, spokesman for Humane Immigrant Rights of Los Angeles, CHIRLA.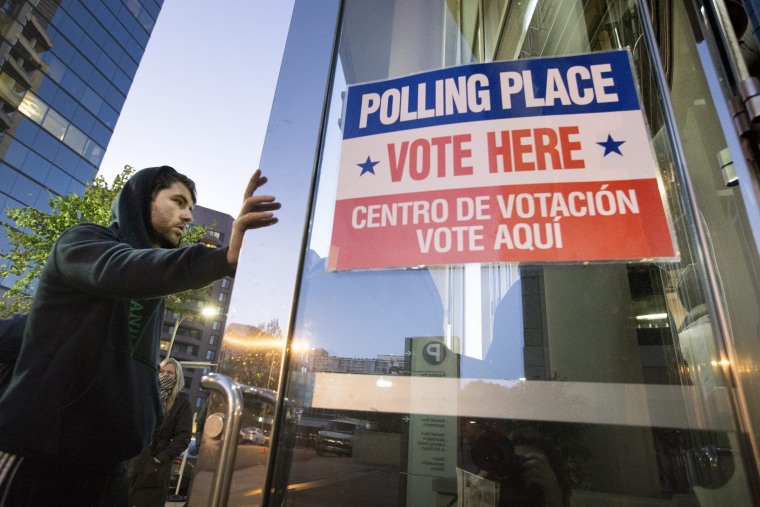 Marta already has been naturalized and registered to vote, but Fabio was to go through a swearing in ceremony Tuesday. Under California law, a person naturalized after a voter registration deadline can still vote at a county registrar office.
CHIRLA arranged to have a mariachi band serenade the couple as they headed in to their polling place. The mariachis' playlist included Las Mañanitas, a traditional birthday song, but also used for other special events.
Latinos on social media couldn't help but note that Election Day, which is always on a Tuesday, also is falls on the day of the week for tacos -- Taco Tuesday. Last Cinco de Mayo, Trump tweeted a photo of himself eating a taco bowl salad with a Cinco de Mayo salutation. Also a Trump surrogate said in an MSNBC interview that the expansion of the Latino population in the U.S. would lead to "a taco truck on every corner." The comment was mocked on social media and many fans of tacos cheered that possibility. Clinton's campaign also turned the comment into a fundraising opportunity.
Latinos also couldn't resist making the Election Day-Taco Tuesday connection.
Related: Election Day: Latino Voters Tweet: #TacoTuesday As They Rally to Vote.
Some taco trucks were also capitalizing on the day:
Trump supporters were among Latinos who voted, although polls show that Trump has garnered only about 19 percent of the Latino vote.
Fraga warned that there has also been a turnout of higher numbers of white voters in states where Latinos were targeted for mobilization. "One of the questions we'll answer in the end of the election is whether the surge in Latino turnout will be greater than the surge in white turnout," Fraga said, adding that he recognizes not all white voters will vote for Trump.
NBC News contributor Patricia Guadalupe and NBC Latino assistant producer Brian Latimer contributed to this report.