LAS VEGAS – At Hillary Clinton's campaign offices in East Las Vegas this week, civil rights heroine Dolores Huerta complained that Bernie Sanders showed up in the Latino community just in time for elections. At a private home in the city's northwest, Mexican actor Marco Antonio Regil asked, "Who is Dolores Huerta?"
Latino voters have moved into the spotlight in the days leading up to Saturday's Democratic caucus in Nevada. Differences in age, in political philosophies, familiarity with milestones in Chicano history and Latinos' experiences have come to the fore as the Clinton-Sanders face-off got gritty.
Along with all that came evidence that the 2-to-1 support from Latinos that Hillary Clinton had enjoyed in 2008, when she faced Barack Obama, was crumbling.
That created a fierce ground battle for the Latino vote here over several months that has continued to intensify.
Just how fierce was evident when Huerta, who marched alongside Cesar Chavez for farmworkers' rights, spoke to Clinton canvassers.
"No vienen a ver el nopal hasta que tenga tunas. They don't come to see the cactus until it has fruit," Huerta said. "I have been an activist for 60 years and I've never seen Bernie … in the marches, the protests we had on the farmworkers, or the immigrant rights issues."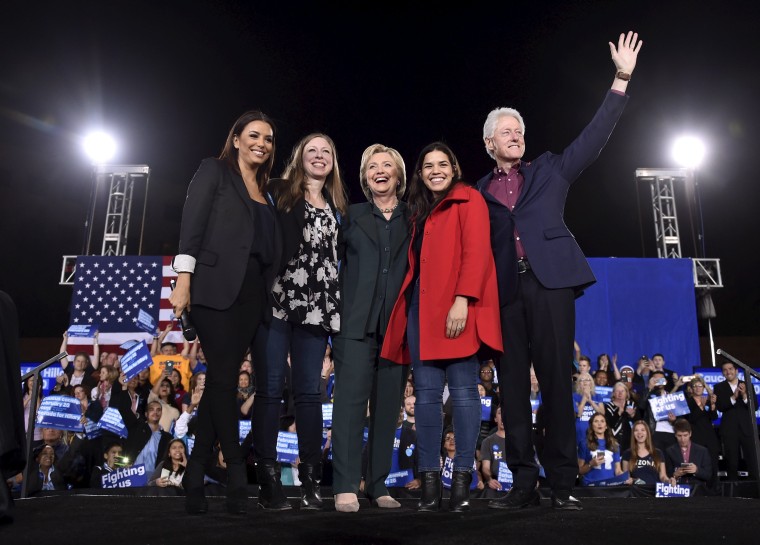 But Huerta's place in Mexican-American and farmworker history hasn't overridden a palpable feeling of frustration among Latinos supporting Bernie who, among other things, criticize corporate influence in Clinton's campaign.
Related: Immigration Bulldog Luis Gutierrez, Latino Heavyweights Endorse Clinton
The same night Huerta spoke, Mexican actor Regil joined Sanders' supporters at a home in northwest Las Vegas to make get-out-the-caucus calls for Sanders. Regil has been the host of several gameshows, including currently hosting "100 Latinos Dijeron" (100 Latinos Said), the Mexican version of "Family Feud."
"I don't think big corporations should have the possibility of giving tons of money to the campaigns. That's what makes me lean towards Bernie," Regil said. "I think (Clinton's) part of the system." But Regil said he'd support Clinton if she wins the nomination.
Finishing second by a thin margin to Clinton in Iowa and pulling off a resounding win in New Hampshire helped raise Sanders' profile here in Nevada.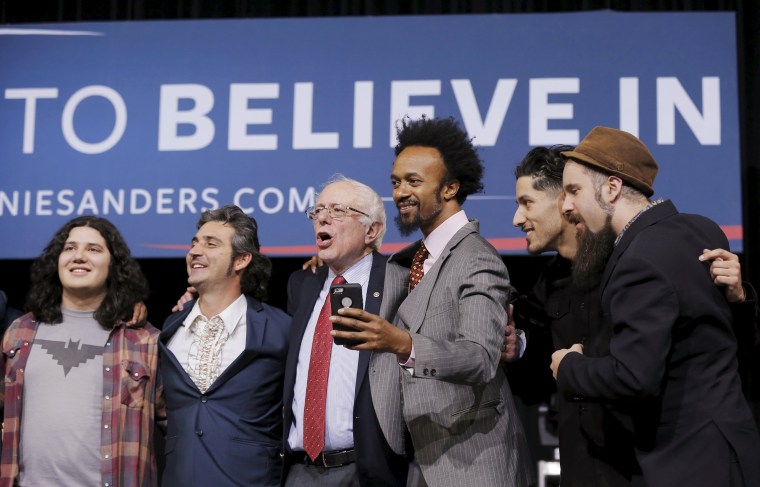 Related: Sanders' Latino Outreach Director: 'El Bernie' Has Strong Support
He's been further helped by support from young Latinos, whose backing helped show that his popularity among the young went beyond white millennials.
In Nevada, his campaign was able to count on reinforcements from California colleges and from a network of young immigrants who call themselves Dreamers. Many came to the U.S. with their parents or stayed and have grown up in the U.S. without legal status.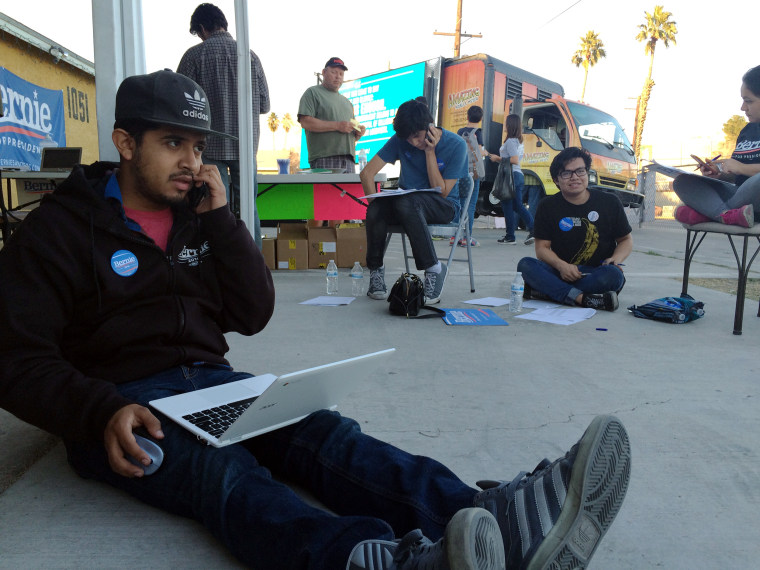 Austreberto Hernandez, 23, of Las Vegas, first learned of Sanders through a tweet, a couple of years before the campaign.
He's the son of Mexican immigrants, who he said were well educated and looking to better their lives and those of their seven children, five born in Mexico.
"I noticed that Bernie Sanders is someone who always stood up for things that matter for me and my family and that earned him my support," said Hernandez, a field organizer for Sanders and an American citizen.
Salvador Villa, 27, of Carson City, whose immigrant father became a citizen through the amnesty law signed by Ronald Reagan, played his violin, while his friend Chris Villanueva, 27, played a double bass at a Sanders rally last Sunday that drew hundreds. Villa said he felt Sanders was the first candidate who could make a difference in the way the political system works. He also saw Sanders' connection with youth as an indication of his openness to new ideas, despite his age.
But Sanders doesn't have the lock on young Latinos. Nor did Dreamers or children of immigrants go singly for one candidate.
Gabriela Torres, 19, of Las Vegas, a student at College of Southern Nevada, Cheyenne, whose father came from El Salvador, said Clinton has the "ability to work out a deal with Congress on immigration reform. She dismissed criticism of her changed views on immigration, saying Obama changed his view on marriage equality and it is "good she changed" on various immigration issues.
Related: Clinton Nevada Director Emmy Ruiz: Hillary Built 'Vast' Latino Support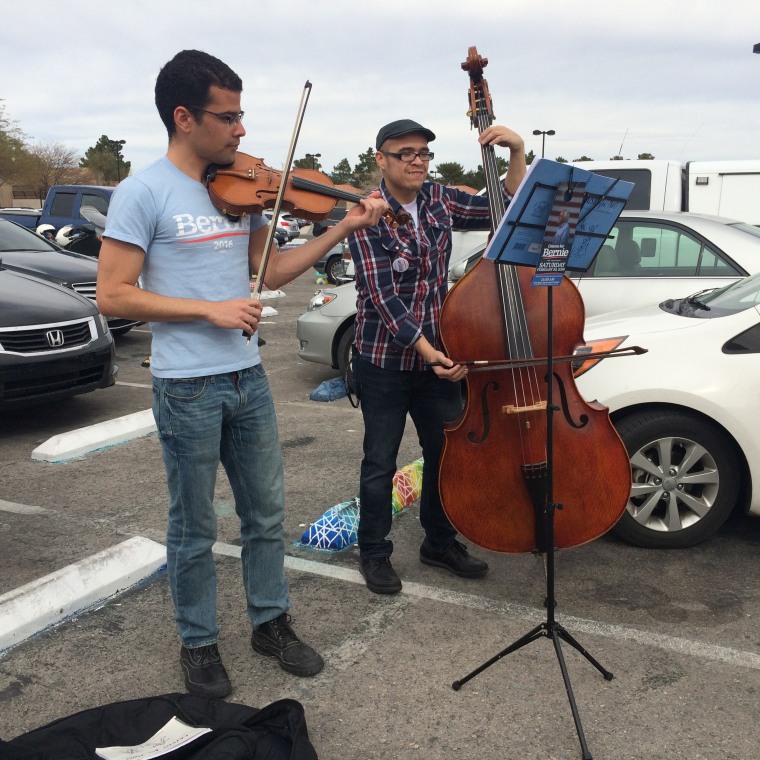 While Dreamers streamed into Nevada for Sanders, union members from California and in the city made a big showing for Clinton. California carpenters filled Carpenter Hall in Las Vegas a week ago, arriving on buses and decked out in matching blue T-shirts.
Nevada is a right-to-work state, but Las Vegas is heavily union. The statewide workforce is 14.4 percent union, according to the Bureau of Labor Statistics.
Clinton has more union backing, but the important Culinary Workers Union, which includes many Latino members, didn't endorse her nor Sanders.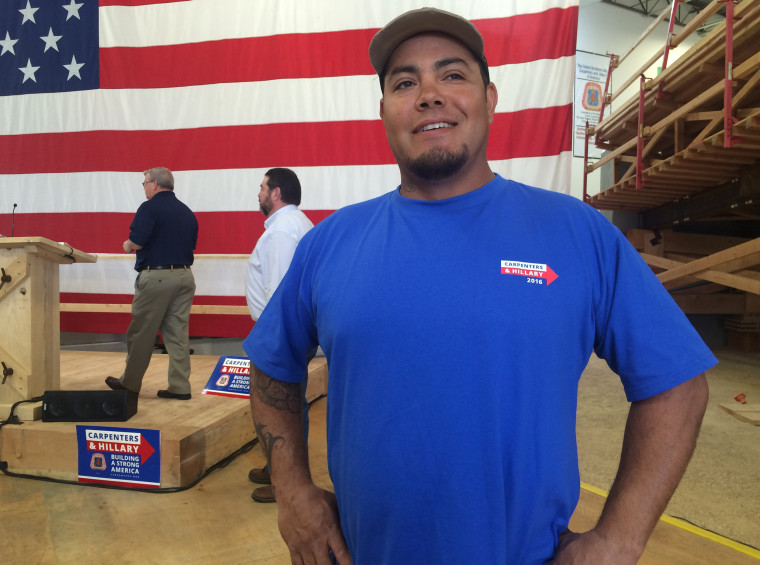 Eduardo Hurtado, 37, of Los Angeles, was one of the carpenters' union members who canvassed in Las Vegas. He said he was instructed by his late brother to become politically involved and to educate himself.
Hurtado's brother had lost his voting rights after serving time in prison, and later murdered, making canvassing for Clinton a serious mission for Hurtado.
"I know a lot of Latinos work hard and we are construction workers and we work a lot of difficult labor, physical jobs," said Hurtado, the son of Mexican immigrants. "It's important we get paid a decent pay. It's very important for us to come out and vote and speak, speak up for ourselves and for our country."
Related: Clinton Appeals to Dreamers; Sanders Rallies Supporters in Las Vegas
Some of the support Clinton enjoyed in 2008 remains here. Restaurant Owner Molly Olguin, whose grandfather rode with Pancho Villa, said her deep affection and admiration of Clinton stands.
"We couldn't pull it off in 2008. We tried so hard, but this time we will. I love her," said Olguin, 75, owner of El Tenampa.
Latino voters in Las Vegas who spoke to NBC Latino over the past week raised a variety of issues they said were important this election - college affordability, the wealth gap, corporate involvement in politics and wage increases.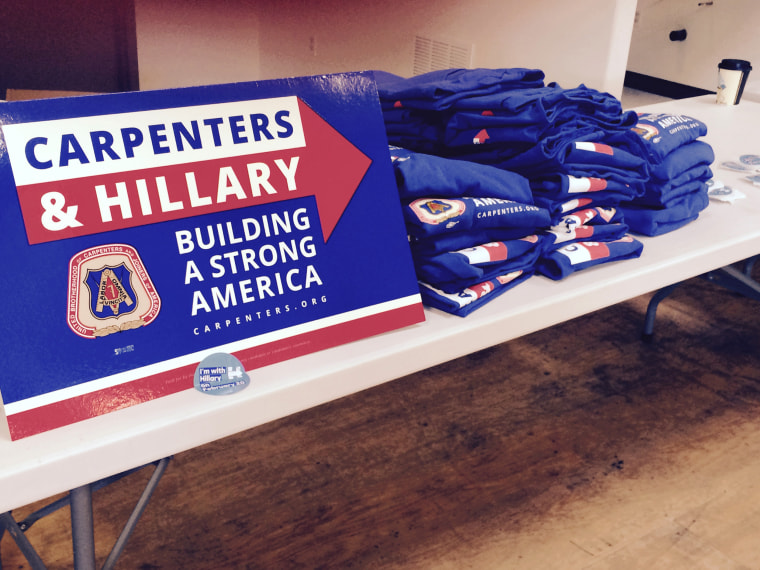 But on both sides, immigration was prominent, as was seen in an MSNBC/Telemundo town hall Thursday night.
Many Latinos in the state have a close proximity to the immigrant experience, either as a child of immigrants or immigrants themselves. Several have felt the crush of tough immigration policies that have separated them from family members.
Related: Clinton ad with Latina Girl Hits Emotional Issue of Deportations
In Nevada, 7.6 percent of the state's population is not legally here and the share of students in the state with one unauthorized parent led the country at 17.6 percent in 2012, Pew Research Center reported.
Hispanics are about 17.2 percent of all of Nevada's eligible voters and 46.1 percent of the state's Latino population is eligible to vote, according to Pew.
Several Latinos interviewed, even those not planning to caucus, had decided who they would not support.
"Well I'm definitely not voting for Trump," said Hugo Flores, 45, who drives a Las Vegas city bus, was born in Guatemala City and has been in the U.S. for 20 years. Flores had decided on Clinton, finding Sanders "a little too liberal for me."
Related: Young Voters Show the Potential, Uncertainty of Latino Millennial Vote
But on the other hand, Nick Muñoz, 28, whose parents are from Mexico, but are now citizens and whose father is a Marine veteran, said his brother had "kind of turned me on to Bernie."
"He calls himself a socialist, which is a pretty radical thing to say," said Muñoz, who works with people in substance abuse recovery.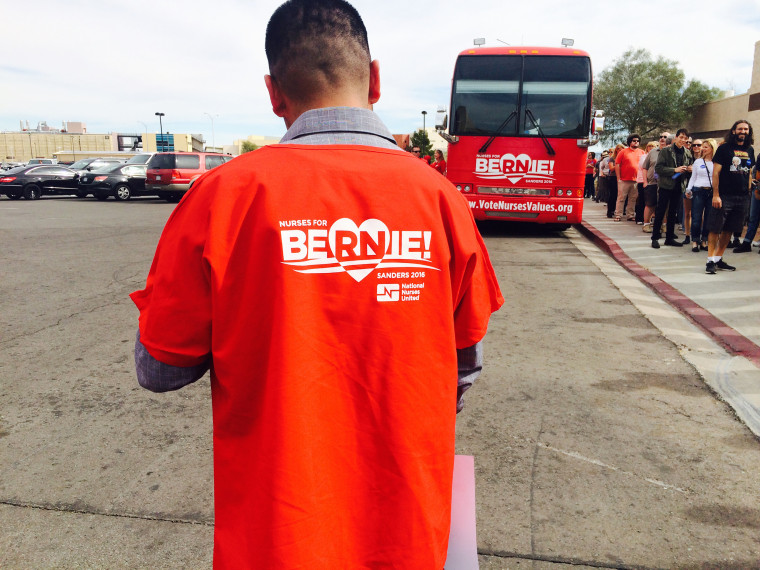 The candidates' first face-off in the West didn't inspire everyone. Jasmine Cueto, 21, said she was so turned off by candidates "trying to say what people want to hear" that "I don't really feel like voting this year." If she did, though, she said she'd vote for Clinton.
There is much at stake for the candidates in how the Latino electorate ends up in their camp. But there also is a potential windfall for Democrats from the pitched battle Sanders and Clinton have waged for their votes.
BOLD PAC, a political fundraising committee of the Congressional Hispanic Caucus,released an adthis week hitting GOP candidates Trump, Ted Cruz and Marco Rubio on immigration.
"Throughout our history they have said no to all of us once … and now they want to say no to Latinos," the ad's narrator says.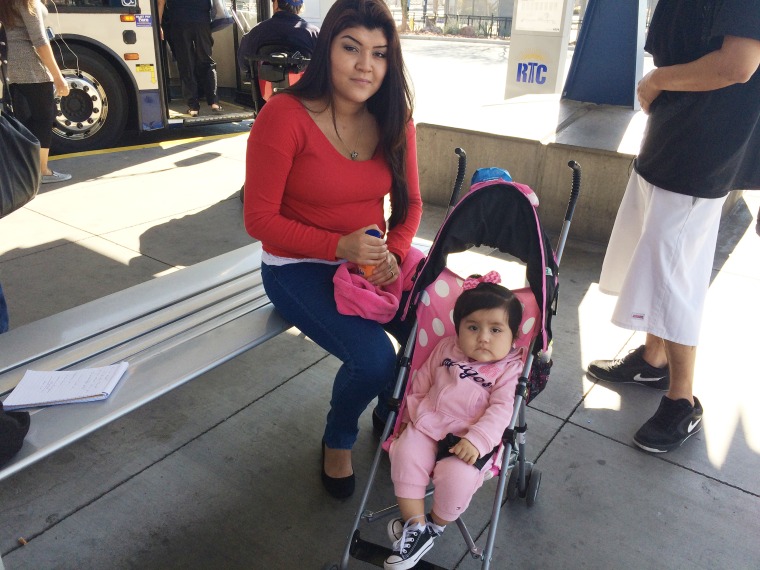 Jose Parra, a Democratic strategist hired by BOLD PAC , said the hope is the ad will stir Democrat Latinos and others to show up to caucus in numbers matching the mid-term election turnout in 2010 and then turn out in November. Democrats can register on the day of the caucus.
In 2010, when Senate Minority Leader Harry Reid backed the Dream Act in his campaign against the advice of consultants, the Nevada Latino vote matched Latino turnout in a presidential year, Parra said. Reid won 90 percent of the Latino vote.
But in 2014, with a delay in immigration action by President Barack Obama, turnout among Latinos fell 27 percent, he said.
"If we continue to message the contrast between Republicans and Democrats on immigration, this gets people engaged and it gets them out to register and out to vote in November," he said. "This caucus is not just about now, it is about November."
This story includes material from NBC contributor Stephen Nuño.