WASHINGTON – As Omar Duque sees it, the best way Latinos can "push back" or "resist" in the current political environment is by "doing really well" and succeeding.
To Duque, the Illinois Hispanic Chamber of Commerce president and CEO and the founder of a summer youth entrepreneurship program for Chicago-area high school students, that success depends to a degree on Hispanics being able to be healthy at work and employers taking an interest in their employees' health and well-being.
"If people are not healthy, they are not working. If people are not healthy, they are not working and they are not shopping and they're not spending money," he said.
Duque is attending the two-da U.S. Hispanic Chamber of Commerce's annual legislative summit that ends today with an evening gala where Energy Secretary Rick Perry will speak. Being here this week has landed him in the national capital as Republicans are trying to advance their replacement for the Affordable Care Act, better known as Obamacare, but are running smack into some hard-to-swallow outcomes of their plan.
Just Tuesday, the nonpartisan Congressional Budget Office, Congress' research arm, issued an analysis that found the GOP plan would cut deficit spending. But it would achieve that by knocking people off health care plans and Medicaid, the subsidized health insurance program for low-income and elderly people, and by significantly increasing health insurance costs for the elderly.
Duque said based on that news, "as an organization and as a community, we are very concerned about the future of health care and we are very concerned about what this is going to mean for people who previously didn't have health care coverage and now do, and the millions of people who are going to lose it."
Hispanics have the highest rate of people without health insurance coverage and saw the largest drop in people without insurance under Obamacare.
At the same time, Hispanics are responsible for the lion's share of small business growth and they are an increasing share of the U.S. workforce, with that share set to increase for years to come.
Many small businesses don't have enough employees to be required to provide health insurance to workers, but for some of those that do, the share of the costs they pay of employees' premiums have become too costly, according to the USHCC.
Earlier in the week, Steve Gomez of Arizona., spoke at the Capitol about his son's heart problems, the heart transplant he needed and the $2 million cost in hospital stay alone, never mind the continued care and medicines he'll continue to need. Gomez said he considered himself lucky, because he had insurance through his employer and because the Affordable Car Act prohibits denying coverage for pre-existing conditions, something the GOP wants to preserve.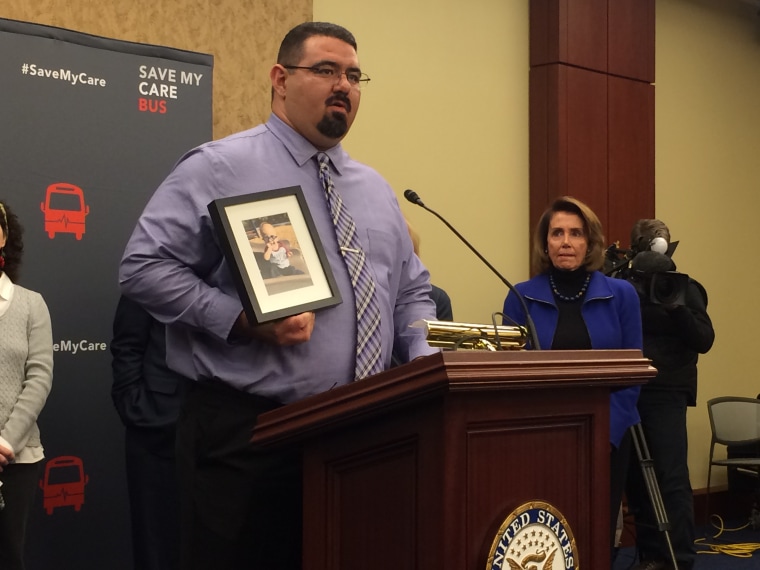 Gomez had participated in the Save My Care Bus Tour organized to oppose the GOP repeal of Obamacare. The bus tour began Jan. 17, traveled coast to coast for a total of 14,000 miles and held events in 23 states opposing repeal of Obamacare. The tour ended in Washington, D.C.
Gomez said the GOP plan would "condemn families like ours."
But Lea Marquez Peterson, president and CEO of the Tucson Hispanic Chamber of Commerce and former owner of gas stations, said "we absolutely need modification of the Affordable Care Act."
"It simply has not been affordable," Peterson said. "We absolutely want to find health insurance plans that can fit our employees, but in many cases, employer plans are not as accessible or affordable, so we send our employees to the individual marketplace, and then their premiums are so high."
Related: 5 Things To Know About The GOP Health Plan's Score
She chairs a local hospital board and has seen bad debt for the hospital dramatically drop, as more people have gained insurance, which she said is a "good thing." But she supports repealing Obamacare and replacing it.
She said she doubts that "our GOP leaders have any intent (of) having that many people fall off the rolls of a health insurance plan. That's not practical. That doesn't make sense."
Wednesday afternoon, House Speaker Paul Ryan, R-Wis., acknowledged that now that the CBO has analyzed the House health coverage bill, dubbed the American Health Care Act, to determine its costs and effects, it will undergo some changes.
On Tuesday, Sen. Ted Cruz, R-Texas, had told NBC News he found the CBO report on the current House bill "troubling." Speaking to the USHCC summit Wednesday, he said of the GOP health care bill: "I don't think gets the job done."
He said he's working with the administration, the House and colleagues in the Senate to improve it.
Hector Sanchez, chair of the National Hispanic Leadership Agenda, a coalition of conservative and liberal Hispanic groups, blasted the GOP plan Wednesday saying it would "be a disaster for millions of Latinos."
He said the Affordable Care Act cut the uninsured rate for Latinos almost in half and reduced the uninsured rate among Latino children to a 7.5 percent, from about 11.5 percent.
"House Speaker Paul Ryan and President Trump want to reverse these gains by passing the American Health Care Act and we are urging Congress to reject this bill," Sanchez said.
Related: Republican Latinos Troubled by GOP's Obamacare Replacement
Hispanic leaders said the changes that the GOP plan would make to Medicaid are particularly worrisome for the Latino community. The bill would reduce Medicaid spending by $880 billion by 2026. That would knock about 14 million people off the federally subsidized program, according to the CBO analysis. Obamacare expanded eligibility for Medicaid, raising qualifying income thresholds.
"It would essentially end Medicaid as we know it," said Janet Murguía, president of the National Council of La Raza. She noted that half of all Medicaid enrollees are children, and of the 74 million Americans who count on Medicaid for coverage, 18 million are Latinos.
"It is a critical source of coverage for Latinos and any cuts to the program will inflict pain on Latino children, pregnant women and families," she said.
The USHCC planned to bring several of its business leaders to the White House for meetings with members of the administration on Thursday, lead by the chamber's president Javier Palomarez. Last year, the chamber made its first-ever endorsement in a presidential race, backing Hillary Clinton. But after Trump's win, Palomarez became a member of Trump's Hispanic Advisory Council, for which he has criticized by some Latino leaders.
Related: Mental Health Groups Worry New GOP Plan Will Devastate Coverage
Palomarez has defended his alliance with Trump saying the chamber – which includes Republican board members and has corporate supporters from different parts of the political spectrum – can accomplish more from campaigning from the inside, rather than complaining from the outside
On Wednesday, Palomarez declined to criticize the GOP-backed health care plan, saying he wants to wait for the dust to settle. He said he would be concerned if Latinos lost their insurance, but he said, the administration and Congress "will figure out what needs to happen."
He's said that his advice to Trump on Obamacare and Latinos has been that "the Affordable Care Act that we've had to work with … was good on the health care but wasn't good on affordability."