When Fernando Peña was arrested in 2003 at age 35 for criminal possession of marijuana and sent to Rikers Island, he could see his own apartment in the distance when he was tasked with cleaning the outside of New York's largest jail.
"I would wonder who could see me, sweeping," said Peña, now 53. "You know, the loss of your freedom is a big thing. ... I'm still very happy to this day to be free. Every day."
Twenty years later, Peña and his wife, Suzanne Furboter, were able to obtain a license to become cannabis dispensary owners through New York's Conditional Adult-Use Retail Dispensary licensing program, known as CAURD.
The CAURD license allows justice-involved people — those who were previously convicted of marijuana-related offenses — and who have business experience, as well as their family members, to apply. Furboter applied for the license, and Peña is listed as a contributor.
"We said, all right, let's give it a shot. Who knows if it's true? It's almost like a $2,000 lottery ticket," Peña said about the application process and the licensing fee. "Now I feel like the door's open. ... Who knows what I can do?"
After New York legalized recreational marijuana in 2021, the CAURD program was created to address the fallout for those most affected by the war on drugs, according to New York's Office of Cannabis Management.
Just a year before recreational marijuana was legalized, New Yorkers of color — mostly Black and Latino — accounted for 94% of pot-related arrests and summonses in the city in 2020, according to an analysis of New York City police data by the Legal Aid Society. 
After a one-month application window last September, Peña and Furboter were among the first to receive licenses out of over 900 applicants.
Before New York legalized recreational pot, many people of color had to deal with the fallout of marijuana-related arrests and incarcerations, said Patrice Edwards, the director of the Bronx Cannabis Hub at the Bronx Defenders, a nonprofit public defender group aiding low-income communities.
"So you get arrested. You have to go through the system for a marijuana-related offense. That can easily affect your ability to keep your children if you're involved in the family court system," Edwards said about one of the ways the high arrest rates affected the community.
After Peña was arrested, he had to take his name off the liquor license for his and his wife's new restaurant, and later, after he was charged with a felony, he had to take his name off their business.
"It was just hard to keep everything together," Furboter said, "and try to put up a front of happiness when all this was going on."
Recognizing 'what this did to our communities'
From 2010 to 2017, seven of the 10 lowest-income neighborhoods in the city were among the top 10 for marijuana-related arrest rates, the city comptroller reported in 2018.
In the same period, the 10 neighborhoods with the largest combined Black and Latino populations accounted for more than one-third of all pot-related arrests; over half of those arrested were under age 25.
Vladimir Bautista, a co-founder and the CEO of the cannabis lifestyle company Happy Munkey, applied to the CAURD program as soon as he got the chance, and he is waiting for a license.
Bautista got his start in New York's legacy market — the illicit cannabis industry that developed many years before legalization. He was arrested over 20 times for distributing and consuming marijuana.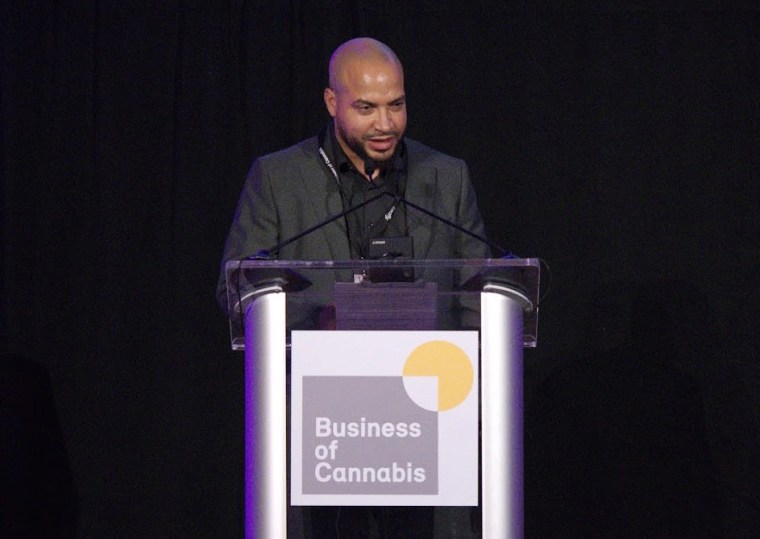 "I'm representing what this did to our communities and going into the industry with that first in mind," Bautista said.
Growing up in Harlem, which is predominantly Black and Latino, Bautista noticed his experiences around marijuana arrests were vastly different from those of his white friends in more affluent areas of New York City.
"I would go talk to a white person that lived in SoHo or Tribeca," and ask them at the same time this was happening to me and my community," Bautista said. "They were like: 'Oh, no, over here they just told us to put it out. They never arrested us.'" 
For those who have applied but not received their licenses yet, it can be a nail-biting wait. Only 66 provisional licenses have been approved, and only six legal dispensaries have opened in the state.
For Bautista, "they haven't been able to roll it out as fast as I would like or other people would like."
But Edwards said the state should take the time to make sure the process is done correctly. 
"I think that New York is one of the very few states to be intentional with this and make sure that to the best of their ability, things happen the right way," Edwards said.
Trivette Knowles, a spokesperson, said the Office of Cannabis Management wants to make sure "that the next 100 years of legal cannabis is built upon a foundation that is going to be supportive of everyone, and not just large corporations and people who do not necessarily reflect the communities that have been disproportionately impacted by cannabis overpolicing."
Because of the large number of qualifying applicants, the state expanded its original 150 available CAURD licenses to 300.
The CAURD program hasn't come without pushback. About half of New York's 1,520 municipalities have opted out of allowing adult-use retail, according to the Rockefeller Institute of Government, a public policy think tank. Densely populated areas of New York — such as 111 jurisdictions on Long Island — have opted out, leaving less potential retail space for New York's promised 300 recreational marijuana licenses.
The Office of Cannabis Management has also been sued by a group representing large companies with medical marijuana licenses, who claim that the CAURD program allows the illicit marijuana market to continue and that it is unconstitutional.
But for those who have been incarcerated and now plan retail marijuana businesses after having obtained licenses, it's a new lease on life.
"It's a sign of reparations, a giveback for what the government has done wrong. I think it's a step in the right direction, Coss Marte said in August after he applied for a license. Marte, who spent six years in a state prison, was first arrested for selling pot when he was 13. His company, CONBUD, just announced it had obtained a license and is opening a dispensary in the Bronx this fall. He has called the opportunity "our 40 acres and a mule."
From stigma to business opportunity
While cannabis may be legal in New York, speaking to family members, especially older ones, about embarking on careers in the cannabis industry can be tough. 
Peña, who is Dominican American, said that when he was growing up, it was "a terrible thing to smoke pot in the Dominican community."
"I waited till I graduated college to smoke my first joint" so he wouldn't disappoint his parents, he said.
Bautista, who is also Dominican American, is trying to spread the message among the "abuelitas, abuelitos [grandmothers and grandfathers], cousins, sisters, brothers" who were "victims of the war of drugs" and don't know about the business opportunities.
"Me being able to speak to them in their language and help them understand what's happening and help them understand the benefits of cannabis is helping remove the stigma and helping them get access to the information to be a part of this industry," he said.