NEW YORK, NY – Beneath a blazing summer sun, the crowds strained against the barricades on Fifth Avenue in lower Manhattan on Sunday. Vendors hawked rainbow t-shirts and flags, while same-sex couples, Asian tourists, and packs of exuberant Millennials took in New York City's 46th annual Gay Pride March. The diverse crowd included everyone from young women in hijabs to muscular men in Madonna t-shirts and tiaras to straight couples pushing children in strollers.
This year, Latinos were well represented among the marchers and spectators. With the memory of the Orlando shooting still fresh in many people's minds, Latinos turned out in celebration of gay pride, in support of the LGBT community, and to remember the victims of the Orlando shooting.
Alex Ramos said he came to the march to show unity. "What happened in Orlando is such a tragedy that we can all learn from... It made us a lot stronger and I'm proud of myself," he said. "As a Latino it is very tough within our community to actually be proud of who you are. And this year, because of the tragedy in Orlando, it made me want to come out."
Ramos said he saw more Latinos at this year's march and predicted it would be remembered as "a historic moment."
Though Ramos admitted to some initial concerns about security and safety in light of the Orlando tragedy, he said he had put those thoughts aside. "I am no longer afraid, because I am here today. I don't know about tomorrow; tomorrow is not promised," he said. "So my voice needs to be heard, and my feelings need to be expressed."
With a crowd estimated at 1.6 million, Fifth Avenue was a sea of rainbow flags. Latino groups participating in the march included the Latino Pride Center, the New York chapter of the National Association of Hispanic Nurses, and El Museo del Barrio. Companies from Ameritrade to Zico Coconut Water sponsored floats and fielded teams of marchers. This year's theme was "Equality Needs You."
From the sidelines, loud cheers went up for groups like the National Basketball Association and the New York Police Officers Band. New York City Mayor Bill de Blasio, New York State Governor Andrew Cuomo and Hillary Clinton were all in attendance, waving to thrilled crowds.
The three Grand Marshalls for the march were Syrian refugee Subhi Nahas, activist Cecilia Chung, and reality TV star Jazz Jennings, who at 15 is the youngest grand marshal in Pride March history.
Onlooker Clarissa Polanco told NBC News that she was proud to attend the march. "What motivated me to come to the parade this year was to show support, to show what we stand for, and what I believe in and what I love," she said. "We're all as one."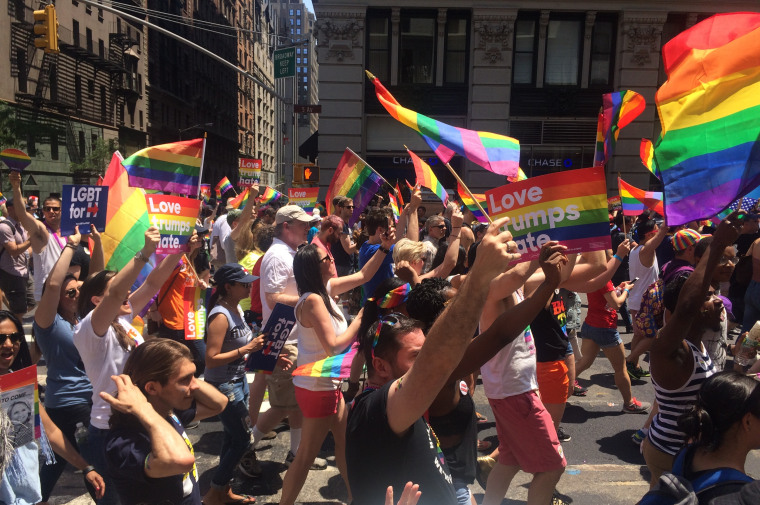 Polanco believes the Latino community is becoming more accepting of LGBT people. "As the young generation comes in, it's more open-minded," she explained. "They're supporting their grandchildren, children, their daughters, their sons. So they come out to the parade as well and that's what we all are here for… people are changing their minds and coming out and supporting everybody. So it's a good thing."
At this year's march, the New York Police Department seemed to have a very visible presence. One young Latina spectator, who gave her name only as Sam, said she worried about security. "I was scared (because of Orlando), but I didn't want it to stop me from coming out and being together," she said. "But for now, we won't be safe until we have gun control."
New York City's Pride March began in 1970 after the 1969 riots at the Stonewall Inn gave birth to the gay rights movement. Over the years the march has served as something of a barometer of the state of the LGBT community. Marches in the 1990s, for instance, were awash in activism over the AIDS crisis, while last year's march was celebratory following the Supreme Court decision on marriage equality.
As usual, the march wound its way from midtown to the West Village, ending near the Stonewall Inn – which was designated a National Monument by President Obama on Friday.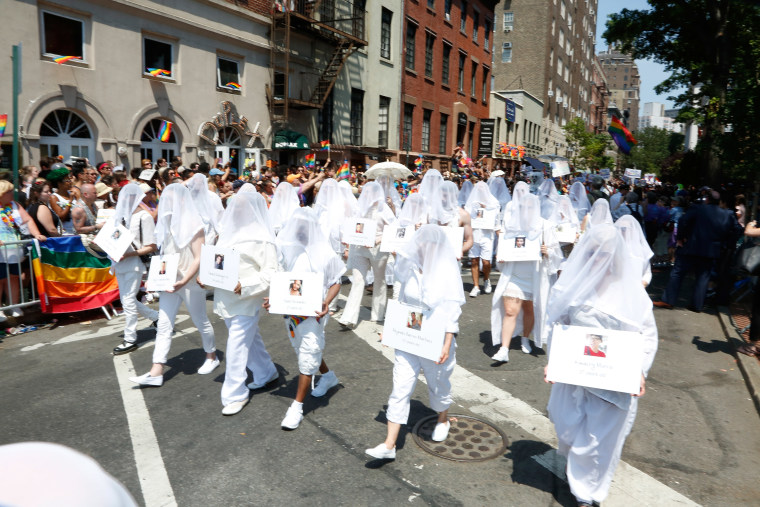 This year, reminders of the recent tragedy were everywhere, with omnipresent signs reading "Orlando Strong" and "Somos Orlando." One group of marchers, veiled and clad entirely in white, carried signs with the name and photos of each of the victims killed in Orlando. These marchers were led by a spectral figure carrying a raised disco ball on a stick, symbolizing the Pulse nightclub.
Surveying the scene unfolding around him, Luis E. Colón told NBC that it was more important than ever for LGBT Latinos to be visible. "We can't hide. We can't stop being who we are and living our life because somebody came along and tried to terrorize us," he said.
Colón said that the Orlando shooting, in a way, helped change Latino attitudes towards LGBT people. "Now people do not just see 'the gays," he pointed out. "Now they are seeing this is somebody's son, this is somebody's sister, somebody's brother, somebody's father, somebody's mother. So (the shooting) opened up a wider view of the community as a human race in total."
"Things are going to be more accepting," Colon said. "People are going to find that they have someone LGBT in their own family."