SACRAMENTO, Calif.— California is harming medical care for more than 13 million lower-income residents, more than half of them Latinos, by failing to pay doctors enough to provide proper care, according to a lawsuit filed Wednesday.
The lawsuit alleges the state is violating Latinos' civil rights by providing low reimbursements to health care providers.
It alleges the low payments often mean that those who rely on Medi-Cal, the state's health care program for the poor, are denied timely and quality medical care. The lawsuit was filed in Alameda County Superior Court by plaintiffs including the state's largest labor union representing health care workers.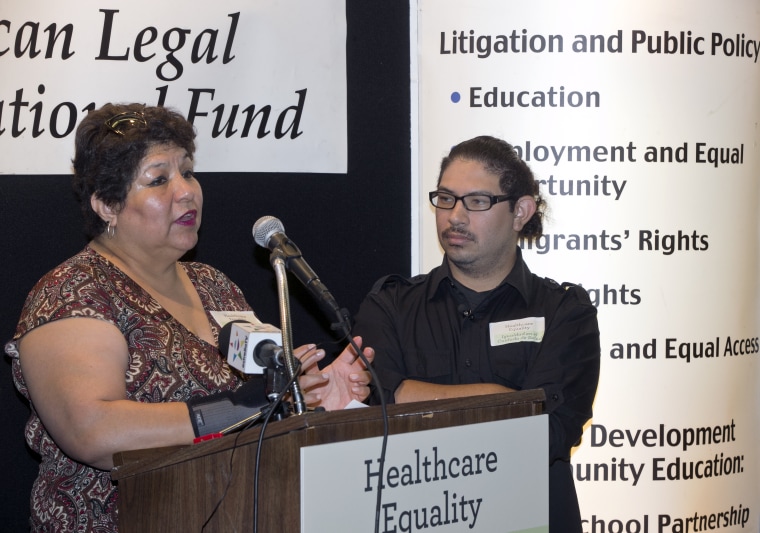 "In effect, California has created a separate and unequal system of health care, one for the insurance program with the largest proportion of Latinos (Medi-Cal), and one for the other principal insurance plans, whose recipients are disproportionately white," the suit says.
The suit was filed by five Latino residents who depend on Medi-Cal, the state's health care program for the poor. They were joined by the community division of the Service Employees International Union-United Healthcare Workers West. The Oakland-based union includes 93,000 caregivers, while the community division has 6,000 union supporters including Medi-Cal patients.
The plaintiffs argue that California is denying proper health care to about a third of the state's residents by poorly funding the program that covers low-income families, some elderly patients, those with disabilities, foster children and pregnant women. The program also covers those whose incomes are near the federal poverty level, singles who were paid no more than $16,395 last year, or a family of four living on no more than $33,534.
RELATED: Opinion: Health Care Debate Shows GOP Out of Touch with Latinos
The suit seeks class-action status to represent an estimated 7.2 million Latinos affected by the alleged poor payments.
A spokesman for the California Department of Health Care Services said it has not yet received a copy of the lawsuit.
The state budget approved last month includes more than $100 billion in state and federal funding for Medi-Cal, but the spending is not enough to restore reimbursement cuts made during the Great Recession. A proposal in the U.S. Senate to repeal former President Barack Obama's health care overhaul law could drastically reduce money for Medi-Cal and the number of Californians who can access it.
Plaintiffs in the new lawsuit include St. John's Well Child & Family Center, a community health center in South Los Angeles that says current rates don't cover its costs.
"It is time for California to stand up and provide comprehensive affordable health care," St. John's CEO Jim Mangia said at a Los Angeles news conference.
Thomas Saenz, an attorney with the Mexican American Legal Defense and Educational Fund who helped file the lawsuit, said he believes it is the first time the civil rights approach has been tried in California. The legal approach is possible, he said, because California is one of the few states to specifically prohibit discriminatory effects in state programs.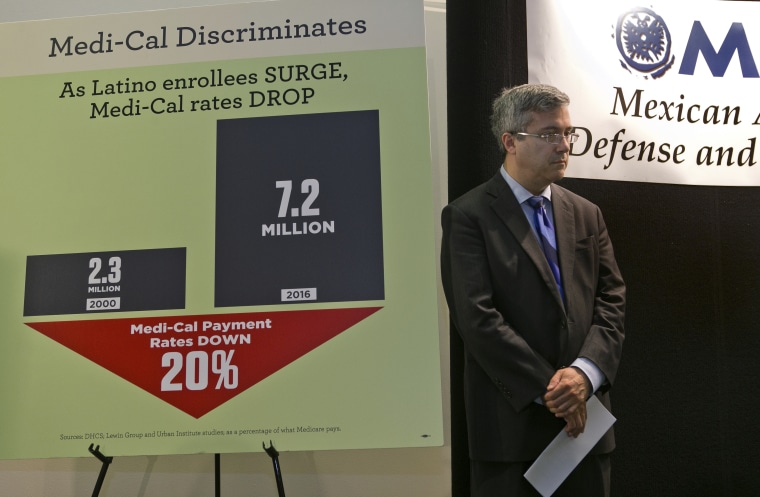 Those receiving care through Medi-Cal have substantially worse access to health care than those who are covered by Medicare, which provides care for the elderly, or employee-sponsored insurance, according the lawsuit. That's because there are a relatively low number of Medi-Cal providers, partly because they are underpaid, the lawsuit says. It also says the state does a poor job administering and monitoring the program.
California Latino Medi-Cal recipients represented by some of the same groups filed a similar civil rights complaint with the U.S. Department of Health and Human Services in 2015 alleging that the state's poor care violated federal law. The complaint noted a study by the University of California, Davis, that found delayed care resulted in lower survival rates for cancer patients who depended on Medi-Cal.
RELATED: This Republican Is an Endangered Species
The lawsuit similarly claims that those on Medi-Cal suffer more illness and more undiagnosed and untreated serious medical conditions than do other Californians with different insurance.
It blames Medi-Cal reimbursements that it says are among the lowest in the nation and a fraction of what other insurance plans pay providers. California ranks 48th or 49th out of 50 programs, it says, depending on the payment method.
Those payments have steadily dwindled since 2000, the suit says, even as the number of Latinos in the program has tripled.