AUSTIN, Texas — Although the new Congress will have a record number of Latino members, their numbers will fall far short of matching the share of the U.S. population that is Hispanic.
When the 116th congressional session begins in January, there will be at least 36 Latinos in the House and four in the Senate, according to the National Association of Latino Elected and Appointed Officials Educational Fund.
But the nation's 57.5 million Hispanics are about 17.8 percent of the U.S. population. If the share of Latinos in the 435-member House matched the share in the population, about 77 House members would be Hispanic. In the 100-member Senate, there would be about 18 Latino senators.
"The 2018 elections clearly showed progress for increased Latino representation at all levels of government," said Arturo Vargas, NALEO executive director, who was in Washington overseeing a new Latino congressional member orientation. "And it's a long-term process to reach the point where the government reflects its people, and it hasn't achieved that yet in regard to Latinos."
All of the new Latino faces will be in the House, with two more possible. California still was counting votes Thursday afternoon, and the race between Democrat Gil Cisneros and Republican Young Kim for California House District 50 was tied.
And Xochitl Torres Small, a Democrat from New Mexico, had pushed ahead of Republican Yvette Herrell after additional vote counting, but Herrell had not conceded by Thursday afternoon.
Latinos are the nation's largest minority group in the country and the population should register even larger in the 2020 census.
There are nine new African-American members of Congress, including Antonio Delgado, a New York Democrat, who also is Puerto Rican and counted among the new Latino members as well.
That pushes the total black congressional members, including senators, to at least 55, possibly more depending on the pending outcome of two other races. African-Americans are 12 percent of the U.S. population.
Heading into the midterms, 27 of the Latinos in Congress were Democrats and seven were Republican. Democrats had a net gain of five Latinos while Republicans had a net loss of two, totaling 32 Latino Democrats and five Republicans in the House in 2019.
Florida lost two Republican Latinos, Reps. Ileana Ros-Lehtinen, who is retiring at the end of the year and Carlos Curbelo, who lost his race to Debbie Murcasel-Powell, a Latina of Ecuadoran descent.
In Idaho lost Rep. Raul Labrador, a Republican, who ran for governor and lost in the primary.
The Democrats lost a Latino in Nevada, Rep. Ruben Kihuen, who chose not to run for re-election after facing sexual harassment allegations.
But Democrats gained two more Latinos in New York, Delgado and Alexandria Ocasio-Cortez — who is the youngest member ever elected to the House — and two Latinas in Texas, Veronica Escobar and Sylvia Garcia, who are the first Latinas elected to represent Texas in the House.
California added another Latino to its House delegation after Mike Levin, who is Mexican-American, won his race in California.
Republicans made history with the election of Republican Anthony Gonzalez, who is of Cuban descent and the first Hispanic elected to Congress from Ohio.
The other new face is Jesus "Chuy" Garcia of Illinois, who is taking over for Rep. Luis Gutierrez, who is of Puerto Rican descent and is retiring. Garcia is the first Mexican-American to represent Illinois in Congress.
Although no new Latinos were added to the Senate, a Latina will oversee their efforts to expand the Democratic presence in the chamber.
Minority Leader Chuck Schumer, D-N.Y., named Sen. Catherine Cortez Masto, D-Nev., as the new chairwoman of the Democratic Senatorial Campaign Committee for 2020 elections when 33 senators will be up for election.
Cortez Masto is the first Latina to serve in that position.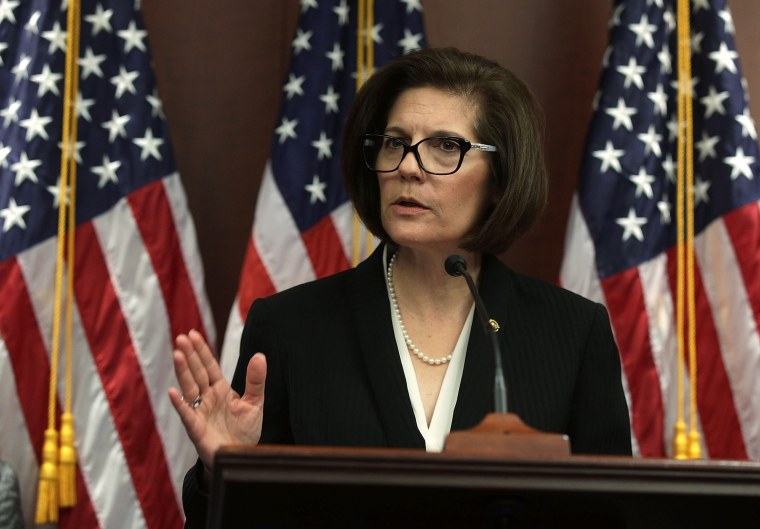 The 116th Congress begins in January with Democrats in charge of the House and Republicans in control of the Senate.
In state legislatures, the number of Latinos serving in state Senates will fall by two, to 80, although there is potential to add some seats if Latinos are elected to replace state lawmakers who were elected to Congress, according to an analysis by NALEO.
The number of Latinos in state Houses will fall by one to 246 but that could go back up if Sabrina Cervantes wins in a California Assembly race still pending.
Latinos will hold one more state office after this year's election for a total of 14, with many of its gains made in New Mexico. Latino Democrats will hold 11 statewide offices, up from six. The number of Latino Republicans holding statewide office will decline from seven to three.
The newest Latino statewide officeholders will be New Mexico Democrats Michelle Lujan Grisham, governor; Howie Morales, lieutenant governor; Brian Colón, state auditor; and Stephanie Garcia Richard, commissioner of public lands. From California, Democrat Ricardo Lara was elected insurance commissioner, and Florida's first Latina lieutenant governor will be Jeanette Nuñez, a Republican.
FOLLOW NBC LATINO ON FACEBOOK, TWITTER AND INSTAGRAM.