Thousands of Puerto Ricans cheered, held signs and popped champagne in front of the Governor's mansion to witness the moment when Gov. Ricardo Rosselló's resignation became official late Friday.
"I feel proud and hopeful, but I know that our fight continues," a man outside the Governor's mansion, known to Puerto Ricans as "La Fortaleza," told Telemundo.
Rosselló is the first governor elected by the people of Puerto Rico to ever resign. He said in a press release that Pedro Pierluisi would be sworn in as his successor in accordance to Puerto Rican law.
Rosselló's ouster comes after roughly a quarter of Puerto Rico's population consistently protested for two weeks during record-setting demonstrations triggered by scandals regarding leaked polemic chats and corruption investigations.
Pierluisi held a press conference after being sworn in and said that he stepped up as governor "because Puerto Rico cannot spend a single second without a governor." He clarified that he will remain in the post until the next election only if the Senate ratifies him as governor next week. If not, he would resign.
Puerto Rico's House of Representatives confirmed the nomination of Pierluisi as secretary of state, an hour before Rosselló was set to officially resign, after lengthy questioning. However, the Senate did not vote on his confirmation this week, instead delaying it until Monday.
Some lawmakers still insist that Pierluisi needed the approval of both the House and the Senate before being able to become secretary of state and take over as governor, citing Puerto Rico's Constitution.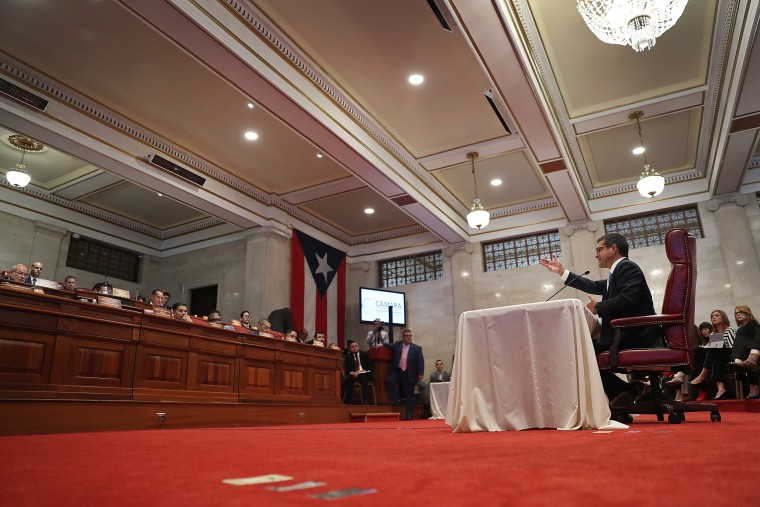 Rep. Jenniffer González, Puerto Rico's nonvoting member of Congress, is one of them.
González, one of the authors of the law Rosselló cited in order to leave Pierluisi as his successor, said that "the Constitution and the law of succession is very clear," adding that Justice Secretary Wanda Vázquez should be the new governor since Pierluisi has not been confirmed by both the House and the Senate.
Pierluisi told reporters that he will be appearing before the Senate next week.
"If the Senate doesn't ratify my post [as governor], the Secretary of Justice told me that she would be willing to assume the governorship," Pierluisi said.
A confrontation between roughly a hundred law enforcement officers and several groups of protesters, expressing that "Pierluisi is not Puerto Rico's constitutional governor," took place on Friday night as official government cars exited the Governor's mansion after Pierluisi's press conference ended.
Pierluisi was reportedly inside one of the vehicles attempting to leave "La Fortaleza."
Rosselló had named Pierluisi to fill the secretary of state vacancy left by Luis G. Rivera Marín, who resigned last month over his involvement in the chat scandal that led to Rosselló's ouster.
Tough questions for Pierluisi
Puerto Rican lawmakers in the House who voted against confirming Pierluisi as secretary of state argued that his recent work as an attorney in a law firm that represents the federal oversight board — known to many as "la Junta," which monitors all of the island's finances — presented a conflict of interest.
Pierluisi advocated for the unpopular Promesa law that imposed the federal oversight board on the U.S. territory during his time as Puerto Rico's nonvoting member of Congress between 2015 and 2016. Pierluisi's brother-in-law, José Carrión III, has been the president of "la Junta" since Promesa became law.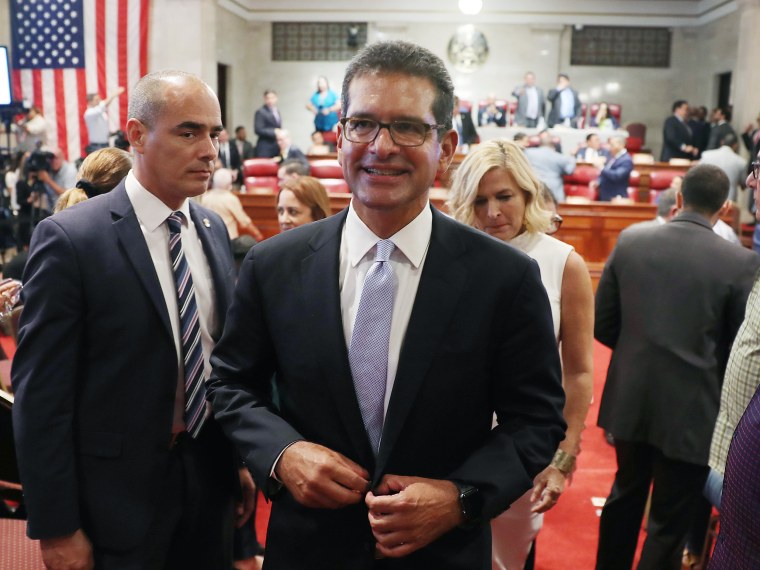 During his House deposition, Pierluisi touted his relationship with the federal oversight board saying, "The fact that I know the Promesa law top to bottom, that I have earned the respect of 'la Junta' and Congress, makes me someone who can effectively defend the interests of the people of Puerto Rico before the Trump administration, Congress and 'la Junta.'"
"Who better than me to facilitate the process that will force the board to leave? That is what we all want," he added.
A New York Times investigation published in 2016 found that, during his time in Congress, Pierluisi had pushed for legislation that financially benefited at least two Wall Street companies that had hired his wife, María Elena Carrión, to provide financial advice.
Rep. Jorge Navarro Suárez, president of the House of Representatives' government affairs commission, had asked Pierluisi during the hearing if he would grant certain government contracts to family members or if he would let them lobby on behalf of their clients.
Pierluisi said he wouldn't, "especially in the wake of the corruption cases that have come to light," referring to the recent arrests of former officials and government contractors on charges that include fraud involving $15.5 million in federal funding.
"It's not only about acting legally. It is about acting ethically and morally," he added.
Pierluisi dodged a follow-up question from Navarro Suárez about whether he would disclose if he lobbied on behalf of a company in the event that the company was trying to land government contracts.
On Friday, Pierluisi reassured reporters that his intentions were to bring stability back to the island that has been in turmoil for the last few weeks.
Puerto Ricans who gathered in Old San Juan said they would be watching the unfolding events.
"I hope that people in Puerto Rico are more conscious in the future, and that they take the streets again in case the new person in charge also brings more corruption," a young woman gathered outside "La Fortaleza," told Telemundo.
Follow NBC Latino on Facebook, Twitter and Instagram.