Weeks after Hurricane Fiona triggered an islandwide blackout in Puerto Rico, residents as well as members of Congress and island legislators, still don't know when power will be fully restored in the U.S. territory.
In a lengthy and contentious legislative hearing in the Puerto Rico House of Representatives on Wednesday, Luma Energy President Wayne Stensby and other company officials answered questions from local legislators worried about the company's ability to restore electricity to more than 88,000 power customers who remain in the dark.
Company officials in charge of power transmission and distribution have touted their efforts to re-energize 95% of power customers more than two weeks after Hurricane Fiona made landfall on Sept. 18.
Stensby described their response to Fiona, a Category 1 hurricane that brought more than 30 inches of rain and gusty winds, as "unprecedented."
Local Rep. Rafael Hernández Montañez responded: "This is not historic. This is business as usual in a Caribbean nation."
Against that backdrop, local representatives asked why entire neighborhoods across dozens of towns are still fully in the dark.
Residents of many such communities have taken to the streets to protest against Luma Energy.
Ponce Mayor Luis Irizarry Pabón and dozens of residents protested in front of a Luma Energy municipal office Wednesday, demanding that the company restore power to 70 communities that still don't have electricity.
"We are going to be here, every day, until the town of Ponce has electricity," Irizarry Pabón said on Twitter, convening another demonstration for Thursday evening.
Irizarry Pabón was also joined by Villalba Mayor Luis Javier Hernández, who is one of several mayors who created their own brigades of workers and experts to bring fallen light posts and cables back up to where they belong. The idea was to help Luma Energy rebuild as much as possible so it could focus just on re-energizing the system.
Hernández blasted Luma Energy for not tracking power restoration efforts by municipalities.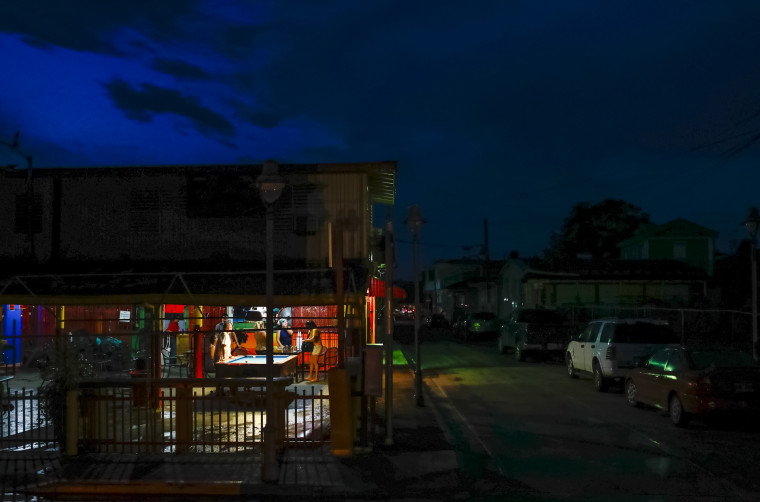 "They should disclose which sectors in each municipality have not had [power] for 17 days," Hernández said on Twitter, adding that if it's true that 95% of Puerto Rico has power, then towns like his "should see MOST of the brigades working on the [remaining] 5%. I HAVE NOT SEEN THEM!"
There had also been protests Monday, when residents of San Germán joined a demonstration outside one of Luma Energy's municipal offices to demand that the company restore service to the town, where roughly 65% of power customers still don't have electricity, Mayor Virgilio Olivera said.
The mayors of Hormigueros, Sabana Grande and Guánica, all of which remain mostly in the dark, as well, also joined the demonstration Monday.
Stensby and Luma Energy officials declined to provide data broken down by municipality at Wednesday's legislative hearing. Legislators gave the company three days to provide them with such information.
Luma Energy breaks down data only by regions, which aggregate multiple municipalities, leaving an unclear picture of which towns or neighborhoods remain in the dark. Daniel Hernández of Luma Energy also said the technology the company uses sometimes "does not detect 'pockets,'" referring to electrical connections outside of the main lines.
During the legislative hearing, Puerto Rican lawmakers identified deficiencies in how Luma Energy coordinates and communicates with agencies to restart water pumps considered to be of "high priority" and keep power lines cleared of overgrown vegetation.
Residents in areas where power has been restored have also reported having unreliable power access.
"On any given day if a customer loses power we respond as quickly and safely as possible to restore power," a Luma Energy spokesperson told NBC News in a statement, adding that any unreliability in service could be attributed to the significant damage Fiona caused to the electric grid.
"It inflicted damage to 30% percent of transmission lines, 50% of distribution feeders, submerged 7 substations and impacted generation facilities," the statement said. Luma Energy officials estimate the grid suffered over $1 billion in damage.
Luma Energy declined to say how often it responds to power outages in areas where electricity had been restored after the blackout.
It isn't the first time Luma Energy has been under fire. When the company started operating on the island over a year ago, customers endured rolling blackouts and outages that weren't attributed to natural disasters.
The U.S. House Energy and Commerce Committee sent a letter to Stensby last week "demanding answers for the company's ongoing challenges with providing reliable power to the island's residents."
"Ongoing outages and the complete disruption of power following Hurricane Fiona amplify concerns that LUMA has failed to adequately develop and maintain crucial electrical infrastructure in Puerto Rico despite its lucrative 15-year contract," the letter said.
The Luma Energy spokesperson said the company plans to respond to the letter and the committee's additional request for information by Tuesday, the deadline established by leaders of the committee.
Cayey Mayor Rolando Ortiz convened a protest outside Luma Energy's municipal offices in his town for Friday.
"Let's protest. If you don't have electricity, I invite you to join us. If you have services, join us," Ortiz said on Facebook. "There are many elderly and sick people who suffer."
Follow NBC Latino on Facebook, Twitter and Instagram.