WASHINGTON -- Astrid Silva remembers getting a new dress, her parents dressing her young brother in a suit and her father taking a rare day off from work to drive to an office where her father once again was tricked out of family savings for a green card.
The family could hardly afford the car trip and the day off work, but that was the day they thought their life would change. Instead, they were unknowingly sinking deeper into a fraud scheme of people they thought were legal immigration experts and who ultimately swindled Silva's father out of $11,000.
"We got to the entrance and there were a lot of other families with us. He thought this was the day he was going to get something," Silva said.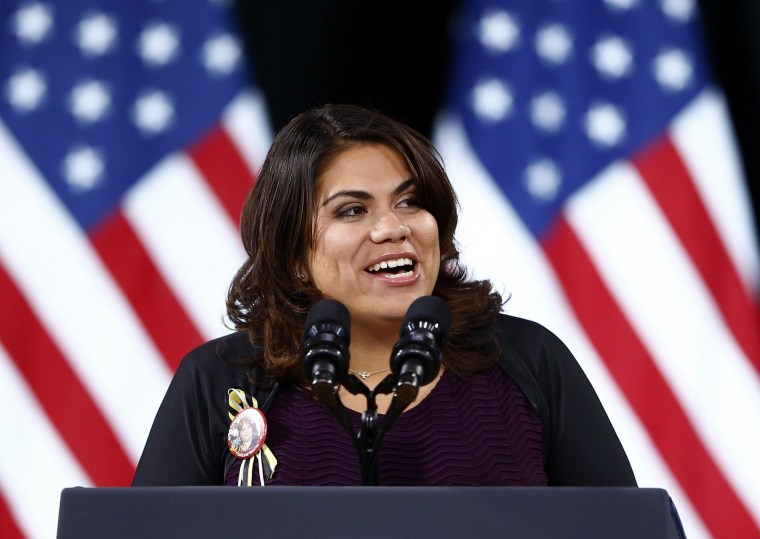 Silva introduced President Barack Obama in his Las Vegas speech the day after announcing plans to use his executive authority to shield millions from deportation and make other reforms that Congress failed to do. The president held her up as an example of the best of America and its immigrant roots.
But her family's immigration story also is an example of what may lie ahead for some of the millions of immigrants who may be eligible for Obama's immigration executive action. Like the Silvas, their eagerness and desperation make them prime targets for being fleeced at the least, and at the worst, ineligible for future immigration benefits.
Every time there is a rumor of immigration legislation or of a potential action, lawyers and others who assist immigrants start bracing for the cases of immigration shams, said Michelle Mendez, senior managing attorney for Catholic Charities Archdiocese of Washington.
Mendez said she is already hearing that the secretaries for a "notario" who was prosecuted and is serving a sentence are telling immigrants he'll be back to help them.
"We are concerned about the community being defrauded and I've had to salvage a lot of (immigration) cases after notario frauds," Mendez said. It's a heavy lift and not easy to untangle such cases, she said.
That's partly because the fraud falls within a patchwork of laws and regulations and because immigrants are usually reluctant to report fraud for fear of being deported.
"We are concerned about the community being defrauded and I've had to salvage a lot of (immigration) cases after notario frauds"
Even so, there has been a buildup in the effort to stem what is known as "notario" fraud in recent years. The fraud often begins with a language disconnect. In Mexico, a "notario publico" is a legal professional, far different from a notary public, which almost anyone can become in the U.S.
The trickery is so well established that in Texas, state law prohibits the literal translation of "Notary Public" into Spanish.
In Silva's case, her father went to a notario working under the shelter of an out-of-state attorney in the mid-'90s.The office filled out paperwork for him for an asylum program saying he was Nicaraguan, getting him temporary protected status and a work permit while he awaited final approval.
Her father submitted his documents that showed he was of Mexican origin with the paperwork filled out by the office. Immigration officials put him in deportation proceedings and his work permit was revoked, Silva said.
Part of the problem involves language — a "notario" in Mexico is a legal professional, which is not the case in the U.S. Many Latino immigrants here don't know this important difference.
Over the years, immigration officials sent letters on his case, but they went to the paralegal offices, Silva said. The paralegal never turned over the letters that were deportation orders. Instead he continued to charge her father more money and explain the long waits as a slow-moving paperwork process. Silva's father went to the notario until 2002, when he ran out of money.
"I thought, at least my dad will be okay . . . until 2011, Sept. 14th. We woke up and my dad's lunch pail and his coffee were sitting in the driveway and we didn't know what happened and it was like, 'Where's my dad?'" Silva said.
Silva's father had been taken to immigration detention. Her father's case was reported to the state bar, but Silva's father was unable to prove his claims because he did not have necessary records and the supervising attorney had died. The notario remains in the community, Silva said.
Silva's father remains under a deportation order but because her brother is a U.S. citizen, he could qualify for deferred deportation under Obama's executive action.
The scheme of notarios and paralegals working under license of an out-of-state attorney is a common scheme used on immigrants. Attorneys don't have to be licensed in a state to practice federal immigration law.
Silva's father's case was handled by Nevada Assemblywoman Lucy Flores, who lost a bid to be Nevada's lieutenant governor this month. The Nevada Assembly last year passed a law introduced by Flores regulating document preparers such as notaries public, paralegals and businesses known as "multi-servicios" (multiservices).
Under the law, the document preparers must have a business license, register with the state and put up a $50,000 bond - all things Flores said immigrants should look for before enlisting services.
Flores said promoting public awareness is key, but resources for such education were missing from the law she sponsored.
"It's not hyperbole in any way to say it very well could become a crisis in terms of potential fraud and abuse that could result" without the education, she said.
Further complicating the situation is the possibility that Republicans may take some sort of action to block implementation of Obama's executive order. Families should talk to a lawyer about their own situation and decide whether applying is risky for them, experts said.
The Senate comprehensive immigration bill and Obama's own immigration reform proposals included higher penalties for unscrupulous notarios.
Reid Trautz, director of the American Immigration Lawyers Association's (AILA) practice and professionalism center, said the association is ramping up its messaging on notario fraud "because we always see when there is an anticipated or forthcoming change in immigration policy that the scammers come out of the woodwork."
The group has an anti-notario fraud website. It also distributing digital flyers through social media and its members that can be posted on websites or printed out and distributed. They are in English, Spanish and Portuguese, but soon will be in Chinese and possibly Vietnamese, he said.
Several legal groups such as the American Bar Association and Catholic Legal Immigration Network, CLINIC, formed the Committee for Immigration Reform Implementation two years ago and its website is now live.
"We want to remind everyone in the community that the wrong help can hurt and that only a licensed attorney or recognized non-profit organization can assist people with the applications," said Allison Posner, CLINIC advocacy director.
Trautz said people should seek out a lawyer or an accredited representative that has met requirements set by the Board of Immigration Appeals to provide legal services. The government has been working to increase the number of accredited representatives available, he said.
"This is going to affect 4 to 5 million people who haven't had an avenue of relief and they re going to want to apply and are going to be anxious," Trautz said. "They need to wait and make sure they have the right legal advice."