Lin-Manuel Miranda's "Immigrants (We Get The Job Done,)" a powerful ode to immigrants off of his "Hamilton" mixtape, has already generated over 2 million views on YouTube. He and the celebrities who joined him to make the music video a success hope it spurs action.
The "Hamilton" creator teamed up to support the The Hispanic Federation's Immigrants: We Get The Job Done Coalition, which has brought together 12 nonprofits that provide social services, legal representation and advocacy to immigrants, asylum seekers and refugees.
This includes organizations like Kids in Need of Defense (KIND), the National Immigration Law Center (NILC), the Advancing Justice-Asian Law Caucus and the Coalition of Humane Immigrant Rights.
Lin-Manuel Miranda's father, Luis Miranda, the founding president of the Hispanic Federation, told NBC News that the coalition's organizations, "represent the struggles of immigrants in this country."
They have partnered with Prizeo and are holding a sweepstakes where supporters can donate as little as $10 and be entered to win an all-expense paid trip and two VIP tickets to the opening night of "Hamilton" in Los Angeles. The winner will also get to meet Lin-Manuel Miranda and attend a star-studded after party.
Other Latino celebrities have joined the cause using the #Ham4All hashtag on social media attached to a video of them singing their favorite song from Hamilton. Gina Rodriguez, Eva Longoria Baston, America Ferrera, Jaime Camil and Sara Ramirez have all donated and challenged their celebrity friends to do the same.
All proceeds from the Prizeo sweepstakes will go to the coalition.
"The goal is to raise money for them so they continue their work with immigrants," said Miranda, who said that for Lin-Manuel and Atlantic Records, "doing the video was as much an artistic statement as a societal statement."
Residente, the former lead singer of the Puerto Rican group Calle 13, is featured in the song and video.
RELATED: Residente Creates an Edgy, Musical Manifesto That Starts With a DNA Test
"It's not political. The topic of immigrants is a social one," said Residente, who spoke to NBC News over the phone from Spain. He is currently on tour in Europe for his self-titled album; his U.S. tour will kick off in New York City on August 10th.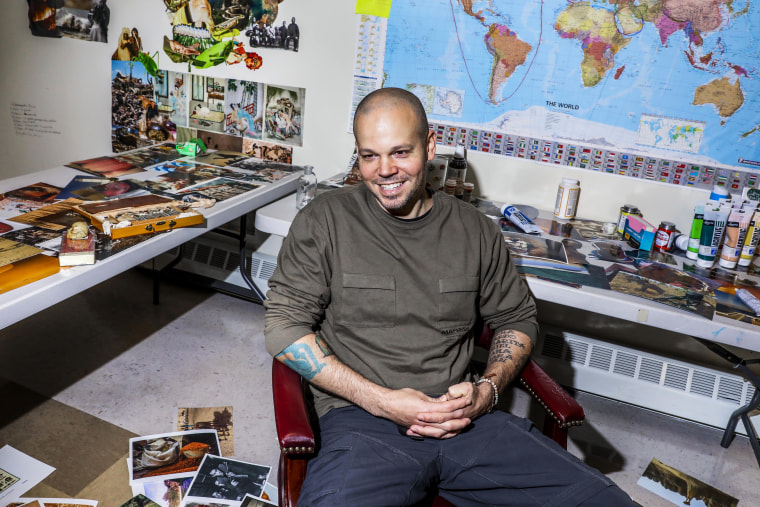 Never one to shy away from tackling controversial issues on his songs, Residente told NBC News he believes immigrants are not only under attack here in the United States, but around the world.
"Metimos la casa completa en una maleta/Con un pico, una pala y un rastrillo/te construimos un castillo," he raps in the song, which translates to "We fit our entire home in a suitcase/with a pick, a shovel and a rake/We built you a castle."
He said he feels that speaking about issues like this comes with the responsibility of being an artist, especially in a country like the U.S., which is founded by immigrants.
"If you don't talk about those things, things that impact you as a human being, you're either not an artist or you're a person who lives in a box and is unaffected by everything —you're a reflection of what surrounds you and affects you."
Mexican-American rapper Snow Tha Product, also one of the song's featured stars, tells NBC News she wants people to be aware.
"Be woke — "camarón que se duerme se lo lleva la corriente" — the "shrimp that falls asleep will be swept away by the current," a popular Spanish-language saying.
"This was my chance to really speak on something that's so close to my heart," she said, she grew up between California and Mexico. "I'm a proud American. I love being from here. But, I'm also a proud Mexican and I see the beauty in both of those."
The rapper expressed frustration over the invisibility of the country's undocumented immigrants. On the song she refers to immigrants as "America's ghostwriters" and even adapts a popular tongue twister.
"I'll outwork you, it hurts you/You claim I'm stealing jobs though/Peter Piper claimed he picked them he just underpaid Pablo," she raps.
In the video, the artists rap among farm workers and factory workers sewing American flags, later speaking of the immigrants' progression to doctors and nurses. Immigrants are aboard a replica of an infamous "La Bestia" train, the freight train that many undocumented immigrants hop onto on their way north.
This imagery was carefully calculated by Lin-Manuel Miranda according to his father, Luis Miranda. "He wanted to depict the immigrant story and to show the struggle, but also the success and the commitment."
"When they're sewing the American flag he tells you the story, that we are the next chapter of this country and we can carry that flag," he said.